3 Steaks for Valentine's Day
Valentine's Day is just over a week away. If you are like me the last thing you want to do on Valentine's Day is fight the crowds at a restaurant, spend too much for mediocre food, feel rushed by a waiter who just wants to get the table turned for the next couple, pay a babysitter, and on the list goes. Why not stay home and cook a nice steak for Valentine's Day.
Valentine's Day is one of the few times of the year which give you a great excuse to splurge and maybe spend a bit more than you normally would on a quality steak rather than what  you find at the grocery store. A quality piece of meat can definitely take your meal to the next level and for a once or twice a year treat it doesn't have to be all that expensive either.
I hate to say it but Valentine's Day probably isn't the day to pull out the 3 pound Tomahawk steaks. Generally speaking you are probably going to want to go with something a bit smaller, a bit easier to cook, and something that is versatile. You also want something that is a bit more romantic than a giant slab of meat with a bone sticking out of it.
With those criteria in mind here are the three steaks I would recommend for Valentine's Day:
This post is monetized with affiliate links. If you buy something through them I get paid. And I buy more steaks. Don't forget to use code FREEAFF to get free shipping from Snake River Farms as well. You will need to get your order placed by 1 PM EST on Tuesday to get your steaks delivered by Friday if you want to avoid expedited shipping charges. 
#1 Steak for Valentine's Day – Filet Mignon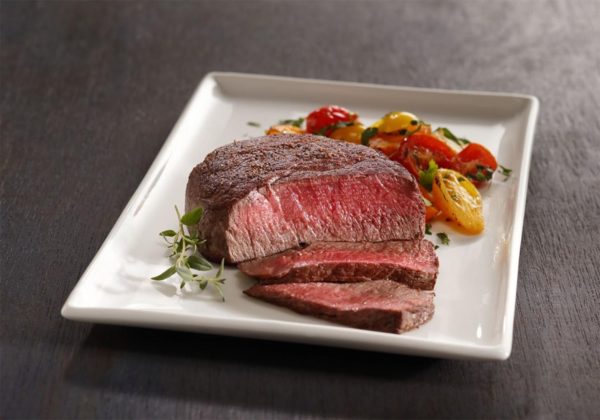 For many people it doesn't get any better than a filet mignon. The filet mignon is the most tender steak you can get. It is also fairly lean so it appeals to a wide range of eaters who might not appreciate the fattiness of a nice ribeye. Most filet mignons are also on the smaller side. 6, 8, and 10 oz sizes are the most common cuts so they won't leave you too full for the rest of the evening's activities.
Since filet mignons (which are cut from the tenderloin) are so lean there are a couple things to keep in mind. First, they can overcook very quickly. If you or whoever you are cooking the steak for likes their steaks anything medium or above opt for a different cut. If you take a filet mignon to medium or medium well you will have a very dry steak. Second, they don't have the strongest beef flavor. But that is OK because there are plenty of sauces that pair well with a filet. My personal favorite is an au poivre sauce (a peppery cream sauce) but a bernaise sauce works well too. You can add some sauteed mushrooms if you want as well.
Personally I would just use salt and pepper, cook it in a 225 degree oven (or the cool side of a 2 zone grill) until the internal temperature is 110 and then sear the outside in a very hot cast iron skillet or over some hot coals for a minute or two per side. The resulting steak will be a nice medium rare and that is about perfect when it comes to a filet mignon.
It can be hard to find good filet mignon in your local grocery store meat case. Most butcher shops will carry filet mignon but this is one of those steaks where you really want prime grade meat and that can be hard to come by. For my money Snake River Farms is your best option. Their quality is hard to match. Snake River Farms carries prime grade but they also have their American Wagyu grade which is a step above prime.
This week only Snake River Farms has all their filet mignons marked 25% off. Prices start at $19 and go up from there and shipping is free with code FREEAFF but you need to order soon to get them in time for Valentine's Day.
#2 Steak for Valentine's Day - Flank Steak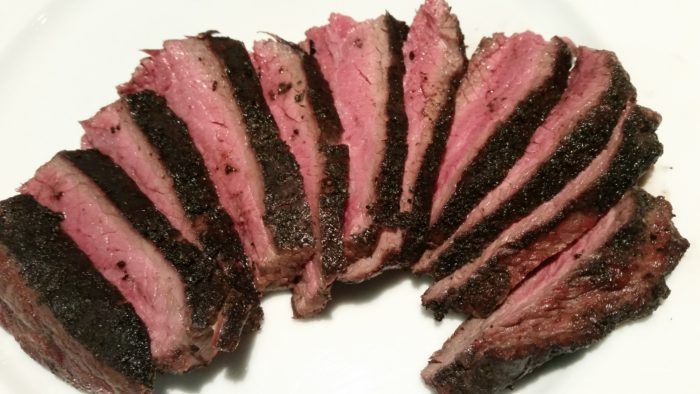 Flank steak is one of the most versatile cuts you will find. It is great with just some salt and pepper but also takes marinades and sauces very well. Flank steak can be sliced and served with some rice, cut up for tacos, or just be eaten like you would any other steak.
As far as flavors go I like a soy sauce based marinade for mine. I usually use some combination of soy sauce, brown sugar, garlic, red pepper flake, black pepper, and maybe some red wine vinegar. Since flank steak is a fairly thin cut it doesn't take long to marinate. 4 hours is more than fine.
I also like to test out different seasonings and rubs with my flank steak. One rub I really enjoyed was Hardcore Carnivore rub. It gives the flank steak a nice, dark exterior due to the activated charcoal in the rub.
Flank steak is fairly easy to find at most grocery stores but I usually get mine at Costco. It is only about $7 or so per pound so you can put together a great romantic meal for well under $20. This steak is also on sale at Snake River Farms for only $13 for a 1 pound piece of flank steak. With free shipping (use code FREEAFF) this is an awesome price.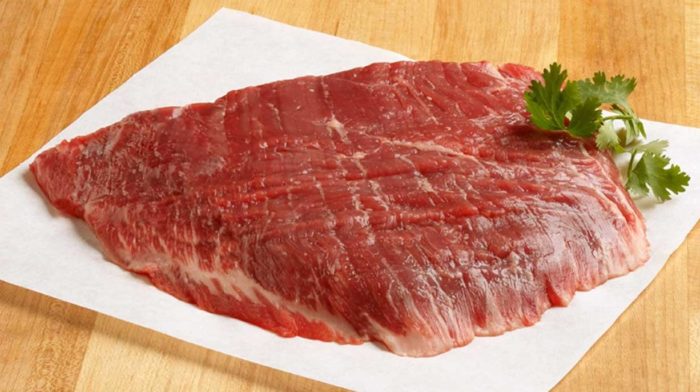 To cook flank steak I like to just put in on the grill over medium hot coals. Once you have a nice color on the outside the inside is usually around 130 degrees which is where I like my flank steak. If you go rare or on the lower end of medium rare the meat is almost a bit livery tasting but if you go to the high end of medium rare I think the texture and flavor really shines.
Be sure to cut the flank steak across the grain in thin slices. Otherwise you will spend all evening chewing and that isn't fun.
#3 Steak for Valentine's Day - Cap of Ribeye

If there was ever a "splurge" steak the cap of ribeye definitely fits the description. At over $100 per pound it is by far the most expensive cut of beef you will find. But it is in the opinion of many steak lovers THE BEST cut of beef you will find. It has a wonderfully tender texture, a great amount of marbling, and an awesome beefy taste. It takes all the good elements of a filet mignon and crosses them with the beauty of a ribeye. You won't find a more decadent steak anywhere.
I have seen ribeye caps at Costco but stay far away from those. Costco, for some insane reason, blade tenderizes their cap of ribeye. That always baffles me since this is already a tremendously tender steak.
Cook these hot and fast, similar to what you would do with a flank steak. But keep the marinades and rubs far away. Just go with some kosher salt and pepper and let the flavor of the steak shine through.
Snake River Farms has their American Wagyu cap of ribeye for $149 for a 20 oz. cut. $150 might seem crazy for a steak but if you cook this properly and take a bit you will see why it can be worth it. Valentine's Day only comes once a year so go for it and splurge this ones. You will still probably spend less than you would if you went out to a nice dinner.
Either of those three steaks will make for a great Valentine's Day dinner. I would keep it simple and serve with some rice or potatoes and maybe some asparagus. If you really want to up your side dish game I would check out PannaCooking.com. Panna has some awesome recipe tutorials with step by step videos from some of the top chefs in the country. The glazed carrots with guanciale, the not your mama's Brussels sprouts, and the sweet potato and blue cheese gratin would all pair well with any of these steaks. Panna offers a 30 day free trial so sign up and try one of these recipes for Valentine's Day this year.
And ladies, if you are reading and want to make something special for your husband go for one of the tomahawk steaks. Drop this on your man's plate and watch his eyes pop out of his head.