Filet Mignon
If you are looking for a luxurious cut of beef you are talking about a filet mignon. At most steakhouses the filet mignon will be the most expensive steak per ounce and many people think they are well worth the price. With very little fat, a milder flavor than other steaks, and a delicate texture the filet mignon is a steak to go for many ladies and people who aren't real steak aficionados. That isn't to say a filet mignon isn't delicious. I might not put a filet mignon at the top of my list but I have never been disappointed when have eaten one.
Where does the filet mignon come from?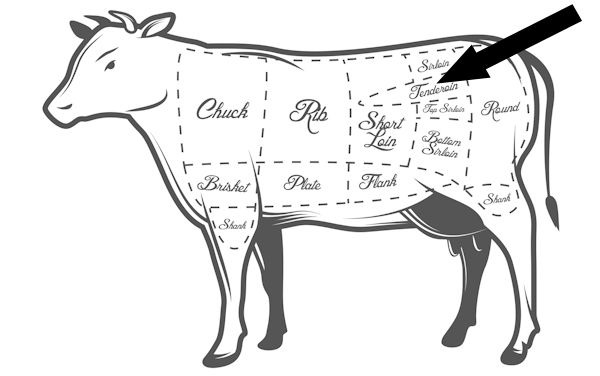 Right beneath the lumbar area of the steer sits two muscles, one on each side, called the tenderloin. To get technical it is located on the psoas major muscle ventral to the transverse processes of the lumbar vertebrae and the last rib. This is where your filet mignon steaks come from. If you leave them attached to the bone and leave the muscle opposite them attached you have a porterhouse or t-bone.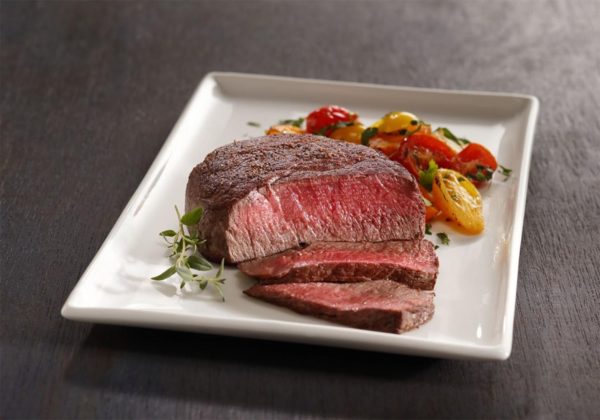 Since this muscle sits kind of inside of everything it doesn't really do a lot of work it is a very tender piece of meat. There is little inter-muscular fat (or marbling) in a filet mignon. The beefy flavor of a filet mignon isn't as strong as a rib eye or top sirloin. The subtle flavor and delicate texture make the filet mignon a very sought after piece of meat.
If you want to get very technical a true filet mignon comes from the front, narrow portion of the tenderloin but for practical purposes a filet mignon can be any steak cut from the tenderloin. 1 1/2 to 2 inches is a pretty normal thickness for a filet mignon. Although you can find some very thick 10 and 12 oz filet mignon steaks most of them come in around 6 or 8 ozs. Once again, the filet mignon is a bit more "delicate" than a big 2 pound porterhouse.
How to cook a filet mignon
Like most steak cuts of beef you want to cook a filet mignon hot and fast. More than any other steak you really, really, really, really (am I making my point?) don't want to cook a filet mignon past medium rare. Since there is very little fat in a filet mignon if you cook your steak to medium or above you will have a dry, mealy piece of meat. With how much a filet can cost you definitely don't want to do that.
Since there is very little room for error with the temperature of a filet mignon I would cook it one of two ways:
Reverse Sear a filet mignon
Step 1: Salt and pepper the meat. You don't really need any seasoning beyond this. Anything else and the delicate flavor gets overpowered. Use about 5-7 grams of kosher salt per steak.
Step 2: Insert your probe thermometer (you do have one of these don't you?) into one of your steaks and stick them on a rack in a 250 degree oven. Set the alarm on your thermometer for 110 degrees. Depending on a dozen different factors it should take 30-45 minutes for the steaks to come to this temperature.
Step 3: Once the filet mignons hit 110 degrees take them out of the oven and give them a rest for 5-10 minutes. While you are doing this you need to get your searing source ready. A super hot cast iron pan works well, a very hot grill works, but a charcoal chimney filled with white coals with a rack on top works awesome.
Step 4: If you are using a cast iron pan add a couple tablespoons of oil. On the grill just give the steaks a quick brush with some oil. Sear the steaks for about 45 seconds per side. For a bit more color you can go a few seconds longer but don't push it much past a minute.
Your result should be a medium rare (120-125 degrees) filet mignon that is a nice, uniform pink throughout.
Cook a filet mignon from frozen
Step 1: Heat up a cast iron pan as hot as you can get it. Add 2-3 tablespoons of oil. Take your frozen steak (yeah, I said frozen. If you have a fresh one stick it in the freezer for about an hour), salt and pepper it, and sear it for about a minute per side or until it has a nice mahogany brown crust on it.
Step 2: Move your seared steaks to a rack on a sheet pan and insert your probe thermometer. The frozen steaks might still be a bit hard to get the probe in. Just wait 20 minutes and then insert it.
Step 3: Set your probe thermometer alarm to 120 degrees. Put the pan in a 250 degree oven and wait. This should take about 45 minutes depending on how thick the steaks are.
Step 4: Once you hit 120 degrees pull the steaks out and wait about 5 minutes before cutting. This is what your result should be: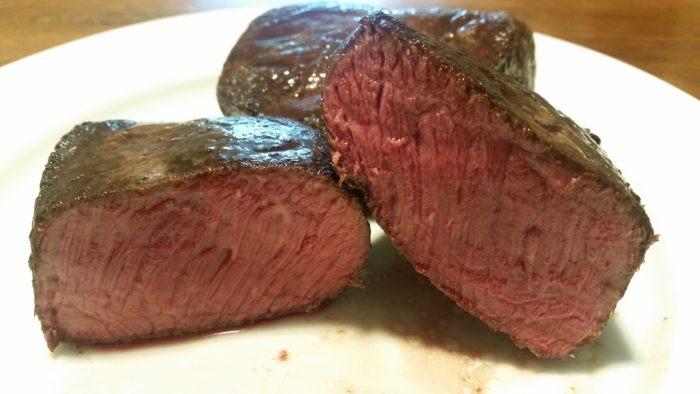 Yeah, you caught me. That is a top sirloin in the picture and not a filet mignon but the end result should be somewhat similar. Notice how the pink goes from edge to edge? Cooking from frozen will give you a great sear and very little grey band around the outside of the meat.
Where to buy filet mignon
Should you choose the ambitious route I would say get a whole tenderloin from Costco or your butcher and trim, clean, and cut it yourself. This will be by far the most economical way to get some nice filet mignons. The cost of a whole tenderloin is usually $10-12 or so but don't fall into the trap of using that number to calculate the per pound price of your steaks. Once you trim them all up, cut away the exterior fat and connective tissue, trim off the chain meat and side muscle you are still looking at probably closer to $15-18 per pound of usable meat.
Whatever you do though, don't buy pre-cut filet mignon steaks from Costco. Look at the label you will see that they are blade tenderized. The warning label on these blade tenderized steaks says cook them to 160 degrees which will totally ruin a filet mignon.
I would avoid buying filet mignons at the grocery store. They will usually be fairly thin and a filet mignon isn't a steak you want thin. The quality of grocery store meat is usually a bit below what you get at your local butcher shop as well. A local butcher shop will usually have a higher quality of meat. Give them a try instead of your grocery store.
Filet mignon is a "splurge-worthy" steak. If you have the means you can order some amazing steaks online. Snake River Farms is my preferred online vendor. You can find regular filet mignons and bacon wrapped filet mignon there. They also have some awesome prime filet mignon.
But it doesn't stop there. To take your filet mignon experience to the next level check out the American Wagyu filet mignon. These steaks grade out beyond prime and are pretty much as good as you will get.
Filet mignons are great for big celebrations like anniversaries, birthdays, job promotions, and events like that. They aren't cheap by any means but they can be worth the price.
Like what you read? Be sure to share it with your friends and come back tomorrow to learn about another cut of beef.