Ground Beef
I would venture to say that ground beef is probably consumed by more of you on a regular basis than any other cut of beef. From hamburgers to Hamburger Helper, from a nice bolognese sauce tacos ground beef is everywhere. And rightly so. It is fairly inexpensive, delicious, versatile, and readily available. Not everyone can afford a $15 steak every night but most families can afford $5 for a pound of ground beef to their casserole.
Where does ground beef come from?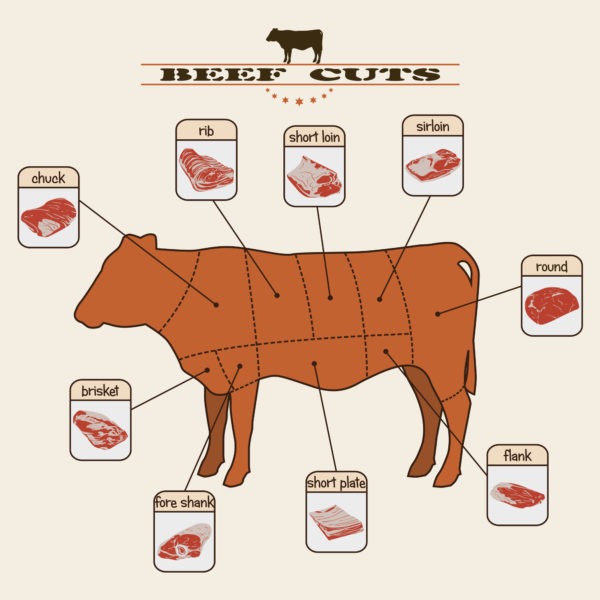 Well, I can't really give you a definitive answer on this other than showing you a picture of a steer. Ground beef pretty much comes from everywhere. Trimmings from the butchering process are all combined together and ground up.
Good old generic ground beef is usually about 25-30% fat. Other specific ground cuts (ground round ~12%, ground chuck ~15-20%, ground sirloin ~10%) have different fat content and are also usually a bit more expensive.
How to cook ground beef
This totally depends on what you are doing with it but basically throw it in a pan and cook it until it is done. Since it is ground up from a lot of trimmings and small pieces of beef there has been a lot of surface area exposed to little critters that will make you sick so the USDA recommends cooking your ground beef to 160 degrees. Browning some ground beef for tacos or a meat sauce won't be a problem with that temperature but if you want a nice, juicy burger 160 degrees is a bit much. So how do you more safely cook a burger medium rare or medium?
Grind your own meat!
When I am making burgers I love to grind my own meat. Not only is the resulting ground beef much higher quality than the pre-packaged stuff but I can control what cuts I grind. By combining different cuts in different amounts you can get a wide variety of flavors, textures, and fat contents in your burgers.
Also I will usually grind 3 or 4 different big cuts of meat. That isn't much surface area compared to the dozens or hundreds of little chunks of meat that get ground commercially. That results in a safer product in the end.
Here is how I do my favorite burger (pretty much a ripoff of Shake Shack):
Grind 2 parts sirloin flap, 1 part chuck, and 1 part brisket. Sometimes (like pictured below) I add in some short rib meat if I want a bit more fat. I use a grinder attachment for my Kitchen Aid mixer but one day will have my own stand alone grinder. I grind the meat twice through on the 1/4 inch die. Make sure you keep the meat and the grinder cold. You don't want your fat to melt.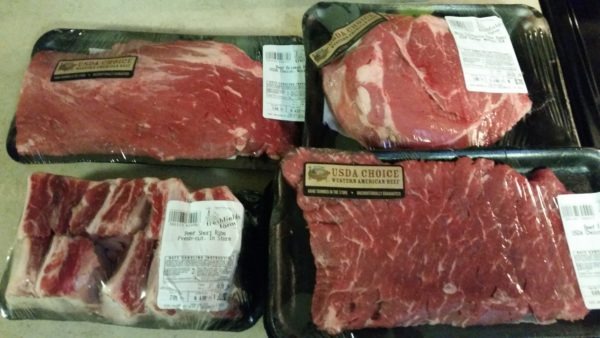 Form the ground beef into 1/4 pound "pucks" about 2 1/2 inches in diameter. Stash them in the fridge until you are ready to go.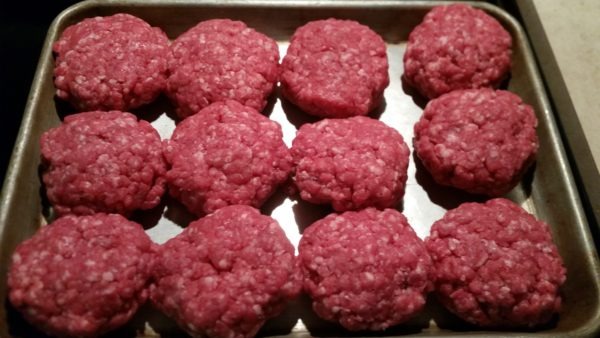 Heat a cast iron pan or griddle over medium high heat. Add a bit of oil and rub it around the pan. When it just starts to smoke you are ready.
Salt the patties fairly generously and add some fresh ground black pepper. Place the patties seasoned side down in your pan or on your griddle and then smash them. You will need a fairly stiff spatula for this, preferably with a straight end. I personally like using an 8 inch drywall knife for this but a good, stiff offset griddle spatula from a restaurant supply store will work great. Smash the burgers until they are about 4 or 5 inches in diameter. They will be somewhat thin.
"Smash the burgers you say? You aren't supposed to do that because it would squeeze out all the moisture!" Nope. As long as you smash them flat before the fat in the burger melts (about 20-30 seconds) you will be fine. Definitely don't press your burgers once they are cooking and never, ever if you are grilling press your burgers to hear that nice sizzle. That is just flavor and moisture crying because it will never get to bring you joy. But smashing burgers flat on a griddle or pan like this is totally fine and necessary.
Season the other side of the patties and cook for about 2 minutes or until moisture is pushing out the top and you are seeing some good browning around the edges. You want a nice crust to form on the burgers. Three cheers for the Maillard Reaction!!! Use your stiff spatula to scrap the burger off the griddle, flip them, add a slice of American cheese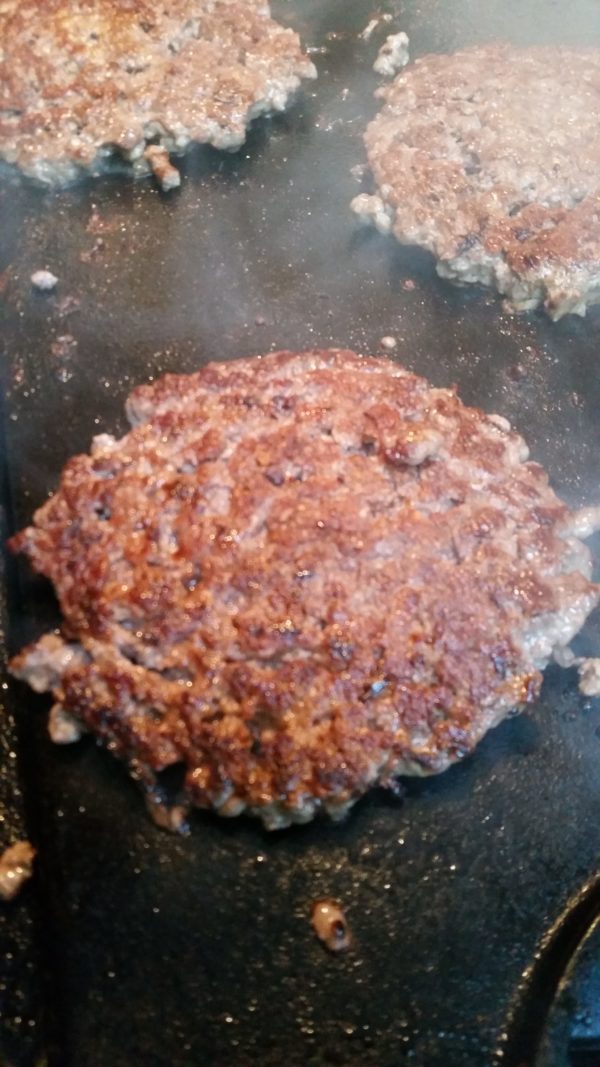 Throw them on a Martin's Potato Roll with some leaf lettuce, 2 slices of roma tomato, and some "Shack Sauce" (1/2 cup mayo, 1 Tbsp ketchup, 1 Tbsp yellow mustard, a dill pickle, 1/4 tsp garlic powder, 1/4 tsp paprika, pinch of cayenne – blend until smooth). That, my friends, is the blueprint for an awesome burger. Of course I wouldn't complain if you added a few strips of bacon to that. But beyond that you don't want to mess with it too much.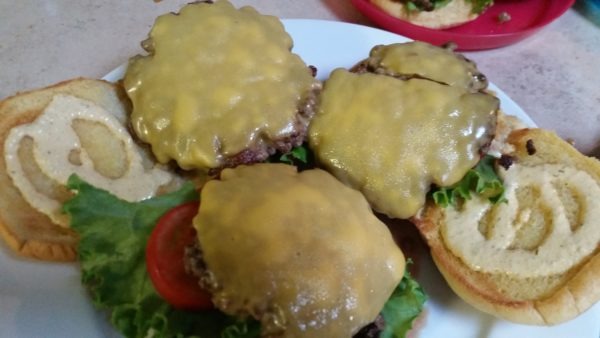 The last time I was cooking these burgers I also was frying up some homemade potato chips and it seemed like a waste to let all that nice, hot oil go to waste so I recalled Alton Brown's cheeseburger recipe and decided to give his cooking method a try. Simply smash the burger on a cutting board and then drop it into the 320 degree oil for 1 minute. I didn't follow the rest of the recipe for the toppings as I just wanted to see how the burger patty would turn out.
All in all it was very good and quick. One thing to keep in mind though is any salt you put on the patty will just wash off when it hits the oil. You definitely don't want to salt your meat much before cooking either as it does some bad stuff to the texture of the beef. So you won't have a very salty patty. In his recipe he gets around that by seasoning the cheese which is brilliant.
Where to buy ground beef
If you are just getting some ground beef for tacos or stroganoff or something like that just get your ground beef at the grocery store or warehouse club. For a custom blend buy some bigger cuts and grind them yourself. Or, if you have a good butcher, tell them what you want and they should be able to grind it for you.
Like what you read? Be sure to share it with your friends and come back tomorrow to learn about another cut of beef.