Top Round, Bottom Round, Eye of Round
Today you get 3 for the price of 1. Since they Top Round, Bottom Round, and Eye of Round are all somewhat similar I will talk about all of them today. Cuts from the round aren't the best pieces of meat on the steer but they definitely have their uses if you can prepare them correctly. Don't think you can just slice off a chunk of meat and cook it like you would a normal steak. These cuts are all very tough especially when compared to a ribeye or NY strip.
The eye of round is probably the most tender, then the top round, and bottom round will be the toughest of the three.
Where do the round cuts come from?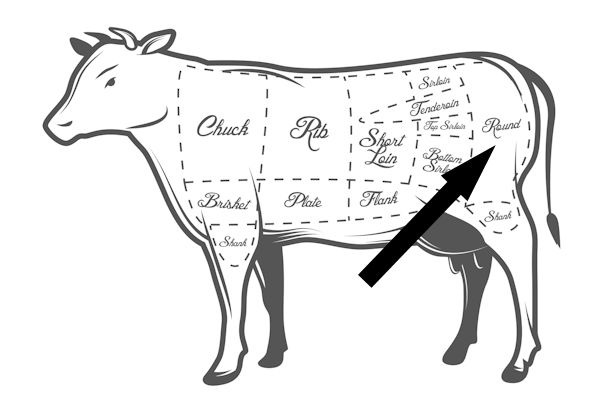 All three of these round roasts come from the back hip of the steer. The top round (also called the inside round) comes from the inside of the hip and the bottom round is the outer muscle of the rear leg. The eye of round kind of sits in between.
I won't bore you with pictures of all three cuts since the all look somewhat similar but here is what the bottom round looks like: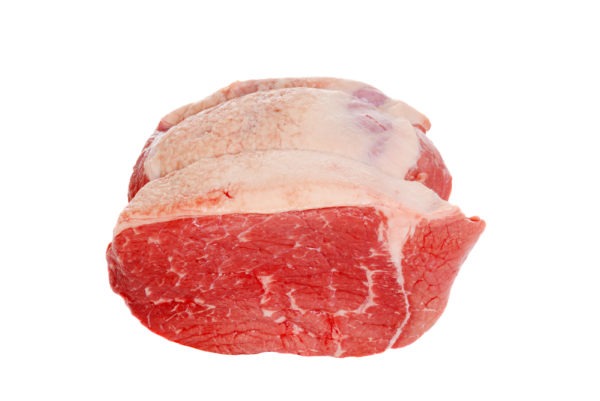 You can see that this cut is very lean. The top and bottom round have a fat cap on them. The eye of round doesn't. All three have very little intermuscular fat. This is one of the most worked muscles on the steer and as a result it is a tough cut of meat.
How to cook a round roast
I have seen quite a few recipes suggesting using these round roasts for a pot roast. I think a chuck roast does a much better job as a pot roast. Chuck roasts have more fat and more connective tissue that give the pot roast more flavor and a better texture. OK, maybe an Italian Stracotto with an eye of round could be good but for a good old classic American pot roast stick with the chuck.
You will also find a lot of people advocating using these as roast beef. While they do make a very pretty roast beef they will still be somewhat tough. Have ever been to a cheap buffet restaurant and had some roast beef? 95% chance it was from the round. If you do want to roast it go for the eye of round. Make sure you salt a day or two before cooking and let it sit in the fridge. Put it in a roasting pan in a 500 degree oven for 5 minutes per pound and then turn off the oven and let it sit in there for 2 hours or so. DO NOT open the oven. After 2 hours you should have a nice medium rare roast.
If I were to cook one of these round roasts I would be thinking some sort of sandwich. Most of the deli roast beef you will find in the grocery store is some sort of round cut. If you cook it low and slow and slice it super thin it will actually make a pretty solid sandwich. Italian beef or french dip sandwiches are the way I would go. Here are a couple Italian beef recipes I found:
Amazing Ribs Italian Beef – Solid recipe
Thrillist Al's Italian Beef – Al's stands above all other Chicago Italian beef restaurants for me. Definitely need to do more research on that though.
Italianbeef.com Recipes – Here is a fairly extensive collection of Italian beef recipes. The are all somewhat similar. Take a look at some figure out what looks best to you.
Or you could just forgo roasting your own meat and do with Serious Eats recommends and just get some high quality deli roast beef. The focus on making an awesome broth to dunk the sandwich in. And let's face it, once you dunk the meat in the broth pretty much any decent quality meat will do.
The second thing I would do is slice the bottom round roast, tenderize the slices, and make chicken fried steak. Alton Brown has a great recipe for this. He suggests using a Jaccard tenderizer on the meat but if all you have is a regular mallet type meat tenderizer that will work too. Round steak for chicken fried steak is very traditional in Texas. Most places around the country will just use cube steak which is usually made from the round. But using a slice of round and tenderizing it yourself will give you a heartier chicken fried steak.
Where to buy round roasts
Nearly every grocery store will have one of the three round roasts. They are all somewhat interchangeable in recipes. If the recipe calls for eye of round and all you can find is top round you should be fine. You will probably pay $4-$6 per pound. If you do ever see it on sale for $2 or $3 per pound I would grab a couple and stash them in your freezer. Italian beef sandwiches are great for a football party (provided of course you have plenty of napkins) and you could feed a crowd for under $20.
Many butchers will also include some round roasts in their weekly beef boxes since they are fairly inexpensive, harder to sell than a ribeye, and fill up the boxes nicely.
Don't try to make a round roast do what it can't. Avoid using it as a roast beef. Save that for the rib roast, strip loin or tenderloin. And I would go with a chuck roast for a nice pot roast. If you want some dang good sandwiches or chicken fried steak you can do a lot worse than one of the round roasts.
Like what you read? Be sure to share it with your friends and come back tomorrow to learn about another cut of beef.