Tri-Tip
If you are from California most likely you have heard of tri-tip. If you aren't from California maybe tri-tip is a cut of beef you haven't had much experience with. This cut started to gain popularity in the 50's in the Santa Maria area of the Central California coast. It is gaining popularity across the country but there are some areas where it can be a bit hard to come by.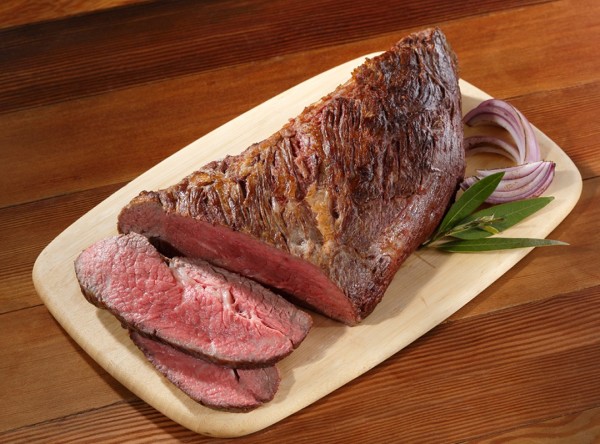 Where does the tri-tip come from?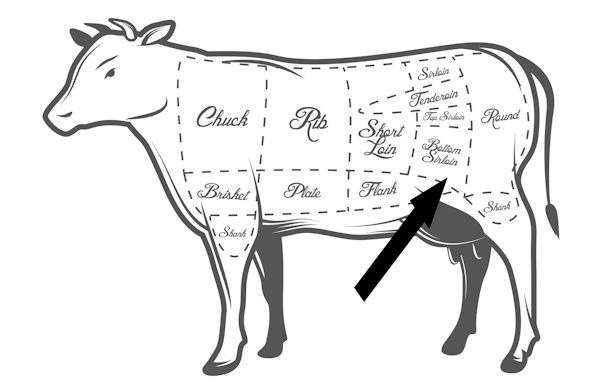 The tri-tip comes from the bottom of the sirloin. It is, not surprisingly, a somewhat oblong triangle shape hence the name tri-tip. It has a similar texture to the brisket flat but is quite a bit more tender than a brisket. Since the tri-tip muscle does a fair amount of work, mainly assisting the cattle while walking, you won't find the same tenderness as a ribeye or filet mignon. There is little connective tissue and not a ton of marbling on this cut. Flavor-wise it is comparable to a top sirloin steak or maybe a round roast. So all in all it is a great cut that is fairly lean with a decent beefy flavor. Not a flavor that will overwhelm you but there is enough there to know you are eating beef.
Each steer has 2 tri-tips, one on each side. They range from 1.5-4 pounds when you buy them. Some butchers will have them nicely trimmed and others will leave a fat cap and some silverskin on them and you will have to trim them up a bit yourself. The trimmed ones are, of course, a couple bucks more a pound but it can definitely be worth the extra cost.
How to cook a tri-tip
Cooking a tri-tip pretty much has to be done on a grill. Traditionally tri-tip was cooked over an open red oak fire. Nice, hot, and somewhat fast. Since pretty much none of us will be cooking over an open fire that means firing up the grill. Charcoal or gas will work just fine but I definitely prefer charcoal. If, however, you happen to throw a tri-tip in your cooler for your next camping trip don't be afraid to set up a grill grate above your fire and cook like a caveman.
When cooking a tri-tip on a grill I would set up a two zone fire. With a charcoal grill that means pushing all your coals to one side of the grill so you have a hot side and a cool side. For a gas grill just turn on one burner. Start the tri-tip on the cool side of the grill until it hits 110-115 degrees. Once you are there move it to the hot side of the grill for a minute or two per side.  Get a nice crust on it but make sure not to burn it. Make sure you don't go beyond medium rare (130 degrees max) or you will have a somewhat dry, mealy piece of meat.
Another good cooking option is using something like the Pit Barrel Cooker. This is a super simple, very versatile grill/smoker/cooker. You can watch a quick video of how they do tri-tip on their site.
Tri-tip is an uneven cut in that one side of it will be fairly thick (maybe 2-3 inches) and the other end will be closer to 1-1 1/2 inches. If you have people in your family or guests that like medium well meat you can have the thick side of the tri-tip be a nice medium rare and the other side will be more on the medium well end of the spectrum so everyone is happy.
Salt and pepper is usually my go-to seasoning for most steaks but tri-tip takes well to a nice rub or marinade. Hardcore Carnivore rub would go great on a tri-tip.  You can also do any sort of Asian marinade or this sweet and spicy rub on SeriousEats.com looks very good. Tri-tip is one cut you can pretty much go with whatever sort of seasoning strikes your fancy. I can't seem to get some sort of ancho chili rub or paste out of my head when thinking about tri-tip.
When slicing be sure to check the grain of the meat and slice across the grain. The grain will change directions about halfway through the tri-tip so be mindful of that as you are cutting.
Where to buy tri-tip
If you are in California (or most of the West Coast for that matter) your local grocery store will probably carry tri-tip. The further east you go it becomes a bit harder to find. Here in Florida I have seen it in the grocery store from time to time but it isn't always there. Costco can also be a good place to look. Make sure your tri-tips aren't blade tenderized though.
As far as price that will widely vary depending on where you are. It can range anywhere from $3 per pound up to $10 per pound. Most tri-tips range from 1.5-4 pounds. You should be able to get a decent family meal for under $15 depending on what price your tri-tip is.
Tri-tip is also available from a few different online retailers. Since tri-tip is usually a somewhat lean cut it can be worth it to pay a premium for some higher quality meat. They can be purchased from Snake River Farms for $55 a piece and they ship free with code FREEAFF. Lobel's sells some prime tri-tips for $39 but you will pay $30-50 for shipping depending on where you are located. If you want the best of the best Lone Mountain Wagyu sells some 100% full blood wagyu tri-tips. At the time of this writing they are currently out of stock but it could be worth checking.
Whether you are looking for something to feed a crowd or just want to try something different for a family dinner give a tri-tip a shot. It is  a fairly inexpensive cut but you get a pretty darn good piece of meat out of it.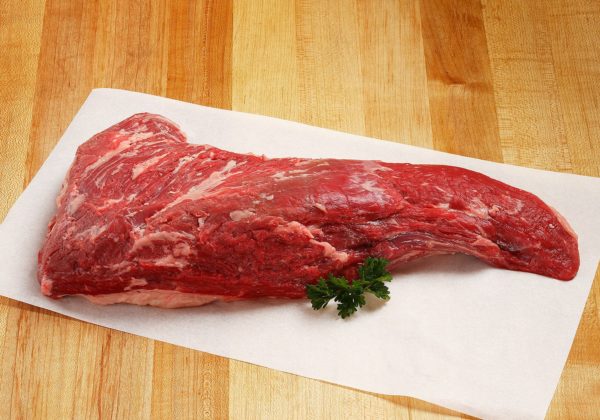 Like what you read? Be sure to share it with your friends and come back tomorrow to learn about another cut of beef.