Let's be honest… If Thanksgiving dinner consisted of nothing other than a perfectly cooked turkey (do I need to educate you about spatchcocking???) and pie I think I would be fine. I usually add some mashed potatoes and gravy, some dressing, and maybe a couple rolls on my plate. That is pretty much a perfect Thanksgiving dinner for me. Well, add a second plate of that and it is perfect. And did I mention pie?
That said there are ways to take some simple, standard Thanksgiving side dishes and take them to the next level. Instead of just plain mashed sweet potatoes with marshmallows on top why not make a gratin with blue cheese and heavy cream? Do steamed brussel sprouts make you run for the door? Maybe some sauteed sprouts with a buttery dressing would hold your interest. But are these modifications to the classics easy to make?
Disclosure: If you sign up for Panna I earn a commission. I also received a free trial of Panna to review it for you. But trust me, seeing videos of these professional chefs prepare these dishes is so much better than sifting through Youtube to find decent recipes. They also have a free trial so it costs you nothing to check it out.  
A friend of mine recently told me about Panna which is a great resource to help you cook like a true chef. They have some great looking recipes that are simple enough for most home cooks to handle. But the best part? Every recipe has an awesome video where the chef walks you through every step of the recipe. On Panna you will find chefs like Rick Bayless, Hugh Acheson, Daniel Patterson, and more. If you don't recognize those names that is fine. Just know that these 40 chefs have 135 James Beard awards and nominations. Basically they are great chefs.
Panna has everything from desserts to main dishes and even drink recipes for when the family lingers too long after Thanksgiving dinner is over. But for the sake of this post I want to highlight 6 side dishes for Thanksgiving that will take your meal to the next level. And right now you can get a 30 day free trial from Panna which should be plenty to get you through Thanksgiving and get you a head start on Christmas as well. After the first 30 days it is only $19.99 per year.
Now, on to the recipes
Sweet Potato Blue Cheese Gratin – Very simple recipe here that anyone can do. You will need some blue cheese (smokey blue is best) but you will be able to find all the ingredients at any grocery store. It shouldn't take any more than 15-20 minutes tops to prep this dish so you will have plenty of time to cook everything else.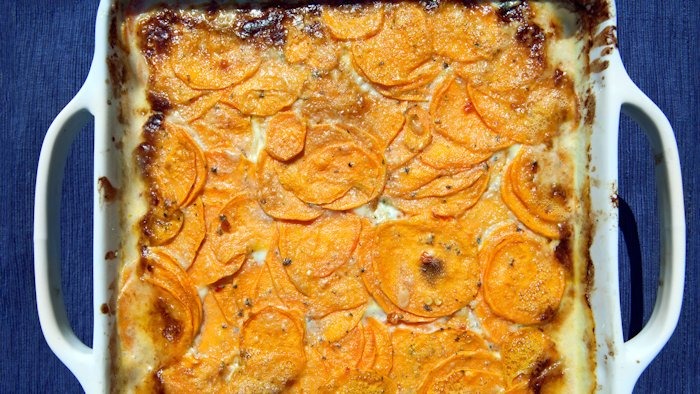 Glazed Carrots with Guanciale – What is guanciale? Well, if you like bacon you will love guanciale. It is an Italian smoked pork jowl that is like bacon on steroids. And if you can't find guanciale I won't tell anyone if you just use regular bacon in this dish. If you can find some young carrots (not those nasty bagged "baby" carrots) that is great but I would think you could cut regular carrots in quarters and you would be fine here. They might need a bit more cooking time though.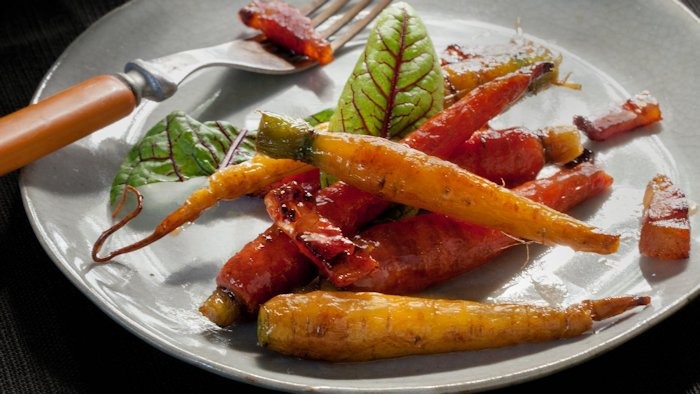 Collard Greens with Ham Hocks – I live in the south so collard greens are very common around here. This recipe calls for cane vinegar and cane syrup which you probably don't have in your cupboard. Cane vinegar can be found at many Asian markets but you could easily substitute it for malt vinegar as well. Cane syrup? Well, you should have some on hand anyway for pecan pie so order a few cans and stash them. Other than that this is a fairly straight forward collard green recipe. And feel free to add in another ham hock or two if you are the type of person who thinks collards should contain as much meat as they do collards.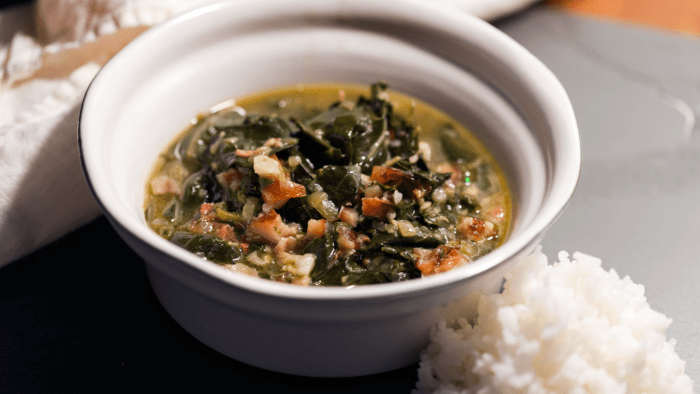 Apple Cabbage Slaw – Once again, we have a great recipe where all the ingredients are either already in your cupboard or are readily available at any grocery store. This slaw recipe adds apples to give a bit of crunch, a bit of tang, and a bit of flavor to an otherwise basic slaw. The addition of yogurt instead of some of the mayonnaise is also a nice touch. And if you happen to buy some preshredded cabbage at the store instead of cutting up a head yourself I won't tell anyone.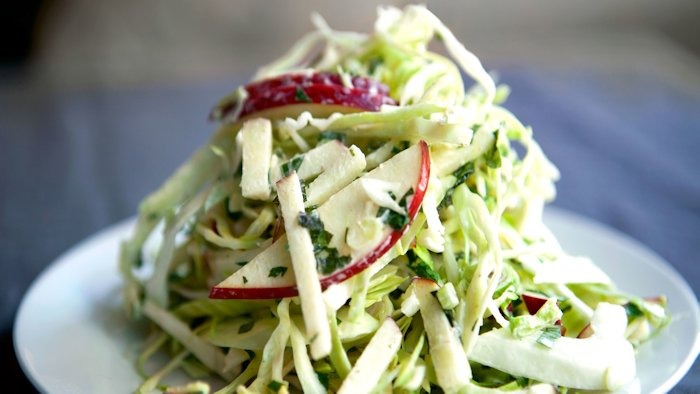 Not Your Mama's Brussel Sprouts – Rather than just steaming the brussel sprouts whole this recipe has you remove the individual leaves, blanch the leaves, and then saute them in a bit of olive oil to give them a little crunch. The sherry vinegar and butter seem like a nice touch as well. All in all this dish only takes 15 minutes or so and even less if you separate the leaves and blanch them a bit ahead of time. This would be a great dish to finish while the turkey is being carved.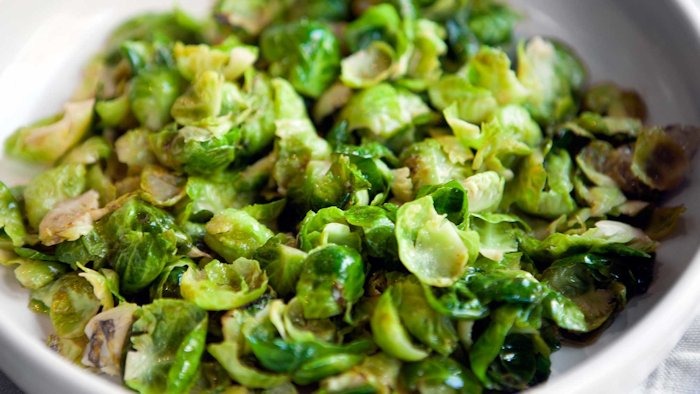 Cracklin' Cornbread – Cornbread has two major schools of though. If you live in the north you are probably used to a sweeter cornbread and if you live in the south there will be little to no sugar in your cornbread. This is definitely a Southern cornbread recipe. The addition of chopped bacon to this and the bacon fat just add to the goodness. Cooking it in a cast iron skillet is also a nice touch.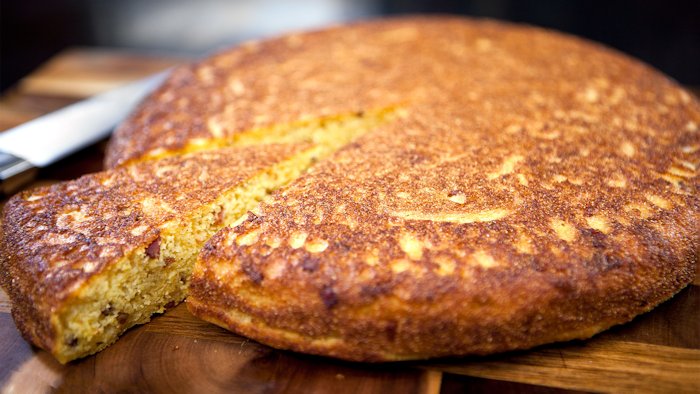 And just for good measure let's throw in a dessert recipe.
Pecan Pie with Bacon Fat Crust – Adding bacon fat to the crust is a stroke of genius here. Pecan pies are usually very, very sweet and the saltiness and smokiness from the bacon fat will help to temper that a bit. And remember that cane syrup from the collard greens? Don't be afraid to substitute that for the corn syrup in this recipe. Adding some crumbled bacon to the filling would also be totally acceptable.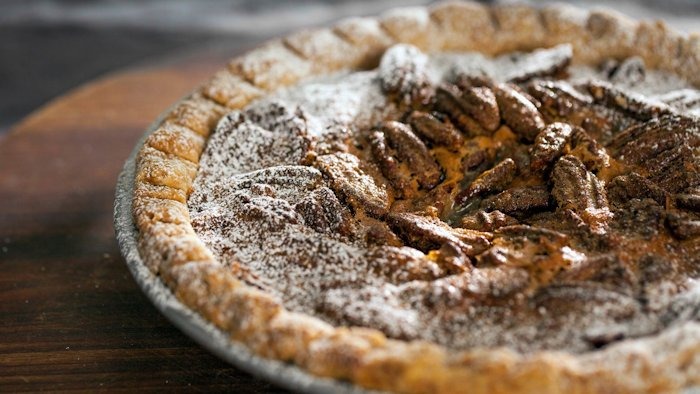 These recipes are just a sample of all that is available on Panna. Sign up for their free trial today to check out these recipes and all the others that are available. The videos make it super easy to visualize all the directions. Most of the recipes I have seen have pretty standard ingredients as well. If you like what you see remember it is only $19.99 per year.