There are few foods I like more than a good chicken wing. Whenever I go to a restaurant that has promising wings I usually order some just to test them out but I am almost always disappointed. Either the flavor is over complicated or the wings aren't cooked right. I have rarely had a wing that can match a homemade wing which is just fine with me since they are so easy to make.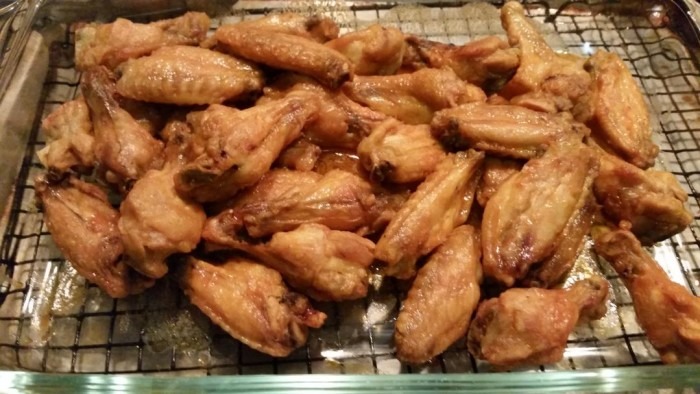 Here is my super simple basic fried chicken wing recipe I have been making for years and will keep making for years. No secrets or special ingredients here:
tl;dr – Melt butter and combine with Frank's Red Hot (2:1 ratio), fry wings, toss wings in the sauce
Ingredients:
Chicken Wings – I would usually shoot for 10 per person but if it is all guys who like to eat go for 20 per. I have been known to eat 50 in a sitting but 20 is usually a good number to shoot for.
Butter or Margarine – I actually think this might be the only application I can think of where margarine might be better than butter but I still usually use butter since we always have it in the fridge
Frank's Red Hot – Don't go for their wing sauce, just use the plain Frank's Red Hot. You can even buy it in gallon jugs at Amazon if you are too lazy to go to the store.
Hardware:
Deep Fryer, Dutch Oven, or even a good Wok – You need something to hold the oil. Deep fryers are great since they usually have temperature controls so you can keep your oil at a consistent temperature but if you have experience with your oven it isn't too hard to do the job in a cast iron dutch oven.
Oil – I usually prefer peanut oil for frying but canola oil works fine too
Tongs or a spider – Gotta get the wings out of the oil somehow
Saucepan – For the sauce of course
Holding vessel – I like a simple foil pan in a 200 degree oven for this
Preparing the wings: You can buy frozen wing pieces in a big bag at Costco or most grocery stores but I almost always prefer fresh wings. It isn't hard at all to cut them up. You can find a ton of videos on Youtube but basically just cut the wings at the joints. Try to not cut through the bone but cut through the cartilage and tendons. If you do end up cutting through some of the bone it isn't a big deal. Save the wing tips for some home made chicken stock and now you are left with a drummette and a flat. But if you are too lazy to cut your wings you can buy the pieces already cut at Costco. I got some for $1.99 a pound which is a pretty solid price.
Most people prefer the drummetts to the flats but it is all a matter of preference. The drummettes are easier to eat but I think the flats have better tasting meat.
Once you have the wings cut up you want to make sure they are dry. Pat them on both sides with some paper towels and if you have time stash them uncovered on a cooling rack set in a sheet pan in the fridge for at least an hour. Overnight is even better but realistically who plans that far ahead? Some people toss them in just a bit of baking powder or baking soda before putting them in the fridge to help them fry up a bit better but that is a step I almost always skip. I think the difference is fairly negligible.
The Sauce: This is where most people go wrong. In my opinion anything more than Frank's Red Hot and butter is overkill. Many recipes call for garlic, onions, habaneros, vinegar, Worcestershire, ketchup, or pretty much any other ingredient you can think of. But trust me, just go with Frank's and butter. It has plenty of heat, doesn't overpower the flavor of the chicken, and packs enough punch to give the wing a great flavor overall.
Melt your butter in a sauce pan and add in the Frank's Red Hot. I usually let the sauce just lightly simmer while I am cooking the wings. The ratio of Franks to butter is totally dependent on how hot you want your wings. If I am serving it to a group of people with varying tastes I usually start out with a 1:1 ratio. If I am making it for myself I go for a 2:1 ratio. So 1/2 cup of Franks per stick of butter. Feel free to go hotter if you like but a 2:1 ratio or even slightly more gives a good amount of heat without burning you up.
Cooking the chicken wings: I usually like my oil between 350 and 400 degrees for frying. Any hotter than that and the oil starts to smoke and burn. Any less and the wings soak up too much oil. Once your oil is hot enough drop in the first batch of wings. Depending on the size of your fryer or pan I wouldn't do more than 10-12 wings at a time. Any more than that and your pan will get too crowded and the oil temperature will drop too much.
Fry the wings for about 10-12 minutes until they get to your desired color. I like mine on the dark side and on the more crispy side so I usually push the 12 minute mark but they are definitely edible at 10 minutes or even 8, especially if you have your oil closer to 400.
Remove the wings to a cooling rack set over a sheet pan to drain for a couple minutes.
If you really, really hate deep frying you can cook them in the oven. Just put them on a rack over a foil lined pan in a 450 degree oven for 40-45 minutes flipping them once in the cooking process. The end product will be almost as good as the fried version. If you want to read a comparison of fried vs baked (and the steamed versions of each) checkout out Chicken Wings Cooked 4 Ways. 
Coating the chicken wings: I have two methods I use depending on how I am feeling. If I am super lazy I just dump the wings into the sauce pan with the sauce, give it a stir to coat the wings, let them sit for a minute or so, and then move them to the plate. If I am feeling more traditional I put the wings in a big metal bowl, dump in some sauce (you really don't need much. Maybe 3 tablespoons for 12 wings) and toss them to coat.
Since I usually have to fry multiple batches I will then move the wings to a foil pan and put them in a 200 degree oven to keep warm until I am ready to serve. Occasionally I will throw a spoon or two of sauce over the top of the wings too. If you like your wings extra saucy by all means dump the whole pan of sauce over the wings if you want but I usually just want enough sauce to coat the wings and maybe drip a couple drips as you are eating.
Serving the chicken wings: Most of the time I just eat my wings straight up but from time to time I do like some blue cheese dressing with them, the chunkier the better. Forget the ranch. If you ever try to serve ranch with your wings your guests would be right to throw it at the wall. Blue cheese is the way to go. And some celery and maybe carrot sticks are definitely welcome to help cool things off as well.
And don't even bother with napkins. You need so many to effectively wipe your hands that is isn't really worth it. Just put out some damp towels or wash clothes. Those will do a much better job of keeping people's hands clean and will also keep them from wiping their saucy hands on your sofa.
Like I mentioned earlier, if you have a mixed crowd I would go with about 10 wings per person. If it is all guys shoot for 20, especially if there isn't a lot of other food available. 20 wings go down surprisingly easy. If (rarely happens) you have leftovers they do heat up well. Just throw them in the oven for a few minutes the next day (or later that night) for a great snack.
Give this simple recipe a shot for your Super Bowl party and I almost guarantee you will be the hero of the party.