It that time of year where people everywhere are looking for that special corporate gift. In pretty much every business there are clients, vendors, customers, service providers, or employees that are worthy of a nice gift for the holidays. You could go with a standard gift basket or some corporate logo gear but in my mind there is no better corporate gift than a nice, big box of high quality meat.
Here are 4 reasons why some nice steaks make a great corporate gift:
High quality steaks aren't something people will normally buy for themselves – Most people don't want to spend the money required to get a quality piece of meat. But if they receive it as a gift? They are more than happy to enjoy it if someone else is paying.
A good steak is a very memorable gift –  A couple years ago at my day job I gave some steaks to a few clients and they still talk about how good they were and how much they appreciated it. Would they still remember a corporate logo sweatshirt or a basket of stale crackers and nasty cheese?
It is different – Most people have received regular gift baskets in the past but most have probably never had the UPS guy bring a box of high quality steaks or meat to their door. So one of these gifts will definitely stand out.
People love a good steak – Yeah, you will have some vegetarians and the like from time to time you have to think about but for the most part people love a good steak. And the steaks below are much higher quality than you can find elsewhere.
If you are a financial planner and want to give a gift to your clients wouldn't they love a box of steaks? Or a nice ham for a good family dinner? As a real estate agent if you everyone who bought a house from you in the past year received a box of prime ribeyes don't you think they will remember that when they are looking for their next house or are looking to recommend someone to a friend? If you are in sales and your big customers get a nice box of steaks don't you think they will buy from you again? Employers, don't you think your employees would enjoy a nice ham for their Christmas dinner?
There are endless opportunities to impress someone you do business with with some high quality steaks. Here are a few suggestions on some great meat corporate gifts:
Disclosure: This post is monetized with affiliate links. If you buy something through them I earn a commission which helps support this site and lets me buy more meat so I can write about it. 
Steaks from Snake River Farms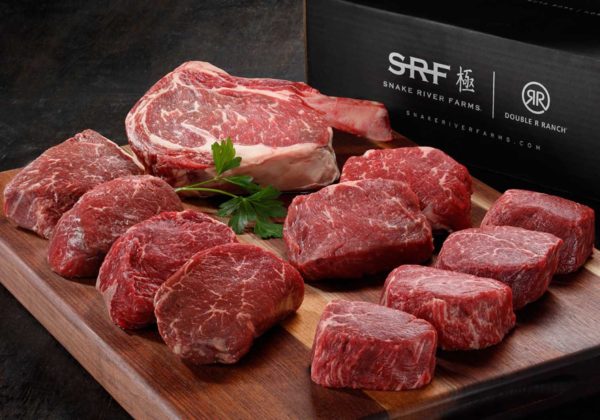 When it comes to quality it is hard to beat Snake River Farms. I have eaten dozens of their steaks and the quality is far and away beyond any other steaks I have had. Their specialty is their American Wagyu beef but they also have some great USDA Prime and choice steaks as well. I like their choice steaks more than the prime beef I can buy locally.
Snake River Farms has dozens of great gift options starting at $99 and going up to $999 depending on what you are looking for. Here are a couple suggestions that I like:
Big Steak Bundle – This is the gift for those clients you know love their steaks and like them big. 2 t-bones, 2 ribeyes, 2 porterhouse, and 1 prime bone in ribeye that weighs in at 2 pounds. All in all you get about 10 pounds of meat.
Steak Lovers Bundle – With the Steak Lovers bundle you get 4 American Wagyu sirloin, 4 American Wagyu filet mignon, 2 ribeyes, and 1 prime bone in ribeye. This is a great bundle for someone with a family since it includes so many great steaks and is the one in the picture above.
Prime Perfection – If you have a client who really enjoys their steaks the Prime Perfection bundle is a great choice. Your client will receive 4 prime filets, 2 16 oz prime ribeyes, and 2 prime NY strips. Prime beef is very well marbled and will be delicious on your client's grill.
American Wagyu Tomahawk Steaks – Are you looking for a truly memorable gift that will blow the minds (and taste buds) of a client or customer? There is no steak that is more impressive looking than a tomahawk steak and these American Wagyu tomahawks (which weigh 2 1/2 pounds each) are the best you can get.
All in all there are about 37 different gift bundles available from Snake River Farms ranging from hotdogs and burgers to some chef's curated boxes. Take a look at what they have and pick what you think will resonate the best with your clients.
Hams and Prime Ribs from Snake River Farms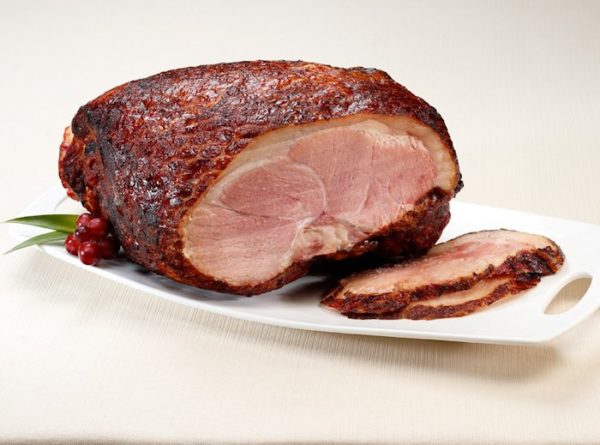 Are you looking for a great gift for your employees? Or do you have a number of clients you need to impress? Giving someone a nice ham or prime rib for a special holiday dinner will be a memorable gift that they will talk about for a long time. Imagine the looks on your employees faces when you start handing out some nice kurobuta hams during your holiday party. Think about the loyalty you will earn from a client if you show up to his door with a top notch prime rib.
Here are a few options I would look at:
Whole Kurobuta boneless ham – These hams weigh in at 7 pounds so they can definitely feed a family. And because they are boneless they are easy to cook and carve for pretty much anyone. Just stick them in a 325 degree oven until the middle is warm and you are good to go so they won't be as intimidating as some other cuts.
Kurobuta Ham Starter Kit – With a bone in ham and a nice towel and apron this is a great complete gift option
Northwest Beef Prime Rib Starter Kit – This 3 bone prime rib comes with a pocket thermometer and a tin of Jacobson sea salt as well as a prime rib cooking guide so even a novice cook can make an elegant holiday dinner.
American Wagyu Prime Rib Starter Kit – Similar to the kit above but this one comes with an American Wagyu prime rib which is pretty much the highest quality you can get. If cooked properly it will be the best prime rib your employees or clients will ever eat.
So spend a couple grand and load up some coolers with some hams and prime ribs and play Santa as you visit your clients. Or throw on the Santa hat and pass them out at your company holiday party. Anyone who receives any of these gifts will be blown away.
Need a corporate gift that isn't meat?
Now I understand you might have some clients who might be vegetarians or might not enjoy meat enough to make a gift like steaks worth it. If you are looking for gifts for clients like that I would suggest looking at the following:
Collin Street Bakery Fruitcake – I am not a fruitcake lover but when I tasted the Collin Street fruitcake I realized that I only hate bad fruit cake. The fruitcake from Collin Street is easily the best fruitcake I have ever tasted. It is loaded with fruit and pecans and is perfectly moist and tender. If you are planning a holiday party order a couple fruitcakes. Take some of these fruitcakes to a potluck. Deliver some to the neighbors. I know fruitcakes are a cliche gift and are made fun of a lot but these fruitcakes will change your mind. Order yours today to make sure they get there by Christmas.
GiveThemBeer.com – Who wouldn't love receiving a beer giftbasket? The beer briefcase is one of my favorites.
The Fruit Company – If you have to go the more traditional route I would recommend a fruit basket or box from The Fruit Company. I have eaten many of their products before and they are all top notch. They have all sorts of different combinations and price ranges and have free shipping on some of their baskets.
Gift Baskets Overseas – Do you have clients overseas? If so GiftBasketsOverseas.com can deliver to 200 different countries. So maybe you can't ship a box of steaks to France or China but you can still get them a great gift.
Don't wait too long to shop from any of these merchants. If you wait too long you will start running into expedited shipping costs so make sure you get those orders in as soon as you can.