Over the past couple days I have seen a couple people ask where the best places to buy prime steaks are. I am always looking for good answers for this as well. Prime steaks can be hard to come by in many places. Unless you live close to a top notch butcher you will pretty much never see prime steaks at a grocery store or standard butcher shop. Maybe if you sweet talk your butcher they can bring some in for you but it probably isn't something they regularly carry.
Let's back up a bit and talk about prime steaks. Prime is the USDA grade given to only the top 3% of beef in the US. The inspector looks at a cross section of the rib primal to look primarily for how much marbling or intermuscular fat will be in your steaks. Prime beef is very well marbled with flecks of nice, white fat all throughout the meat and the result is a tender, juicy, flavorful steak assuming you cook it properly.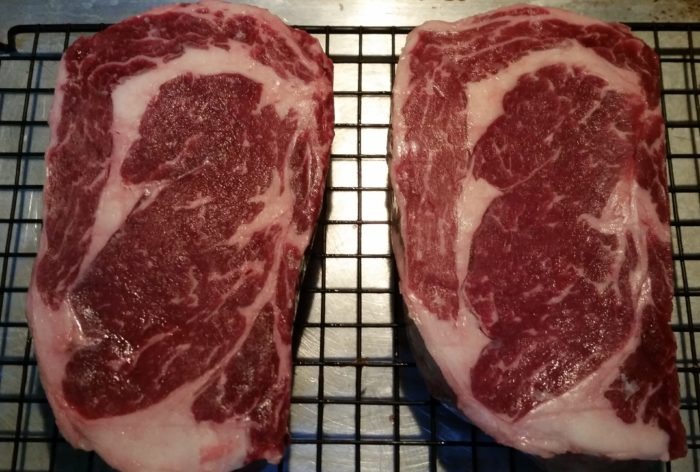 Since only 3% of beef carcasses are graded as prime there just isn't a lot of it readily available. A very large portion of prime beef goes to restaurants and the food service industry leaving very little for consumers. As you might guess this leads to prime steaks costing more than their choice counterparts. The high price scares off a lot of consumers which leads to regular grocery stores not carrying it.
For most people that leaves two options to regularly buy prime steaks locally:
Costco – Every Costco I have been to has a pretty solid selection of prime beef. They regularly have prime ribeyes, prime NY strips, and prime filets as well as some prime ribeye caps. But there is a HUGE problem with Costco steaks: they are blade tenderized. If you look at the label you will see they say they are blade tenderized and because of that they recommend cooking them to 160 degrees. First off, why blade tenderize a nice prime steak? Second, 160 degrees??? Yeah, right. Of course you don't have to cook it to that temp but the risk of food borne illness is much higher than a non-blade tenderized steak. So Costco is out.
Whole Foods – Whole Foods does carry some dry aged prime steaks, at least I think they might. I haven't spent much time in Whole Foods but the last time I was there I swung by the meat case and they had some ribeyes in the butcher case and the tag said "choice". I asked the butcher if they had any prime and he said those steaks were prime. But I asked why it said choice and he said something to the effect of "the're all labeled that but they really are prime". This could have just been a butcher that didn't really know his product but it was enough to make me not trust them. And as I saw someone comment elsewhere: "I won't go into Whole Foods. I see too many people that need to be beat up and it ruins my mood". So Whole Foods are out.
Unless you have a great butcher nearby that leaves one more option: The internet. Since the online meat sellers have a much larger customer base to pull from (aka the entire population of the US as opposed to just one town or neighborhood) they can afford to sell prime steaks and other specialty cuts. But with all the online meat sellers which one is the best to buy prime steaks? Who has the best prices? Well, I have some answers.
I went through and pulled info from 7 different sites that sell prime steaks. For comparison sake I used the prime steak by which all other prime steaks should be measured: the prime ribeye. To make an apples to apples comparison I will be comparing the prices of 4 12 oz ribeyes. I usually like 16 oz ribeyes but not every site had those but most sites had 12 oz steaks and most sold them in quantities of 4.
The table below is a cost comparison of the 7 different sites and these prices were all pulled on Dec. 9th so they may vary when you look. Some of the sites offer free bonuses like side dishes or even some other, cheaper steaks but if you are just comparing the prices of the steaks here is how it all shakes out. And there is a definite winner.
Disclaimer: If you buy a steak through these links I may earn a commission and I have received some products for free. But the opinions are all my own and not influenced by that. And these prices don't lie:
Prices for four 12 oz Prime Ribeye Steaks
| Website | Price for 4 12 oz steaks | Price per steak | Shipping | Total cost | Price per oz |
| --- | --- | --- | --- | --- | --- |
| SnakeRiverFarms.com | $104 | $26 | $0 | $104 | $2.17 |
| Shop.LaFrieda.com | $123.90 | $30.98 | $14.99 | $138.89 | $2.89 |
| KansasCitySteaks.com | $129.95 | $32.49 | $12.95 | $142.90 | $2.98 |
| AllenBrothers.com | $129.95 | $32.49 | $24.95 | $154.90 | $3.28 |
| MyChicagoSteak.com | $144.95 | $36.24 | $25.99 | $170.94 | $3.56 |
| Lobels.com | $159.8 | $39.95 | $45.99 | $205.79 | $4.29 |
| Debragga.com | $172.65 | $43.16 | $39.95 | $212.6 | $4.43 |
As you an see Snake River Farms is the clear winner on price. The price for just the steaks is less than the other 6 competitors and they have free shipping when you use code FREEAFF. Some of the other sites have free shipping promos from time to time and depending on where you live your shipping might be cheaper or more expensive (I tried to take the median shipping cost if they charged differently for different parts of the country) but these were the standard prices on their sites. The comparisons for other steaks and quantities are similar as well.
I haven't eaten steaks from all these retailers (hopefully I can do a side by side comparison someday…) but I have eaten many, many steaks from Snake River Farms including these prime ribeyes. They do taste much better than any prime steak I have ever gotten from Costco. Will the steaks from the other retailers taste just as good as Snake River? I am not sure. My guess is steaks from Lobel's and LaFrieda will both be excellent as will most of the others but for $25-$108 less for a similar grade of steak I would go with Snake River Farms.
So if your question is "Where can I buy prime steaks?" my answer would be Snake River Farms. Along with the prime ribeyes they also sell prime filet mignon, and prime NY Strips. They also carry their bone in prime line which includes a prime t-bone, prime bone in filet, prime bone in NY Strip, and a prime Cowboy thick cut ribeye steak. Try these steaks and you won't be disappointed.