Carne Asada Skirt Steak
Technically "Carne Asada" just means roasted meat. There is no real traditional be all and end all recipe for carne asada so if you see a recipe for "authentic" carne asada run away and look for a recipe that looks good to you. That said there are some general characteristics that I want to have in my carne asada.
I want my carne asada to taste like beef. If all I am tasting is the marinade something is wrong. As far as the marinade I want some heat, some sweetness, some saltiness, and some acidity. The final product should have a good balance of all 4 of those flavors and none of them should overpower the others. The texture should also be tender and if I put the steak in a taco I want to be able to bite through the pieces of meat.
Here is my basic recipe for Carne Asada Skirt Steak
Place dried ancho and guajillo peppers on a microwave safe place and microwave 20 seconds. You can also soak them in warm water for 20 minutes or so but the microwave is much quicker. Add the peppers to your blender along with the other ingredients and blend until smooth. You can use a stick blender or a food processor for this step as well.

Put your skirt steaks in a zip top bag and add in about half the marinade to the bag and seal. Rub and knead to get the meat completely covered and stash in the fridge for about 3 hours. Put the other half of the marinade in a bowl and use it as a great salsa. You might need to add a bit more salt to the salsa.

Light a chimney full of charcoal. After it is grey and ashed over dump it on one side of your grill, put your cooking grate in place, cover, and allow everything to get nice and hot for 5 minutes or so. See below for some additional cooking methods.

Remove your steak from the marinade and wipe off the excess. Oil your cooking grates and put the steak right above the pile of charcoal. You will want to cook the steaks for 3-4 minutes per side until the internal temperature is 120-130 degrees. You can remove it at 110 if you want but I don't like skirt steak super rare. Medium rare is what I am shooting for. You should have some nice char on the outside of the steaks when done. Rest for 5 minutes, cut the steaks into 4-6 inch pieces and then slice across the grain.
All and all it is a fairly simple recipe. The marinade hits all the aspects I want. There is some heat (from the peppers), some sweetness (from the orange juice and brown sugar), some saltiness (from the soy sauce) and some acidity (from the OJ and lime juice). You might be alarmed at how hot the marinade is but trust me, it mellows when you cook the steaks. The leftover sauce is still pretty spicy but not overpowering by any means if you are using it as a topping or just dipping some chips in it.
Here are a few more specifics about how I made this carne asada skirt steak.
Disclosure: This post is monetized with affiliate links. If you buy something I earn a commission which basically just goes to buy me more meat. 
First off, I like skirt steak for carne asada. You can definitely use something like flank, hanger, or flap meat for this recipe but I think the loose grain and texture of the skirt steak is perfect for this application. I got these skirt steaks from Snake River Farms. Every time I have a steak from Snake River I am blown away at the quality of the meat. These steaks are more expensive than what you will get at the grocery store but you will notice the difference. Awesome flavor and texture.
These skirt steaks are inside skirt steak which is 99% of the skirt steaks available for consumers. Outside skirt steaks are a bit higher quality but they almost all go to restaurants and are very hard to come by. Learn more about skirt steaks.
I made the marinade above for these skirt steaks. The recipe is inspired from the Serious Eats Carne Asada recipe with a few modifications. I hate cilantro so I omitted that. Their recipe calls for 6 cloves of garlic but I cut that back to 2. Fish sauce was also omitted and replaced with a bit of Worcestershire sauce. The last couple times I have used fish sauce in a marinade like this it has been a bit too overpowering so I left it out. If you are a cilantro fan by all means throw some in. Want more garlic? Add more garlic! That is the beauty of recipes like this and you can definitely add or remove ingredients to satisfy your taste. But remember to keep a balance of acid, salt, sweet, and heat.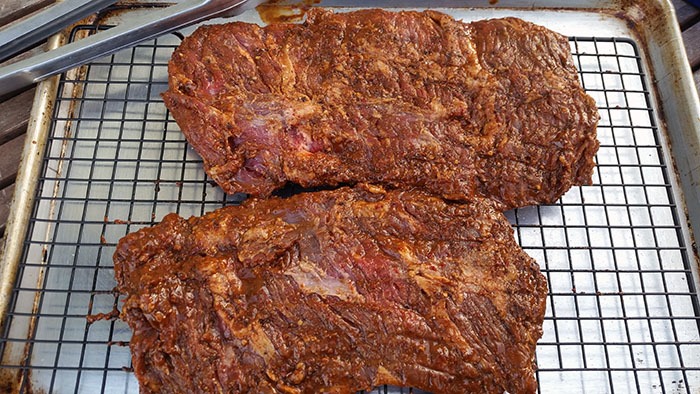 I wanted to switch things up a bit while cooking these steaks. Instead of using the grate I just cooked the steaks directly on the charcoal. Now, a couple words of caution here:
Use a high quality lump charcoal. Don't use briquettes. The briquettes have more ash than lump and they don't get as hot as lump charcoal.
Use a fan to blow off all the loose ash before cooking. You can use a hair dryer if you want or a battery powered fan. I used a BBQ Dragon fan. The BBQ Dragon is nice because you can also clip in on the side of the grill and blow it directly on the coals to get them super hot.
You will only want to use this method with thin cuts like skirt or hanger. Don't try this with a ribeye or t-bone.
Place the steaks right on the hot coals. Yeah, you will get a little bit of ash on the steaks but it will be a lot less than you think. If a chunk of charcoal sticks when you flip the steaks just take it off.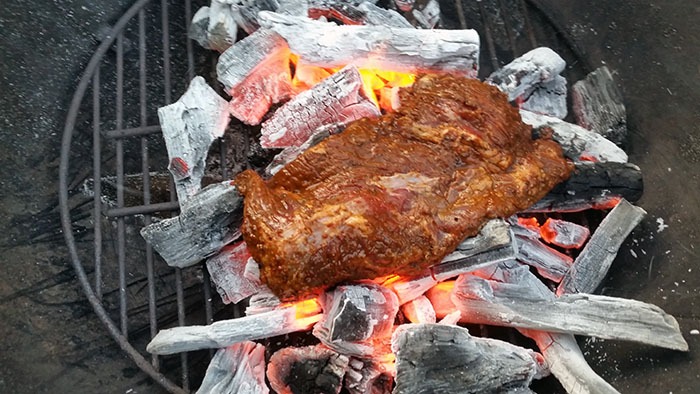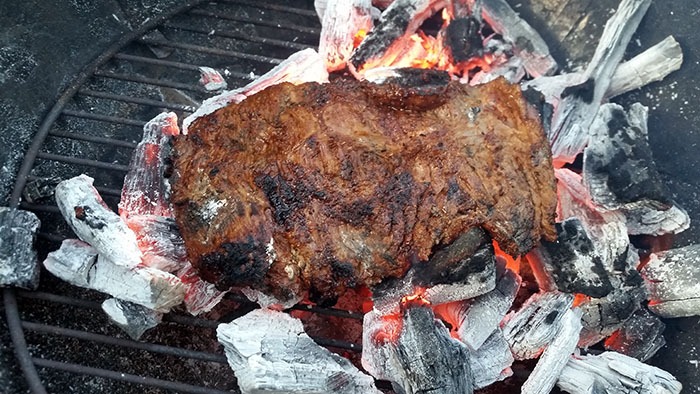 You will want to cook your steaks for about 3 minutes per side but keep a close eye on them. You want a bit of char on it but if it starts getting too charred flip it or pull it off and add the grate back on.
Does this method cook the steaks better than just using the cooking grate? Not sure. But it is pretty cool. This is also called "caveman style" and there is something awesome about just slapping some meat directly on some flaming hot coals. One big benefit is there are no flare ups but this method definitely isn't necessary. You can just cook the steak on the grates if you want and you will still have a great steak.
Don't have a charcoal grill? Use a super hot gas grill or you can even do this under the broiler in your oven.
When cutting the steak you definitely want to cut across the grain. I like cutting the steak into 4-6 inch pieces and then cutting thin against the grain. That gives you some great bite sized pieces of carne asada skirt steak.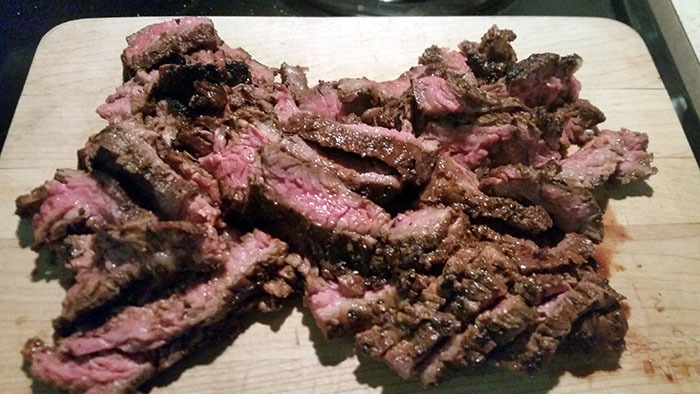 As far as serving there are a number of options. You can use it in fajitas, quesadillas, nachos, burritos, or just dump in on a plate and serve with some rice and beans. Personally I love it taco style in a flour tortilla with some cotija cheese, some tomatoes, and sour cream. The cotija pairs amazingly well with the flavors of the steaks. Feel free to drizzle some of the leftover sauce on top as well. Use any type of taco toppings you want. Avocado, onions, cilantro, black beans, lettuce… do what ever you like.
This recipe is a great way to take taco tuesday or Cinco De Mayo to the next level. It is a great meal for a family or a larger group. Put out all your toppings and let people build their own tacos however they like. Give it a try and let me know what you think.