If you have a meat lover on your gift list here are a few steaks and cuts of meat that would make perfect gifts. Most of these aren't necessarily every day cuts but would be a special cut someone might not normally splurge on for themselves but would blow them away if they were to get them for a gift. Some are individual steaks, some are larger cuts, and some are gift packs.
All these gifts are available from Snake River Farms. I chose them for two primary reasons. First, their meat is awesome. I have eaten dozens of their steaks and other cuts and the have all been excellent. Their quality surpasses any other steaks I have ever purchased. Second, all these gifts ship for free with code FREEAFF. That saves you $15-20 over other meat merchants. If you are a last minute shopper you can also get express shipping for only $20. And you can schedule your delivery date.
The steak bundles I have picked out also make great corporate gifts for employees, clients, customers, and partners. Order one for family and friends or order a few dozen as a corporate gift.
Disclaimer: This post is monetized with affiliate links. If you buy through one of these links I will make a few bucks and be able to buy more meat. 
Snake River Farms Big Steak Bundle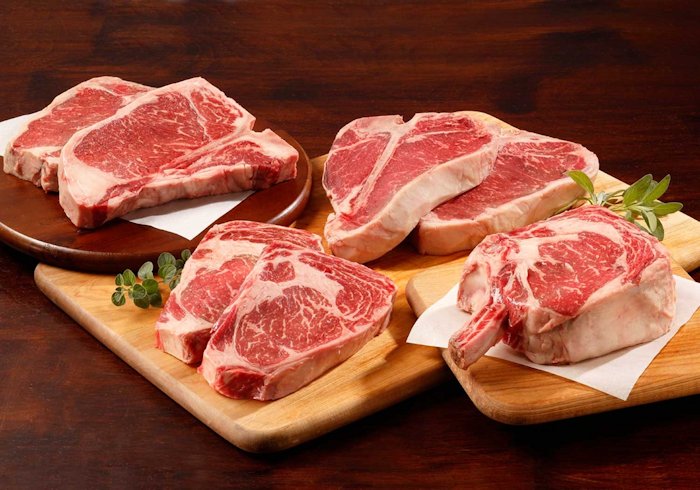 For true steak lovers it is hard to beat the Big Steak Bundle from Snake River Farms. This package comes with 2 24 oz t-bones, 2 14 oz ribeyes, 1 2 lb Cowboy steak (a bone in ribeye), and 2 thick 24 oz porterhouse steaks. That is 156 ozs of pure meat goodness. Right now it is on sale for $239 and you can get it shipped for free with code FREEAFF. Order your Big Steak Bundle today.
Hugh Acheson Curated Steak Box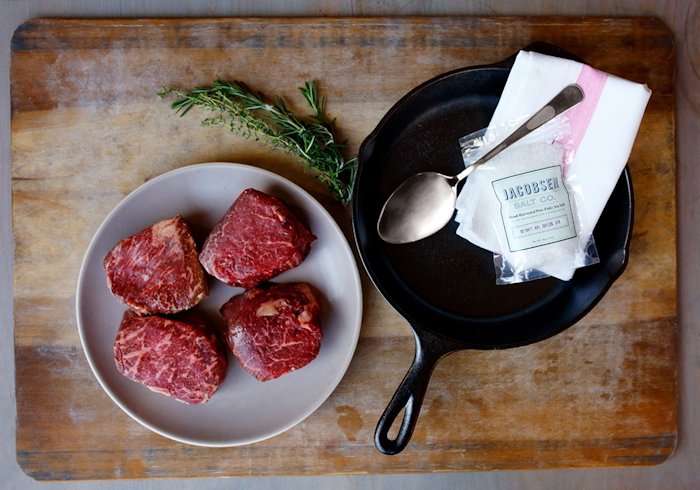 This box, curated by chef Hugh Acheson, comes with 2 American Wagyu filet mignons, 2 American Wagyu ribeye filets, some Jacobson finishing salt, a cast iron skillet, a saucing spoon, and a great kitchen towel. You will also receive a nice cooking guide from Hugh Acheson so the recipient will know how to perfectly cook these steaks. I love cooking steaks like this in a cast iron skillet and that finishing salt puts some great flair on the finished product. With this gift you will give everything needed for a perfect steak. This box is on sale for $199 for a limited time so order your Hugh Acheson Curated Steak Box today.
Snake River Farms Prime Rib Starter Kit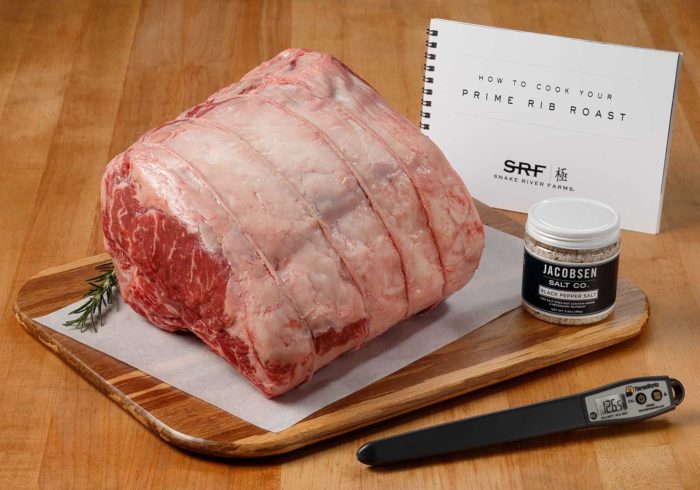 This prime rib starter kit is a great gift for a family and would make for an awesome holiday meal. Even a novice cook will be able to follow the directions in the included instruction book and it also comes with a nice thermometer just in case they don't have one. This is a 3 bone roast so it will be about 8 pounds which will easily feed a family or two. For $185 this isn't the cheapest gift but it will be a memorable one. Order your Prime Rib Starter Kit today.
American Wagyu Steak Lovers Collection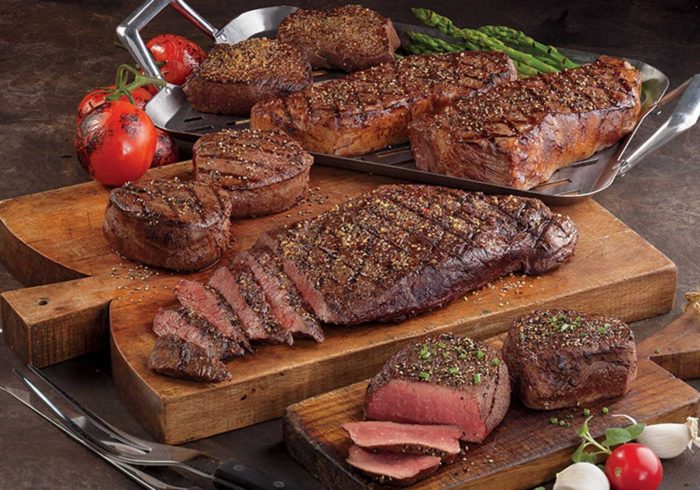 This is the best of the best here. American Wagyu is among the best quality steaks you can get. They have more marbling, better texture, and better flavor than prime beef and you will pretty much never find anything like this locally. Most steak lovers have never tasted real American Wagyu beef so a gift like this will surely be appreciated. Two filets, two ribeye filets, two NY strips, 2 sirloins, and a flat iron steak will be enough meat to last a while. The price (on sale for $319) might seem expensive but the quality will blow you away. Order your American Wagyu Steak Lovers Collection today and don't forget to use code FREEAFF for free shipping.
American Wagyu Tomahawk Gift Box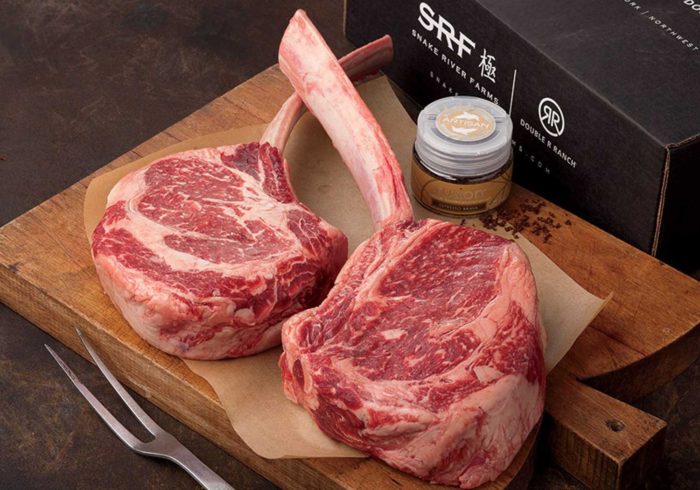 If you are looking for a showpiece this is it. These American Wagyu Tomahawk Steaks are about 2 1/2 pounds each, 2 inches thick, and will fill up even the biggest eaters. No steak will look better on a plate than these striking tomahawk steaks. Imagine the look on the recipients face when they open the box and see these bad boys staring them in the face. These American Wagyu tomahawks are graded higher than prime so you can be assured of great marbling and flavor. Buy your American Wagyu Tomahawk steak package for $219 or you can also buy individual tomahawks for $119 each or $99 when you buy 8 or more.
Steak Lovers Gift Box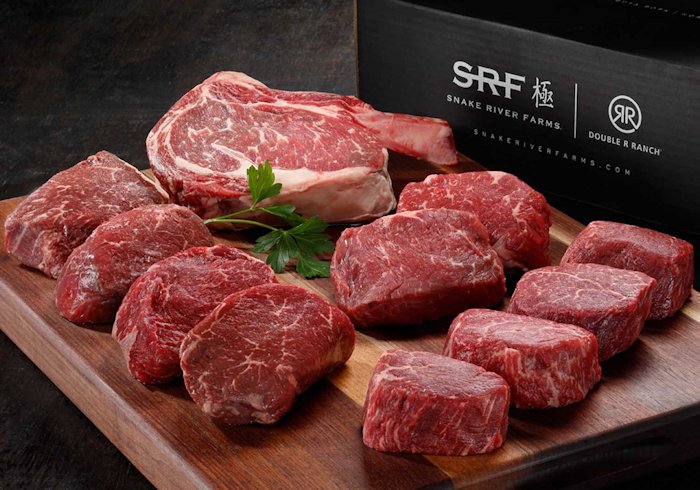 For a great gift that has a wide variety of cuts the Steak Lovers Gift Box is the perfect fit. This box has a 2 pound Cowboy bone in ribeye, 2 ribeye filets, 4 American Wagyu filet mignons, and 4 sirloin filets. All of these cuts have a different flavor and texture so it will give the recipient a wide variety to choose from. You will never go wrong with this one. This Steak Lovers package is on sale for $249 so order yours today.
Kurobuta Bone In Ham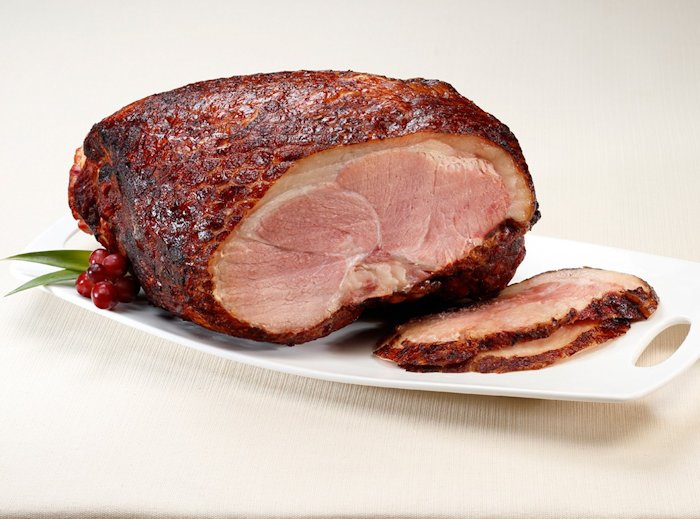 A ham like this great Kurobuta Bone In Ham makes a great gift for a family. In-laws, cousins, family friends, parents… pretty much anyone on your list would appreciate an awesome piece of meat like this. Al Roker makes these hams his go-to gift item every year. This ham can be purchased in 6,8, or 14 pound cuts and starts at $119. Some people might be intimidated by cooking a steak but pretty much everyone put a ham in a 325 degree oven for 3-4 hours. Order your Kurobuta Bone In Ham today. And don't forget to get one for yourself for Christmas dinner.
Gold Grade Cap of Ribeye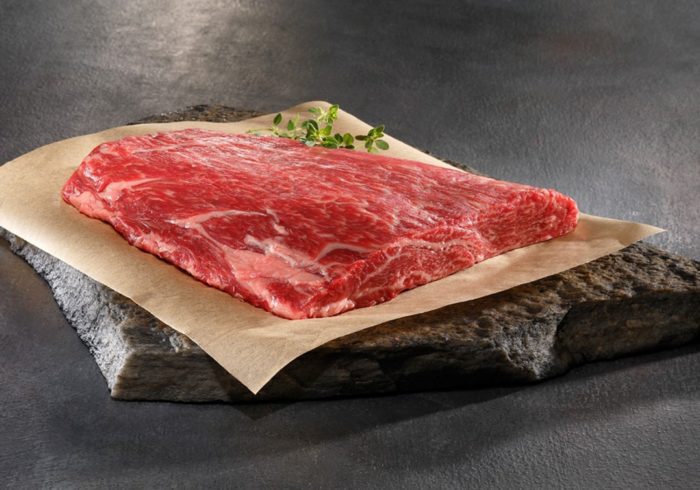 This Gold Grade American Wagyu Cap of Ribeye should be reserved for only the true steak lover. Most people haven't heard of the cap of ribeye before but a real steak connoisseur will definitely appreciate this cut. Taken from the top of the rib roast this cut is considered the best muscle on the steer by most meat lovers. Great marbling, great flavor, and insane texture make this the most sought after cut. The 20 oz version runs $199 so it is very, very expensive but if you are looking for a once in a lifetime gift for someone this is it. Order your American Wagyu Gold Grade Cap of Ribeye today.
If you are looking for standard cuts like ribeye, NY Strip, filet mignon, and others Snake River Farms carries all those as well. Shop today for the best selection and to make sure your steaks get shipped on time. And don't forget to use the coupon code FREEAFF to get free shipping.