Chimney Seared Top Sirloin
I have recently become more of a fan of top sirloin. For years I was of the mindset that it was a cheap, inferior cut of beef for people who didn't want to spend the money on a ribeye or NY strip. But the more I eat top sirloin the more I believe the top sirloin can stand on its own and is worthy of respect as a quality steak.
Top sirloin comes, obviously, from the sirloin part of the steer. It is located behind the strip loin. Generally speaking it is a fairly lean cut and has a great beefy flavor but isn't necessarily the most tender steak. Like other lean cuts like filet mignon you really have to be careful with the cooking method and temperature of the finished steak. If you go much beyond medium rare you will be left with a dry, mealy steak but if you can hit a perfect medium rare or even a bit less the top sirloin will yield a great steak.
The best cooking method for a steak like a top sirloin is known as the reverse sear. Basically you start the steak at a low temperature to cook the steak and then finish it over high temperature to get a nice sear on the steak. This can definitely be done with a 225 degree oven and then a super hot cast iron pan but I chose to do these on the Weber Kettle grill.
Disclosure: This post is monetized with affiliate links. If you make a purchase through my links I earn a commission which will generally go to buying more meat.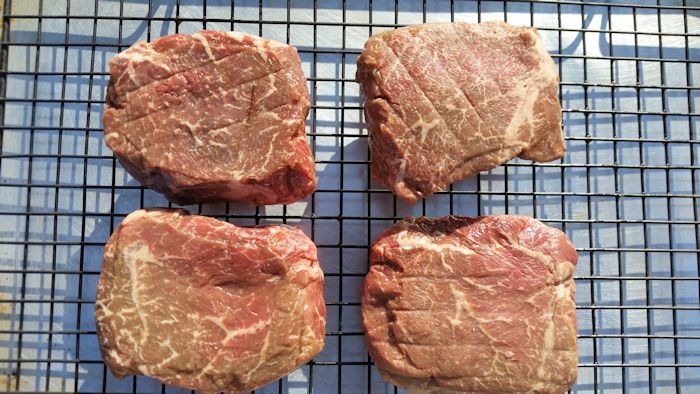 Last week Snake River Farms had a sale on their Gold Grade Top Sirloins. Their Gold Grade steaks are their highest quality American Wagyu beef which is a cross of Japanese Wagyu cattle and Angus. This cross breeding results in a very well marbled, tender, and flavorful steak. The Snake River Farms Gold Grade American Wagyu top sirloins usually sell for $25 per pound but they were on sale for $15 so I decided to give them a shot. I have had their standard top sirloins before and they are insanely good but I figured with these steaks on sale it was time to splurge. Is $15 a lot to spend on an 8 oz steak? Of course it is. But one bite and you will see that the cost is justified.
For a top sirloin these steaks were nice and marbled. Most top sirloins have very little intermuscular fat but as you can see on the above steaks there are veins of fat marbled throughout these steaks.
I gave these steaks a nice hit of kosher salt; about a teaspoon per steak. If I ever plan ahead enough I like to salt the steaks the night before and then dry brine them overnight in the fridge but I just salted these right before cooking. These steaks were about 1 1/2 inches thick which is a great thickness for a reverse sear.
I filled my charcoal chimney just over 1/2 full with some lump charcoal, got it ashed over, and then dumped it on to one side of my grill. But I also left a few coals in the chimney… more on this later. I put the grate on and threw the steaks on the opposite side of the grill. If you are using your oven just put the steaks on a rack in a 250 degree oven.
The goal here is to keep the overall temp of the grill around 250 or so. I closed the vents a bit and let the steaks go, flipping ones while they were cooking. Every steak and every cut will take a different amount of time to get up to temperature but these took about 35 minutes to get to 115-120 degrees. Please, please, please invest in a thermometer and don't go by time. The Thermoworks Dot is a great thermometer for under $40 and that $40 will save you a lot of money in overcooked meat.
Remember those coals I left in the chimney? I filled the chimney back up with another load of lump charcoal and left it to get hot while the steaks cooked. I wanted as much heat as I could get on those coals to get the best sear possible as quickly as possible. If you take too long to get a sear you will be left with an overcooked exterior portion of the steak. Even if the middle stays at the correct temperature the outer part of the steak will be an unappealing, unappetizing grey. I want to punish the outside of the steak with as much heat as I can while having as little of that heat make its way into the middle of the steak.
Since I wanted as much heat as possible I used my BBQ Dragon and Chimney of Insanity (check below for a link). The chimney has a tube that feeds air to the bottom of the charcoal. The BBQ Dragon is a fan that is designed to fit in that pipe and turn the chimney into a searing machine. Here is what it looks like: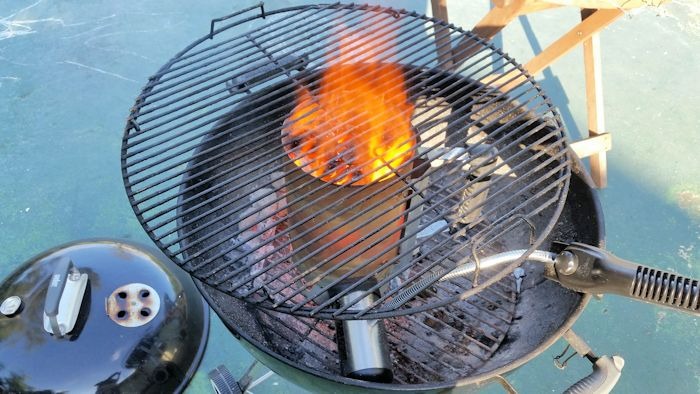 As just a stand alone chimney I am not a huge fan of this one as it is pretty small but for this application it is excellent. I have no idea how hot this thing gets but you can see the chimney glowing red. I would conservatively guess it is around 800-1000 degrees.
I put the steaks on for about 30 seconds per side. That is all it takes to get a nice sear. One of these days I will do a post on the magical Maillard reaction but for now just know the sear is what takes a steak from good to great.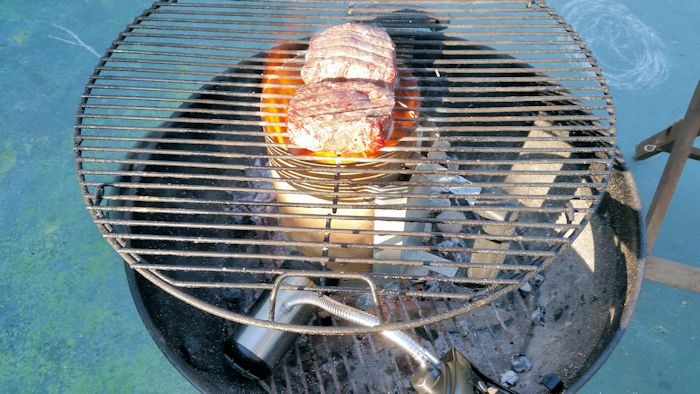 If you are doing this without a charcoal grill you can use a ripping hot cast iron pan with a bit of oil for this step. It will smoke like crazy but it will do a great job.
After 30 seconds per side these steaks had some great grill marks and a nice sear on them. A couple bits around the edges might have gotten a bit charred but they were still delicious.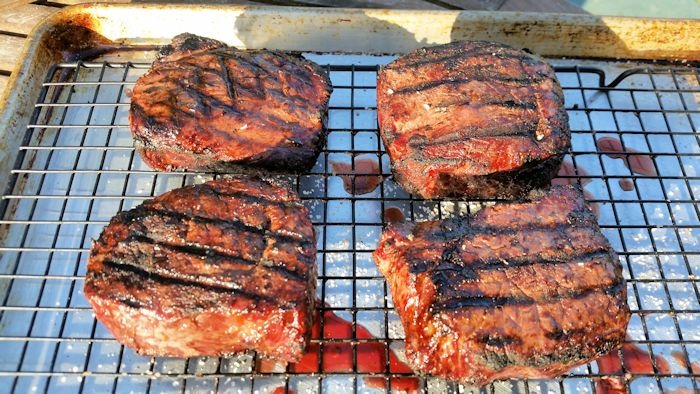 That juice below the steaks is normal. To minimize the loss of juice give the steaks a few minutes to rest. Resting or not resting steaks has been debated but I think it helps. One of these days I will do some more tests on that but giving the steaks a rest is generally considered to be a good thing.
But sometimes I get impatient. And by impatient I mean I wanted to get dinner on the table as soon as possible so we could get the kids to bed. I cut into the steaks just a couple minutes early so I lost a bit of juice but these steaks were the juiciest and most flavorful top sirloins I have ever had.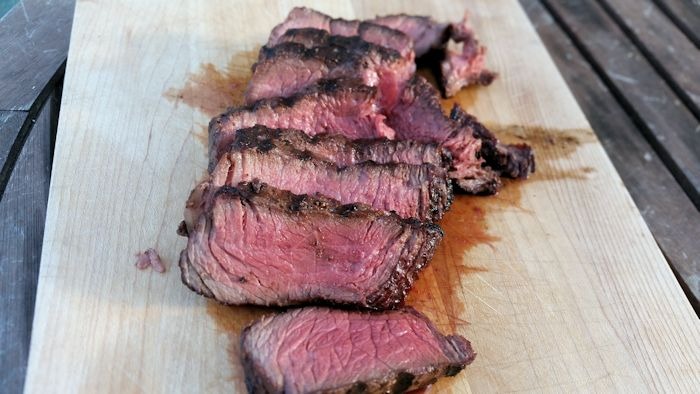 And from another angle: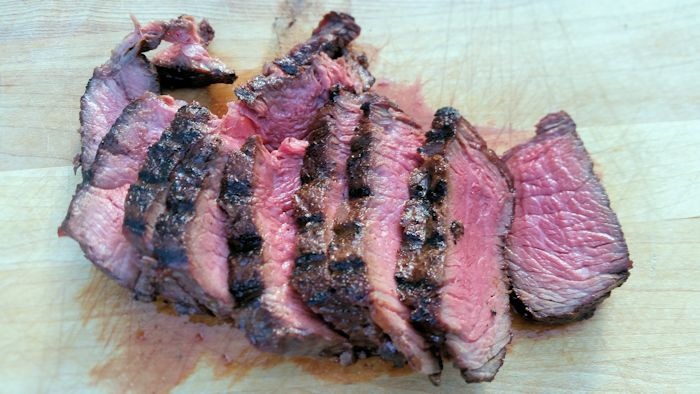 At 8 ozs a piece these Snake River Farms Gold Grade Top Sirloins were the perfect size for most people. But I ate two of them and probably could have done with a third. The next time I see these steaks go on sale I will be filling my freezer. Be sure to check their sale section every week or two and see what they have on sale. Right now I would recommend the flank steaks for $14.
So start with some high quality steaks (at least an inch thick, preferably an inch and half or more), cook them slow until they hit 115-120 degrees, and then blast them with high heat.
Check out the links below for some of the equipment I used for this cook.