Quality beef is hard to come by. At least where I live it is. There are a million people in this city and there are very, very few stores or butcher shops that actually sell a decent steak.
When I say quality I primarily mean a steak that tastes delicious. There are other factors like the cattle being responsibly raised, the texture of the meat, the freshness of the meat, and so on but more than anything I want my steak to taste like a steak. Too many steaks and cuts of beef nowadays just don't have the beefy flavor I want.
I am not necessarily talking about the grade of meat either. A high quality "choice" steak can blow away a mediocre quality "prime" steak. For example, I haven't been all that impressed with the prime beef at Costco lately. I have some thoughts as to why and I am doing some research into that (read http://www.seriouseats.com/2017/05/beef-shopping-prime-high-choice-steak.html for something to think about in the mean time) but until I get some more concrete info I don't want to say much.
Disclosure: This post is monetized with affiliate links. If you buy something through them I earn a commission which helps support this site and lets me buy more meat so I can write about it. 
Anyway, since quality steak is hard to find locally I have been ordering more and more of my meat online. Most of the steaks and beef I buy has been from Snake River Farms and I love everything I have had from them. But sometimes I have a hankering for some grass fed beef. For the most part I prefer grain finished beef but grass fed beef can have a bunch of different flavors that you just can't get from grain finished beef. Not all those flavors are always good though. I have had some grass fed beef that tasted like a wet bail of hay.
One source I have recently been looking at for grass fed beef is CrowdCow.com. In a nutshell Crowd Cow partners up with small farms and ranches around the country and allows you to buy a share of the cow. This isn't a traditional share you might buy from a local farm where you buy a half a steer or a quarter of a steer. With CrowdCow you get to pick what cuts you buy. Once all the shares are sold the cow "tips" and everything ships.
There are new cows on the block every few days so if you miss out on your favorite cut from one cow there will surely be another coming soon. There are usually around 50 shares available encompassing everything from the standard ribeyes and NY strips to other cuts like tri tip, flank steak, shank, tongue, heart and you can even buy leaf fat to render your own tallow. Pretty much every piece of the cow is for sale.
I first heard about Crowd Cow a year or so ago but at that time they only delivered to the West Coast. But about a month or two ago I got an email saying they had partnered with some ranches on the East Coast and could now deliver to most of the country. As soon as I saw that email I jumped to their site and bought my first shares. I wanted to try a few different cuts so I went with a tri-tip, chuck roast, beef ribs, and some ground beef. I have eaten the beef ribs and tri-tip but the chuck roast and ground beef are still sitting in my freezer for another day. The tri-tip (about 2 pounds), chuck roast (3 pounds) and 2 pounds of ground beef were one share and those cost $52. I added on the beef ribs separately and those were another $28. Shipping runs $12.99 which covers as much as you want to order. So for a total of $93 I had about 10 pounds of grass fed beef on its way to my house.
Like I mentioned, I haven't cooked up the chuck roast or ground beef yet but here is what I thought of the beef ribs and tri-tip:
Beef Ribs
Most of the beef ribs I have cooked in the past have been massive plate ribs which weigh in at about 5-6 pounds per slab. Those are from bones 6, 7, and 8. These ribs I believe were chuck ribs which are similar but a bit smaller. Generally speaking grass fed cuts will be smaller than their grain finished counterparts and these ribs weighed in at right around 2 pounds. They were still quite meaty though: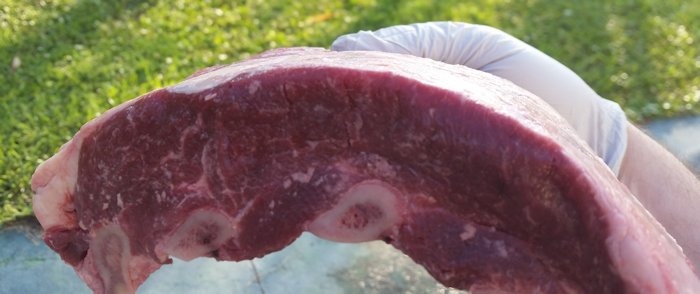 You can see these ribs had quite a bit of meat on top of the bones. It wasn't as well marbled as traditional beef ribs which is very common for grass fed beef. Grain finished beef is traditionally raised for yield, speed, and marbling. Most beef cattle is slaughtered at 12-18 months. Grass fed cattle are generally 24 months old or even older. Every ranch is different but the extra life reduces the marbling but I think creates different flavor compounds.
Anyway, I seasoned these ribs with a heavy dose of salt and pepper and threw them on the Weber Kettle and got them smoking. I was shooting for an internal temperature of right around 200. When done the probe of your thermometer should go through the meat like it was going through soft butter. I gave these ribs about 4 hours over the smoke and then wrapped them in pink butcher paper.
Here is what they looked like before wrapping: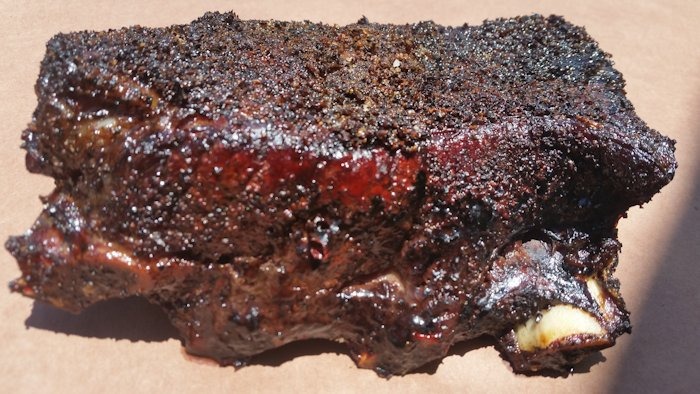 I usually don't like to wrap my beef ribs but since I knew these had less fat than other beef ribs I really wanted to make sure they didn't lose any more moisture than they needed to. So after wrapping they took about another 2 hours to reach the proper temperature and the proper texture. Here is what the finished product looked like. They had an awesome crust on them but until they were cut into I had no idea if they would still be moist.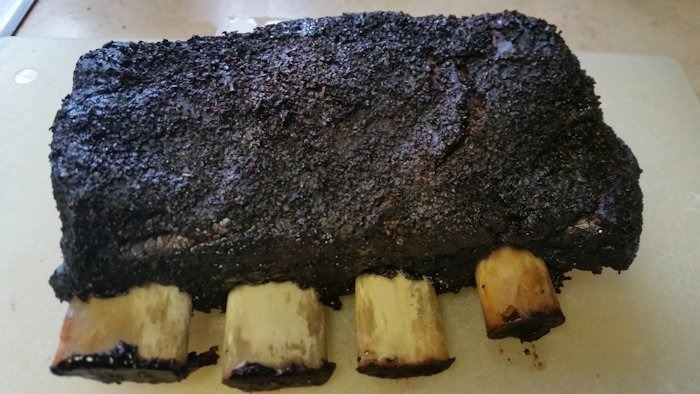 When I cut in they were noticeably less moist than other beef ribs I had made but they were still plenty juicy. Most beef ribs are ridiculously fatty and moist and are very, very rich but these ribs had a very different texture and flavor profile. Here is what they looked like when I cut into them: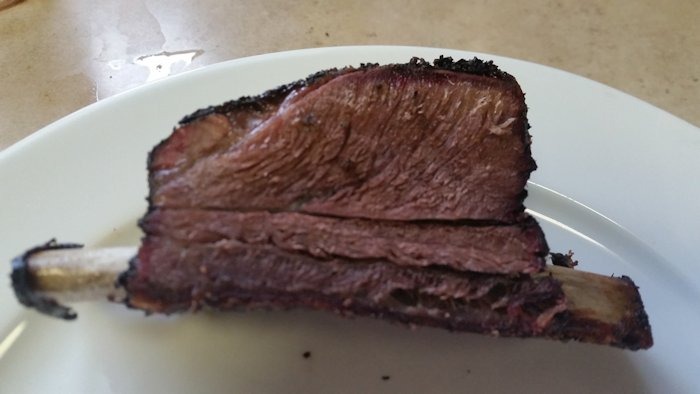 This picture makes these grass fed ribs from Crowd Cow look a lot drier than they really were. They were plenty moist. I would probably compare the meat to a properly cooked brisket flat where a normal beef rib would compare more to the fatty point of the brisket. All in all I was very pleased with these ribs. They had an awesome flavor and while the main flavors were the smoke and the black pepper you could still tell these were grass fed beef. Very delicious.
Tri-tip
If you aren't familiar with tri-tip it is basically cut from the bottom of the sirloin. It is widely believed to have originated in the Santa Maria area of California in the 1950s but I recently read an article that attributed it to a butcher in Oakland. Anyway, it has been a very popular cut in California for years and its popularity is growing across the country. Here in Florida I rarely see them at my local butcher or grocery store so I haven't cooked many. When I lived on the West Coast I used to eat them somewhat regularly but when I saw that Crowd Cow had them I jumped at the chance to give them a try.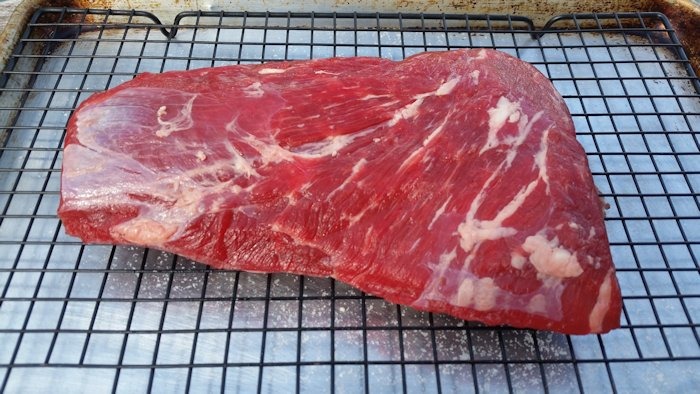 I dry brined the tri-tip over night by salting it and letting it sit in the fridge. I then seasoned it with Hardcore Carnivore Black rub which gives it a nice hit of flavor and a great color. The tri-tip is basically a roast that cooks like a steak. Since it is only 2 pounds it takes very well to a good reverse sear where you cook it at low heat until it comes up to the proper temperature and then you sear it over high heat to finish it off.
For Father's Day I got a new toy to play with, the Slow-n-Sear. The Slow-n-Sear is a gadget that goes in your Weber Kettle and it allows you to keep a nice, steady low temperature for up to 8 hours. In the coming weeks I will do a full review of this device but right now I can say if you own a Weber Kettle you need to buy one.
I only needed about an hour or so but still wanted to play with this thing so I loaded it up with charcoal, lit it, and waited for the grill to come up to about 250 degrees. BTW, the Thermoworks Smoke is a perfect thermometer for reverse searing. It has two probes so you can measure the air temperature at the grate level and have one in the meat. For $99 it is hard to beat.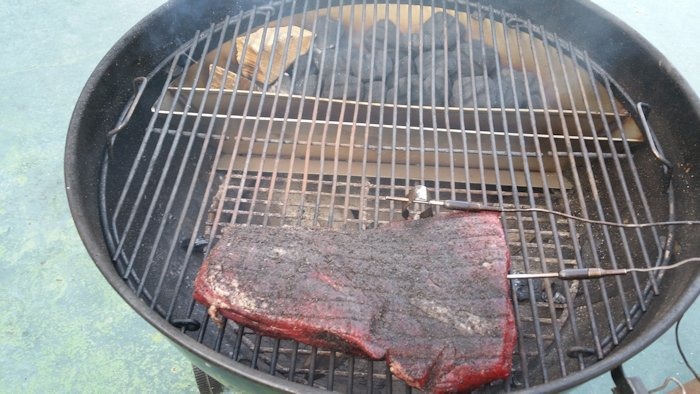 The goal here is to get the internal temperature of the meat up to 115 degrees. You can kind of see in this picture that there are only a few coals lit right now with a couple chunks of hickory wood over them. With the vents mostly closed this will keep the grill right around 225-250 degrees as the unlit coals slowly burn.
For this cut it took right about an hour. I pulled the meat off and let it rest tented in foil. The "slow" part done, now time for the "sear". I opened the vents all the way and let the coals get hot which took about 15 minutes. The temperature right over the coals got up to around 600 degrees which was plenty hot enough to sear off this tri-tip.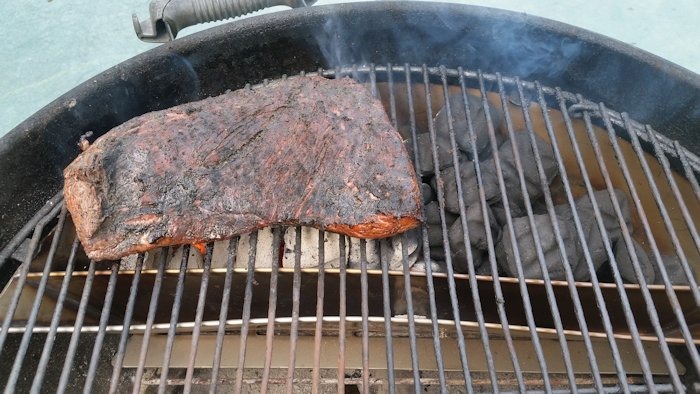 You can see only half the coals are lit but that was all I needed. Also the Hardcore Carnivore Black rub is, well, black so it gives a great color to the tri-tip. It only takes a couple minutes per side to get a nice sear on the tri-tip. While it seared the internal temperature increased a few degrees right up to 125 for a perfect medium rare. I pulled it from the heat and let it rest a few more minutes while I got the rest of dinner ready. In a perfect world I would have liked a few more minutes to rest but with the kids clamoring for dinner I couldn't really wait.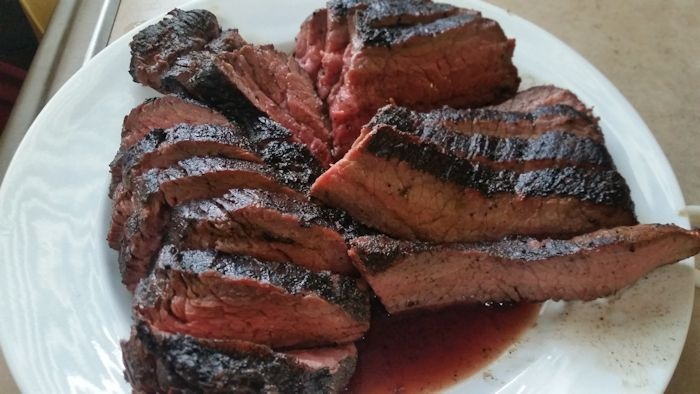 Yeah, there are a lot of juices on that plate but the meat was still plenty juicy and a great color inside. Need another pic?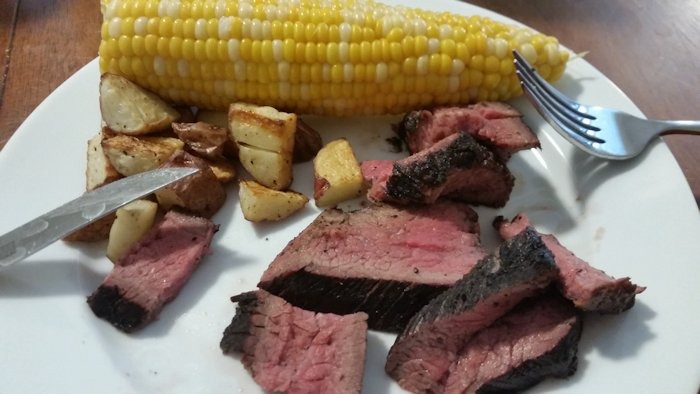 The taste of this tri-tip was great. It definitely tasted more like roast beef than it does a steak. The smoke and the rub together gave it a nice hit of flavor but the meat was the standout here. Imagine the best roast beef you have ever had and take that to the next level. That is what this grass fed tri-tip from Crowd Cow tasted like.
All in all I was very, very pleased with both of these cuts from Crowd Cow and will be ordering again. Here are the things I really liked about Crowd Cow:
Crowd Cow makes small ranch grass fed beef accessible for everyone.
Crowd Cow gives you some information about the ranch where your beef is coming from. My beef came from the Lil' Ponderosa Ranch which is a 300 acre farm in Carlisle, PA. The cattle is purebred Black Angus and the herd is moved to a new pasture every day. I love seeing information like that.
Crowd Cow allows you to buy cuts you might not normally find at the grocery store and lets you buy the specific cuts you want.
Crowd Cow sells the whole cow. Nothing goes to waste.
The prices are very solid for high quality grass fed beef. My beef was $93. At the grocery store I would have probably paid $20 for the tri-tip, $15 for the chuck, $15 for the ribs, and $10 for the ground beef which is $60. So for 50% more I got some very high quality meat delivered right to my door. Well worth it.
If you are looking for some high quality grass fed beef give Crowd Cow a shot. I was very pleased with the quality of the meat, the selection, and the prices. If they don't have the cuts you are looking for on the cow currently being sold check back in a day or two and see if they have a new cow "tipping". Some of the more popular cuts go quickly so if you see what you want don't hesitate to buy.
BTW, on July 12th Crowd Cow will be getting some A5 Wagyu beef directly from some ranches in Japan. You DO NOT want to miss out on this one. Enter your email to be notified when it is available and for more information. This meat is insane. Come back tomorrow and I should have more information on this A5 Wagyu beef and how you can buy it.