If there was any day of the year to look for some great deals online today is the day. Below is a compilation of some of the better Cyber Monday deals I have found related to grilling, bbq, meat, and more. This is by no means an exhaustive list but it is a great place to start. Many of these deals are carryovers from the Black Friday Deals but there are a few new ones in here as well:
Cyber Monday Meat and Grilling Deals
Disclosure: This post is monetized with affiliate links. If you buy something through them I earn a commission which helps support this site and lets me buy more meat so I can write about it. 
SNAKE RIVER FARMS CYBER WEEKEND SALE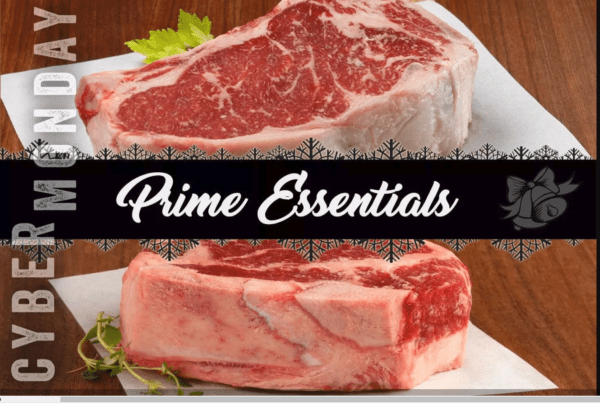 Snake River Farms has some awesome bundles on sale for Cyber Monday a few days early and they are offering free shipping sitewide with code MONDAYFUNDAY17. The package pictured above is the Prime Essentials pack which contains two bone in Prime NY strips and 4 Prime bone in 2″ thick filet mignon. If you were to buy these 6 steaks separately they would run $372 but through Monday they are on sale for just $169.
Another bundle that looks pretty good to me is the Cyber Monday Steak Assortment. This bundle has 2 American Wagyu filets, 2 American Wagyu end cut NY Strips, 2 American Wagyu ribeye filets, and 4 American Wagyu Gold top sirloins. Buy these separate and you would spend $344 but in this bundle they are just $215.
There are currently 9 different special Cyber Monday bundles starting at just $55 and going up to $465 for a whole bone in Kurobuta ham and a whole American Wagyu striploin that would make for some very impressive holiday dinners. Check out all their Cyber Monday bundles and don't forget to use code MONDAYFUNDAY17 for free shipping. You can also check out the rest of their steak gift bundles here. All these bundles make great gifts for families and are also a unique option for corporate gifts. Who wants a gift basket when you can get a bunch of awesome steaks?
THERMOWORKS BLACK FRIDAY WEEKEND DEALS CONTINUE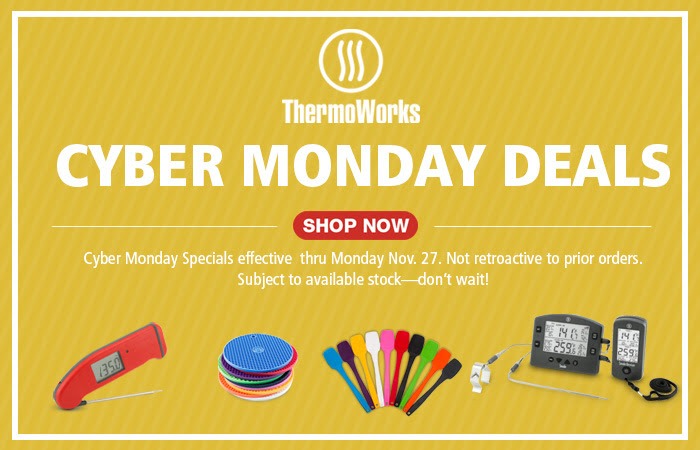 This sale started yesterday but continues through the weekend. Everyone who cooks should have a good thermometer and it doesn't get any better than Thermoworks. I have about 5 different Thermoworks items and I love them all. For the price you will be hard pressed to find anything as accurate or precise. If you are looking for a gift for a home cook, a griller, a BBQ guy, or anyone who cooks you can't go wrong with some of these products. For their Black Friday sale Thermoworks has 74 different products marked down.
I am partial to the Smoke, the DOT, and the Thermopop. And they also have some awesome cookbooks on sale as well.
MADE IN COOKWARE – 15% OFF SITEWIDE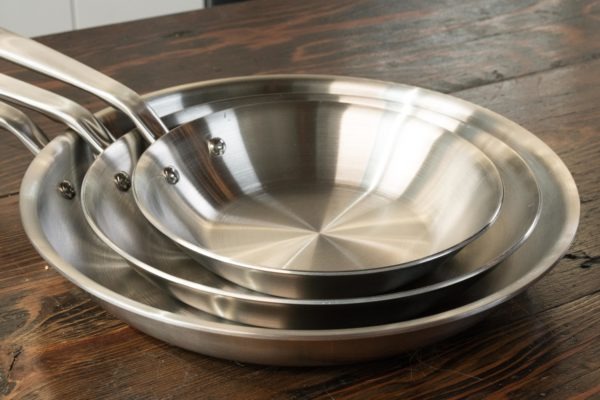 Made In Cookware is a merchant I recently came across. They have some pretty sweet stainless steel pans and for Black Friday they are offering 15% off sitewide with code "CYBERMON" and if you order more than $400 they are throwing in a free Market Tote which is a $68 value. I have their 10″ fry pan and I love the thing. It is very solidly built, made in the USA, and it made an awesome gravy for my Thanksgiving dinner. If you are looking for a great gift for a home chef these are great pans. The 10″ skillet is only $69 which is a great price for a 5-ply stainless steel pan. From other manufacturers those go for well over $100.
I also ordered a 12″ non-stick skillet. For years I have just used cheap, throwaway non-stick pans but thought it was time to test out a good one. In the next few days I will have a full review up on this cookware. Short version? These pans are awesome. Shop at MadeInCookware.com and use code "CYBERMON" to save 15%.
GRILL MASTERS CLUB – $16 OFF YOUR FIRST BOX WITH CODE GMCBF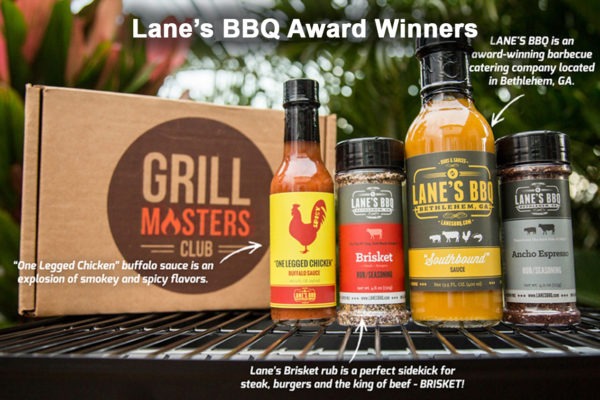 Are you shopping for someone who spends every Saturday (or weekday for that matter) out by the grill? The Grill Masters Club boxes are a perfect gift. Each box comes with a selection of sauces, rubs, seasonings, and more. I have tried one of these boxes and can say it is legit. Not every box will be a winner and they change every month but there are sure to be some sauces and rubs your griller will love.
A 1 month subscription will run you $32.95 and with code "GMCBF" you will save $16 off that price. You can also prepay for a year at a time and that will only run $27.95 a month. Most good bbq sauces and rubs run $6-$10 per bottle and with this club you get 3 or 4 bottles every month. So it is a pretty good value if you or someone you know likes trying new and interesting flavors on their grill. Give the gift of the Grill Masters Club and save $16 on your first order with code "GMCBF".
BBQ COOKBOOKS
Amazon has some of my favorite cookbooks marked down right now:
Franklin BBQ – A Meat Smoking Manifesto – $18.04 (normally $29.99)
Meathead – The Science of Great Barbecue and Grilling – $20.19 (normally $35)
The Food Lab – Better Cooking Through Science – $30.97 (normally $49.95). And use code GIFTBOOK17 to save an additional $5 and get the price under $26
BraveTart: Iconic American Desserts – $23.52 (normally $35) Yeah, just wanted to see if you are paying attention. I know it isn't meat related but it is one of the best dessert cookbooks I have found.http://completecarnivore.com/foodlab
BOOZE GIFTS
Most meat lovers and grillers enjoy a cold, refreshing beverage from time to time. Here are a couple good boozy deals I found:
Beer Advent Calendar – $79.99 (normally $89.99) – 12 craft beers from the best breweries in the US. Order now so your recipient can fully enjoy this advent calendar before Christmas.
The California Wine Club – Order 3 or more months and get a free month. If your griller likes to have some wine to go along with their steak the California Wine Club is an awesome gift. Every month they will get two new bottles of wine from some of the top California vineyards. You can select red, white, or one of each. Prices start at $39.95 per month and go down from there depending on how many months you want. And if you want a gift for yourself check out the Premier Series which is their most popular subscription.
Saucey.com – 15% off your first order with code "BF2017". For the lush in your life you can have some alcohol delivered right to their door. It could be a nice bottle of whiskey or scotch or a 12 pack of beer. Saucey even has 30 minute delivery in some select cities so you can restock your holiday party if you need to.
COLLIN STREET BAKERY
Of course you need dessert to go with your meat. Collin Street Bakery has been baking some of the best fruit cakes, pies, cheesecakes and more for decades. They are best know for their fruitcakes and for Cyber Monday they are offering free shipping on every order. If you haven't tasted these Collin Street fruit cakes you are missing out. I tried them for the first time over the weekend and they will blow away everything you know about fruitcake. I am generally not a fruit cake fan but these were excellent. They aren't your grandmas fruit cakes. These fruit cakes are loaded with fruit and nuts. And you can order a bottle of rum from Saucey to soak your fruit cakes. Order some for a gift or for your holiday festivities.
OTHER DEALS – JUST RANDOM GRILLING RELATED STUFF I FIND THROUGHOUT THE DAY
BBQ Dragon– 20% off everything in their store plus free shipping on orders over $25. I have their chimney and fan and I use at least one of those every time I cook on my grill. The chimney helps get the coals lit quickly and the fan is great for speeding things up or giving an extra blast of heat for a good sear. With this sale the fan is $39.96 and the chimney is just $23.95.
Baking Steel – 15% off everything with code PIZZA15. The Baking Steel will take your pizza game to the next level. And all orders ship free.
Grill Grates – 15% off sitewide with code GRATEFUL
Lone Mountain Wagyu – 100% fullblood Wagyu beef. Free shipping on all orders plus 20% off select cuts.
HardcoreCarnivore.com – 15% off all caps and t-shirts with code SECONDCHANCE –Pretty cool meat related t-shirts, hats, and other stuff available as well.
Anova Precision Cooker – Up to $50 off plus free shipping. If you are looking to get into sous vide cooking this is a great place to start. Save $50 on the bluetooth version and $50 on the bluetooth  + Wi-fi version.
Barrel House Cooker – $224 (normally $249) and free shipping with code BLK25
Amazon Grilling Deals – Mostly grill accessories like tongs and spatulas but there are some decent prices on some good gift items.
ThermoPro Thermometer – If you are looking for a cheap grilling thermometer this one will do the trick. Under $14. Not as good as Thermoworks but a great price.
Oxo Good Grips spring loaded poultry shears – $20.59 (normally $24.99) – These made quick work of spatchcocking the turkey yesterday. Best pair of shears I have ever owned.
J.A. Henkles 8″ Chef's Knife – Normally $92, now just $49.99 at Amazon. Every meat lover needs a good chef's knife and for the price this is a hard one to beat.
MeatChurch.com – ~10% off many of their rubs. Their new Gourmet Holy Trinity gift pack is only $24 and their "Ocho" pack with 8 different rubs is only $63.
HomeDepot.com – Up to 15% off grills and smokers. Twist my arm and I am sure I could find one or two of these that wouldn't be too bad to have under the tree. I have been wanting one of these Blackstone griddles for a while now.
Lowes.com – 10-50% off select grills and smokers. For someone who has never smoked anything before and is looking to do a couple racks of ribs or a pork butt every few months something like this simple Masterbuilt electric smoker would do the trick.
Target.com – 20-40% on grills and accessories. Not too much stuff I would buy here but there are some decent gas grills and some accessories that would make good gifts.
Walmart.com – Again, not much that interests me here but maybe you can find something you like.
1Tac Flashlights – Save 75-90% plus a $50 shopping credit. I love having a small flashlight like this handy when grilling in the dark. And when you buy 3 you get 2 free so if the kids run off with one (and your kids will run off with one) you can have a couple spares stashed away. And shipping is free.