Father's Day is one of the best day of the year for dads. They can spend the whole day in front of the grill and nobody will complain!!! Whether it is a big pile of steaks or a mess of burgers and brats there will be a ton of meat cooking on Father's Day. In light of that here are 5 meat related Father's Day gifts.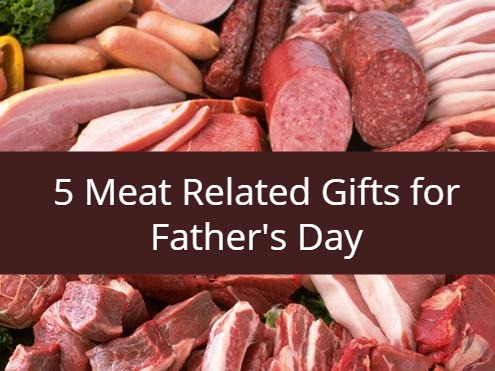 1. Meat – This is a no brainer. Get dad a bunch of steaks and he will be happy. Here are the Top 5 Steaks for Father's Day and you can get free shipping on all orders from Snake River Farms with code FREEAFF at checkout. Check out their Father's Day gift boxes that contain steaks, other meats, and stuff like seasonings or even a flask all packages in an awesome looking gift box.
2. A BBQ Apron – Pretty much unless your dad is a chef he should never wear an apron unless he is in front of his grill and then he should have one with a ridiculous phrase on it. The worse of a pun the better. Flirty Aprons has a great selection of aprons for guys and no, don't worry, these aren't the frilly, lacy aprons they sell for women.
3. A new grill - You say you got your dad a new grill last year? Well, he could always use a new one. I have always been a charcoal guy myself and a standard Weber Kettle grill is my weapon of choice but I realize some people prefer gas. A friend of mine just got a new grill from Stok Grills and I have to say they look pretty cool. The biggest thing they have going for them is their interchangeable grill plates. You can remove a circular section of the grill and replace it with a pizza stone, a griddle, a basket, a cast iron kettle, a chicken roaster or any of dozen different inserts. This turns your grill into a full service cooker of any kind and will give dad a ton of options when it comes to cooking. And they do have some charcoal grills as well. Check out Stok Grills today.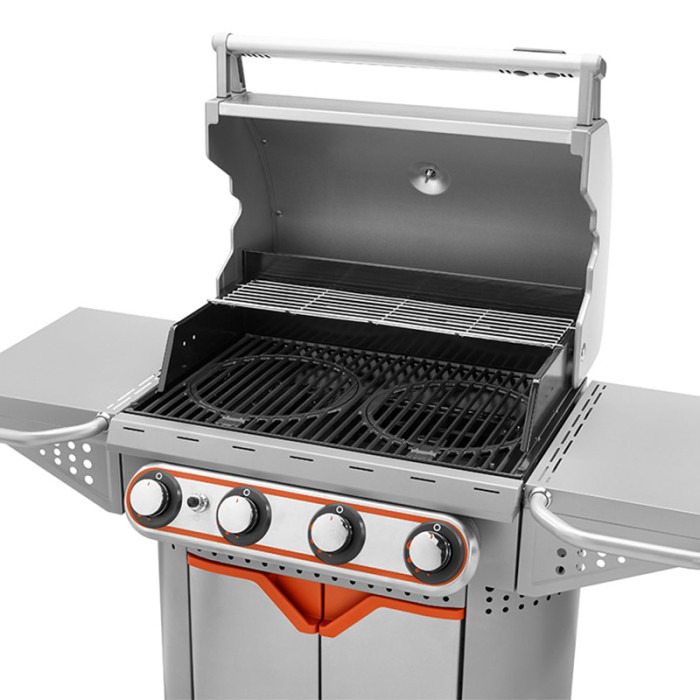 4. Cast Iron Cookware - There are few pieces of cookware that are more versatile or durable than a good cast iron skillet or dutch oven. A good 10 1/4 inch skillet will do most everything you need to do but a 12 or 15 inch model is awesome as well.  A cast iron dutch oven is perfect for frying some chicken, cooking up a big pot of beans, or even making a pot roast. Here are a few of my favorite models:
5. Meat Cookbooks - I am usually not a huge fan of meat recipies. When I talk about a "cookbook" I usually want one that is more about the methods of cooking, how to handle the meat, and the different types of meat. Here are my 3 favorite Meat books I have read recently:
Franklin Barbecue: A Meat Smoking Manifesto by Aaron Franklin - If your dad is interested at all in smoking meat this is an awesome book. You can read my review of it or just go buy it for about $20.
Meat: Everything you Need To Know by Pat Lafrieda - Pat Lafrieda has probably handled more meat than anyone else alive on the planet. He supplies meat to some of the best restaurants in the country and he shares his many years of knowledge in this book along with a bunch of family recipes.
Steak: One Man's Search for the World's Tastiest Piece of Beef by Mark Schatzker - The author of this book travels around the globe in search of the best steak. He travels to Europe, Japan, South America, and of course Texas looking for the best steak and along the way he shares all he learns about steak and the beef industry.
Charcuterie: The Craft of Salting, Smoking, and Curing by Mark Ruhlman and Brian Polcyn - If your dad has any interest in smoking meat, sausage making, and curing his own bacon this book is an awesome place to start.