A couple weeks back I saw that Aaron Franklin from Franklin Barbecue in Austin, TX was putting out a book, "Franklin Barbecue – A Meat Smoking Manifesto" and instantly I went and pre-ordered it from Amazon. Anyone who can have people wait for hours to get their meat every day must be doing something right.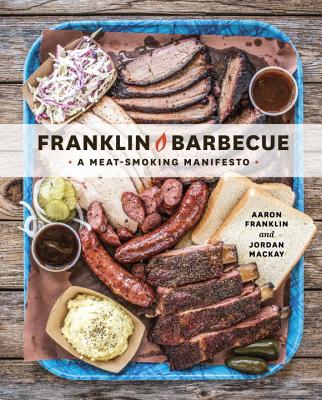 First things first: This is not a cookbook. Yeah, there are a few recipes in the back for some cuts of meat, some sides, and some sauce but these really are secondary to the rest of the content of the book.
If you have ever wanted to up your smoking or bbq game you NEED to get this book. Aaron Franklin shares his years of knowledge with the reader and he really holds nothing back. BBQ secrets are usually tightly held secrets but Franklin spills the beans (and even gives his recipe for beans) in this book. The main focus of the book is on brisket but he also talks about ribs, turkey, and sausage.
Like I said, this isn't a cookbook. It is more of a how to guide on how to smoke meat. The book primarily focuses on brisket but the principles can be taken and adapted to whatever meats you want to smoke. There isn't really specific instructions (i.e. cook it this long at this temperature) but there are some solid guidelines you can take and apply to your own smoker, your meat, your tastes, and your situation.
This book also doesn't really go in to all the different styles of barbecue out there (Carolina, Memphis, KC, etc.) but focuses on what Aaron Franklin knows and that is Central Texas BBQ.
He starts out telling his story which is very inspiring. Franklin had no formal training, no culinary school, and not a ton of restaurant experience but he knew he loved BBQ so he bought a cheap smoker and started cooking. From there he refined his technique and tools and was able to open a restaurant just a few years later. If, after reading his story, you don't want to run out and fire up your smoker (or go buy one) and perfect your brisket you have no soul.
After the intro he gets into the "meat" of the book and breaks it down into 6 additional sections:
The Smoker – Franklin talks about different types of smokers, what he likes to use, and even walks you through how to build your own smoker. Does anyone have an old 1000 gallon propane tank and a welder?
Wood – I knew wood was important but after reading this section I realized how important it really is.
Fire + Smoke – Without a fire you can't have smoke and without smoke you can't smoke a brisket.
Meat – Bad meat can still make an edible brisket but to get a truly transcendent meat experience you need to start with a good piece of meat.
The Cook – Time to bring the previous 4 sections together and cook your meat.
Serving + Eating – Franklin goes into a lot of detail on cutting and serving the meat which helps set great apart from good. He also talks about what beer goes with barbecue too if you are in to that sort of thing.
I was able to crank through 170 out of 213 pages the first night in about 4 hours and then finished off the last few pages the next day. I even dreamed about brisket the first night which is a nice bonus. The typeface is very, very small which is good because there is a ton of information packed into this book.
If you like meat you should read this book. If you like firing up the grill in the backyard you should read this book. If you are the type of cook who is always striving for great and isn't satisfied with good you should read this book. All in all it is a great starting point for someone just starting out smoking or for someone who wants to take their game to another level.
Franklin Barbecue – A Meat Smoking Manifesto is currently under $20 on Amazon. Go buy your copy today.
And another awesome thing about this book, he recommends Snake River Farms as a place to buy your brisket.