This post is monetized with affiliate links. If you buy something through these links I will earn a commission. 
If you have read this site for any length of time you know I am a huge fan of Snake River Farms. They have some of the best meat I have ever eaten. From their steaks to their brisket to their ham to their bacon I have loved every bite.
All in all I have placed 24 orders with them. Many of the orders were for me and many were gifts for others and I have never had a problem with any of the shipments. All the orders come in styrofoam coolers and the meat is packed with dry ice to keep the meat frozen or at least mostly frozen.
Now anytime you order something perishable there is a risk of it arriving in less than perfect condition. Maybe the shipping warehouse was exceptionally warm, maybe the delivery came late in the day after being in a hot delivery truck or maybe someone packing missed a bag or dry ice. I totally understand that from time to time a shipment of food like this might be bad. The big question though is will the company make it right?
A couple week ago Snake River Farms had a sale on some Kurobuta pork ribs. I wanted to try these ribs for a while now and when I saw the price drop from $30 to $19 on sale I jumped on it and ordered two racks of ribs. Like always I got a notification early in the week that the order would be delivered on Thursday. On a side note at Snake River Farms you can specify your delivery day so if you want it on Thursday it will get there on Thursday. If you want it in 3 weeks on Friday it will be there on that day.
So Thursday came and I got a delivery notification on my phone, went to the door, and there was a nice box marked "perishable". I opened the box, removed the cooler and didn't feel the normal cold I have felt with other shipments. Opening the cooler I saw there was no dry ice in the bags (it had all sublimated) and I could tell something was wrong.
I pulled the ribs out and they were definitely thawed and felt room temperature. I took their temperature just to be sure and here is what I saw: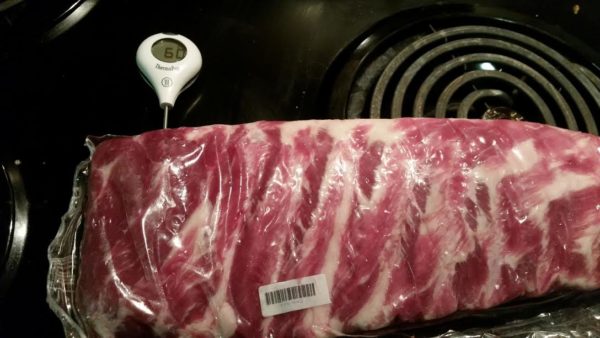 You can see that the thermometer reads 60 degrees. I am no food safety expert but I know that isn't right. The temptation to ignore the thermometer and throw them on the smoker was strong since they looked so good but I decided to drop Snake River Farms an email to see what they would say.
I dropped an email to Snake River Farms customer service department explaining what I was seeing and even included the pic above. In the past with other food delivery companies I have gotten emails back along the lines of "tough luck, shipping problems happen and it isn't our problem". But what I got back from Snake River Farms was very different. I knew they had a guarantee on their site and now I got to see if they honored their guarantee.
Within an hour or so I had received a very apologetic email from their customer service rep saying they would do whatever it took to make it right. They said they could either refund me or send another shipment. These ribs had bee on my "want to try" list for a while so I asked them to send another shipment and sure enough it arrived the following week.
When the order arrived and I opened the cooler everything seemed very familiar. No dry ice and this time the ribs were 68 degrees. Another email to customer service and the same rep helped me and again offered a refund or they would resend the shipment with express shipping. Still wanting the ribs I told them to send again. The express shipment was shipped overnight and arrived when promised.
The UPS truck pulled up, the doorbell rang and there was my package on the front porch. I opened the cooler and they obviously talked to the packing company because this shipment had plenty of dry ice and the ribs were frozen solid: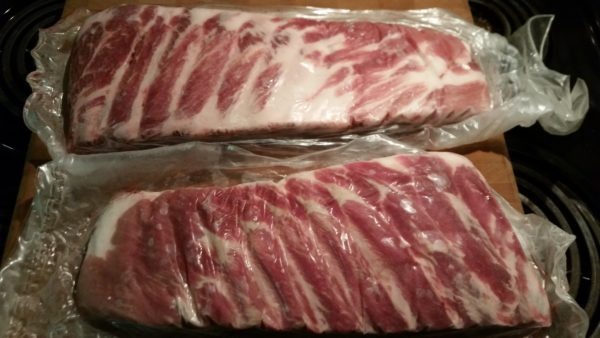 Like I said earlier I know there will be problems with shipments from time to time but when a company does whatever they can to make it right they have won my business forever. Snake River didn't have to replace these ribs but they went above and beyond to make everything right. They now have a customer for life.
If you are wanting to try some high end steaks or a brisket for the smoker give Snake River Farms a shot and let them make you a happy customer as well. With the holiday season approaching you can also give gifts with confidence that they will arrive in great condition and if not you have the confidence that they will make it right. If you use the coupon code FREEAFF you can also get free shipping on your orders. Give them a shot and I know you will be happy with both the product and the service.