I won't bore you with all the wonders of bacon. You love it, I love it, and we are all very happy sometime many, many years ago some forward thinker decided to cure a pork belly, smoke it, and slice it to give us the happiness that is bacon.
Every grocery store in the country has a wide variety of bacon to choose from. Some of it is very good, some of it is OK, and some of it is downright horrible. Many butchers or specialty grocery stores also carry their own varieties of bacon. You can find cured, uncured, smoked (with every type of wood imaginable), unsmoked, nitrite free, thick cut, thin cut, and the list goes on and on. There are also dozens of places online (on a side note the most interesting bacon I have ever tasted was the juniper bacon from Nodines. Very good stuff. Not necessarily the best I have ever eaten but it is up there.) where you can buy bacon.
But is homemade bacon good enough to warrant the time and effort? I have been wanting to make my own bacon for quite a while now, had read a few recipes, looked at different techniques, and done some research but had never done it myself. Until now that is.
This post is monetized with affiliate links. We may earn money or products from the companies mentioned in this post but the opinions are 100% mine.
I saw Kurobuta pork bellies on sale at Snake River Farms for $79 and decided this was the time. I have had their bacon in the past and it was excellent but wanted to see if I could make something comparable myself.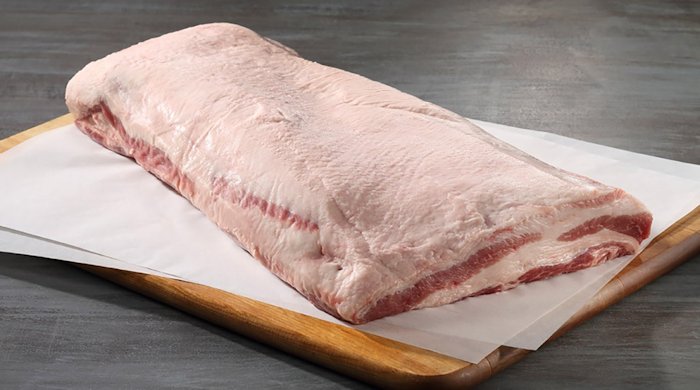 If you aren't familiar with Kurobuta pork it is basically a very high grade pork. If you are familiar with American Wagyu beef you get the idea of what Kurobuta pork is. Generally speaking Kurobuta pork has a higher fat content than most commercially available pork. With a pork belly that isn't a huge deal since it is such a fatty cut of pork. But when you feel the fat you will understand the difference. The fat has a much lower melting point and it almost feels like it melts in your hands.
My pork belly arrived a few weeks back and I was very surprised. Snake River Farms says their bellies are 5-6 pounds but mine was 9.65 pounds. Not sure if their website has some wrong info or if I was just lucky. Here is what mine looked like. Forgive the bad lighting on this one…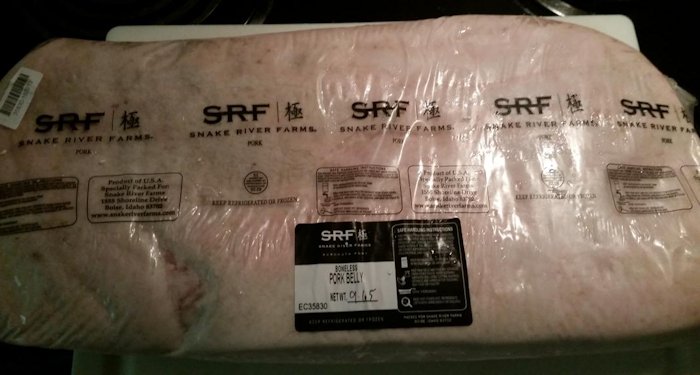 Since this was my first time making my own bacon I didn't want to use the whole belly so I cut it into thirds, froze 2 of them, and got to work on the other.
If you are looking for the go-to resource for all things charcuterie you need to start and end with Michael Ruhlman. He wrote the book on Charcuterie. Seriously… his book is called Charcuterie, The Craft of Salting, Smoking, and Curing. Awesome book. But he also has a bacon recipe up on his site: http://ruhlman.com/2016/04/bacon-time/ and this is where I started.
For my first try at home curing bacon I wanted to keep it simple and let the bacon speak for itself. I was using 3 pound chunks instead of 5 pounds like his recipe calls for so I needed to adjust the recipe a bit. Here is what I went with:
3 pounds pork belly (he calls for skin on, mine was skinless)
1.2 ozs kosher salt (about 2 1/2 TBSP)
1 1/4 tsp pink curing salt (see note below)
2 TBSP brown sugar
That's it. Nice and simple. Now let's talk pink curing salt briefly… You can make bacon without this ingredient but in my opinion it just won't be right. The pink curing salt gives the bacon its nice color and also imparts a lot of flavor. Without it your bacon will cook up brown/grey and not a nice pink/red. It will also taste more like some nice pork ribs or something along those lines rather than the great bacon flavor you want. Also this pink salt isn't just pink Himalayan salt or anything like that. It is basically sodium nitrite and is readily available online. The pink salt is also what does a lot of the curing process. It kills most of the bacteria that might be in the meat. Here is the stuff I used and these 2 pounds will probably last me years.
Mix all the above ingredients together, rub them all over the belly, and put them in a ziploc bag in the fridge for a week. Every couple days you can give the meat a quick rub and turn. After 7 days you will have your cured bacon.Give it a good rinse, pat it dry, and consider your cooking options.
The easiest cooking option is put it on a rack over a sheet pan and cook it in the oven at 200 degrees until the internal temp reaches 150 degrees. This can take anywhere from 90 minutes to 2 1/2 hours. For my first try I just used the oven. My next effort will be cooked in the smoker with some apple or cherry wood. The oven cooked bacon was wonderful but the smoke should take it up to the next level.
Keep in mind this is just the first cook. Of course you will want to slice it and fry it up in a pan before eating. And feel free to cut it as thick as you want. For slicing I use a Dexter 12 Inch Slicing knife. Very sharp and works great for cutting thin or thick slices. Here is what my final product looked like: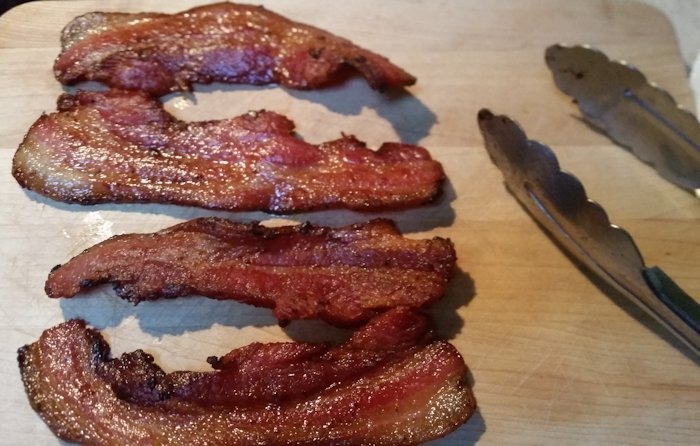 The flavor on this bacon was very, very good. It wasn't just salt and liquid smoke like you get with many grocery store brands. The bacon was definitely salty enough for you to know you were eating bacon. But you also knew you were eating pork if that makes any sense. It tasted like real food and not something that had been overly processed.
I will definitely keep tweaking my recipes, adding other flavors in, trying the smoker rather than the oven, and so on but for my first attempt I am very happy with the final product. There will probably always be some grocery store bacon in my fridge but I will be adding more and more of my own homemade Kurobuta bacon into the mix.
And if you are a regular reader you might notice this is "take 2". What happened to "take 1"? No idea. I followed the exact same procedure and recipe but the first first batch came out tasting like bleach for some reason. I am stumped as to why and have talked to other experts and they have no idea why either.
If you have never tried making your own bacon at home I would highly recommend it. $79 for a Kurobuta pork belly from Snake River Farms might be a bit too expensive for you to start on but I have seen pork bellies for $3 a pound at Costco and your local butcher can probably hook you up as well. Also if you frequent farmers markets and see someone selling pork as them if they have any bellies they can get for you. Either way, give it a try and let me know what you think.