Let me set the stage here… I have been a huge cast iron skillet fan for years. Yeah, I have a couple cheap non-stick skillets I use for simple things like grilled cheese or frying eggs but most of my cooking is done in a cast iron skillet. Cast iron does a great job of cooking steaks, frying burgers, cooking up potatoes, frying some sausages, and my wife even uses cast iron to cook her biscuits and dutch babies. So I love cast iron skillets for a lot of things and have 6 different sizes and styles of cast iron skillets.
But for years I have wanted to try a stainless steel skillet to see how it stacks up to cast iron. Partially because they look pretty sweet but they can also do most everything you can do with a cast iron skillet with a few advantages. As far as I am concerned there are 5 main advantages of stainless steel vs. cast iron.
Advantages of stainless steel cookware vs. cast iron
Stainless steel is much lighter than cast iron – If the pan is just sitting on the stove weight isn't that big of an issue. But if you are shaking the pan around, moving it to the oven, or taking it out of the oven the weight can make a big difference.
Stainless steel conducts heat better than cast iron – Overall iron isn't a great conductor of heat. Unless you give the cast iron pan a lot of time to preheat there will be cold and warm spots. Once cast iron gets heated up it retains heat very well because of its overall mass. But stainless steel heats up quicker and more evenly.
Stainless steel can be used with acidic foods – One big shortcoming of cast iron is it can impart some weird flavors to acidic foods. Stuff like tomato sauce, lemon juice, wine, etc. will taste a bit metallic when cooked in cast iron for any length of time. If your cast iron pan is well seasoned and you only cook the acidic foods for short periods of time you should be fine but if you want to simmer a tomato sauce for 30 minutes or so you will notice a metallic taste. Not so with stainless steel. Stainless steel won't impart any off flavors to your food.
Stainless steel is awesome for pan sauces – Of course you can't make a pan sauce in a non-stick skillet and I have had mixed results in cast iron but when you cook in stainless it holds on to just the right bits of yummy goodness that can be broken down into an awesome pan sauce.
You can see the food better – With a black cast iron pan it can sometimes be hard to know if a sauce is done, if you have brown bits of fond stuck to the pan (and not black burnt bits), and so on. With a nice, shiny stainless steel pan it is easier to see when everything is done.
There are some other advantages but that is the big one. Some people will say stainless steel is easier to clean and care for but once you get a cast iron pan properly seasoned they are a cinch to clean.
I have glanced at a few stainless steel pans on Amazon in the past but had never really looked into them until now. Then I came across a company called Made In Cookware that manufactures and sells stainless steel pans.
Disclosure: This post is monetized with affiliate links. If you buy something through them I earn a commission which helps support this site and lets me buy more meat so I can write about it. Also Made In Cookware gave me one of their pans to test out. 
I reached out to Made In Cookware and explained where I was coming from and asked what a good starting point for stainless steel cookware would be. The recommended a 10 inch skillet so that is what they sent me.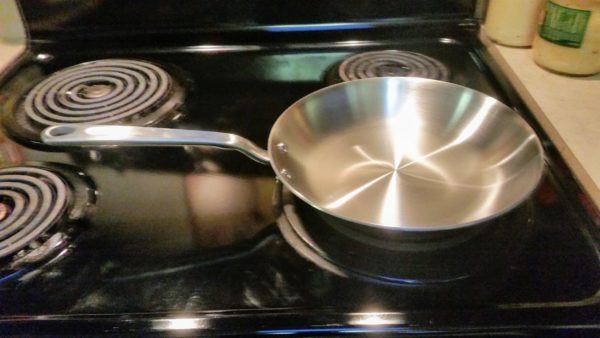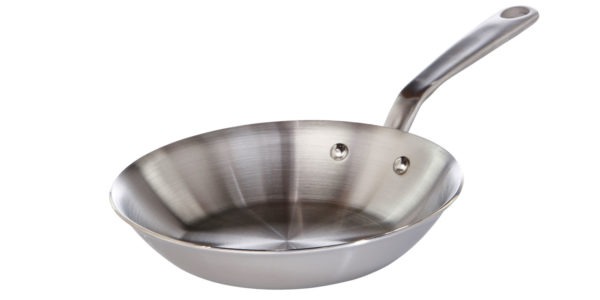 First off, let me tell you a bit about the company. Everything about these pans is made in the USA. They use US steel, non-stick coatings from the US, and they are made by a family owned US manufacturer. So if you like buying American these pans are for you.
Made In Cookware stainless steel pans are made using a 5 ply structure. The interior cooking surface is 18/10 304 stainless steel, the outer surface is magnetic stainless steel which allows it to be used on induction cooktops, and the middle three layers are aluminum which is a great conductor of the heat.
I am by no means a cookware expert but I do have to say I have been very impressed with this pan so far. It has a great feel to it, you can tell by the weight that it is a quality made product, and it looks great too. The rivets holding the handle are very heavy duty and all in all it feels much better than a cheap $10 throwaway pan. Overall it is probably the nicest piece of cookware I currently own.
If you were to compare this Made In Cookware to a big brand it would probably be right on par with All Clad. Made In Cookware uses a 5 ply structure for all its cookware. This cookware is 2.7 mm thick and most entry level premium cookware is around 2.3 mm and your basic starter kit from a big box store is probably around 2.1 mm. This extra thickness will give you better heat retention and more even cooking.
If you were to buy a 10 inch 5 ply All Clad pan you are probably looking at $110. Since Made In Cookware sells direct the the consumer and can cut out a few layers of price markup you can get a 10 inch pan for just $69. Not a bad price for a piece of cookware that will last many, many years. The 10 inch size is great for cooking a couple chicken breasts, 2 or 3 eggs, a couple 10 oz sirloins, or a pasta dish for 2. If you need more space than that they also sell a 12 inch version.
These skillets are also completely oven safe so you can start a dish on the stove and finish in the oven. Or go the other way around and reverse sear a steak by starting in a low oven and finish with a super hot pan on the stove.
Also, in the time I was writing this post (yeah, it took me over 2 months to finish it. Life gets in the way sometimes) I also bought a 12 inch non-stick skillet from Made In Cookware.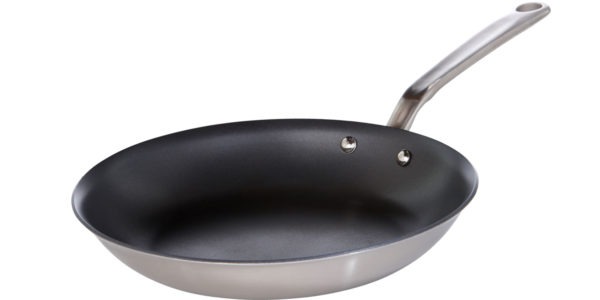 This is the first "real" non-stick fry pan I have ever owned. Up until this point I have just used some cheap $15 pans from Wal-Mart or Ikea. Never again! Just run your fingers across the non-stick finish and you will notice the difference. The non-stick surface of these pans is PFOA-free and is oven safe to 650 degrees unlike most non-stick pans.
I can easily fit 4 eggs in this pan so it is a good size. It will also hold 5, maybe 6 strips of bacon depending on the size of your slices. I know this is sacrilegious to say around most meat lovers but in my opinion a non-stick skillet is the best pan for cooking bacon. I will have a post in the future telling you why I think this but in my experience bacon always comes out better in a non-stick pan compared to cast iron.
The 12 inch pan is $95 but it is worth it. You will get many years of use out of this pan instead of replacing your pans every year.
But back to the stainless steel pan… Is stainless steel better than cast iron? While I can't say 100% yes to that I can say that everyone should have at least one stainless steel pan in their arsenal. These stainless steel pans can do things that your cast iron pan can't and do most other things as well or better.
I can't necessarily say that Made In Cookware is better than other high end stainless steel pans but they do have pretty much the same quality pans for 40-50% less money. If you are in the market for some quality stainless steel cookware give Made In Cookware a look and you won't be disappointed. And if you are they have a 100 day return policy!
And for a quick price comparison take a look at the prices of Made In Cookware compared to some comparable All-Clad pans on Amazon:
| Type of Pan | Made In Cookware Price | All-Clad Price | Savings |
| --- | --- | --- | --- |
| 10 Inch Fry Pan | $69 | $110 | $41 |
| 10 Inch Non-Stick Fry Pan | $79 | $170 | $91 |
| 2 Qt Sauce Pan with Lid | $79 | $215 | $136 |
| 8 QT Stock Pot with Lid | $155 | $370 | $215 |
| 4 QT Saute Pan | $119 | $311 | $192 |
(prices as of 1/15/2018)
If you were to buy all these items separately it would cost you $501 at Made In Cookware and $1176 for All Clad on Amazon. That is over a $600 savings for a very, very similar product. And if you buy these pans together at Made In Cookware you can save even more and get them all for $419. Check out all the collections at Made In Cookware. These collections make great wedding presents, housewarming gifts, graduation presents, or buy them for yourself to set up a complete kitchen.
I have really loved these pans from Made In Cookware so far and I am sure you will too.