A few months back I wrote a post about my first attempt at making homemade bacon. Since then I have probably made over 100 pounds of the best bacon I have ever eaten and have refined my recipe and technique a bit. I am now producing a very consistent bacon with a great balance of salty, smoky, and sweet that ends up being much cheaper than anything you can buy at the grocery store, has fewer ingredients, and has a flavor that is so much better than pre-packaged bacon that you need to taste to believe.
Overall making your own bacon at home only takes 2 very simple steps:
Cure the pork belly
Cook the pork belly
That's it. There is nothing involved that is beyond the ability of anyone with a kitchen. Here is a breakdown of how I make homemade bacon:
This post is monetized with affiliate links. If you buy something I earn a commission which will probably be used to buy more meat. 
Cure the pork belly
First off, let's talk pork belly. The pork belly, as you can imagine, comes from the belly of the hog. It sits right on top of the spare ribs and a whole belly generally weighs around 8-12 pounds. Most grocery stores don't sell pork belly so you might have to talk to your butcher and see if they can order some for you. I have had great success finding pork bellies at Costco for about $3 per pound but I know not all Costco's carry them. If you really want a high quality pork belly you can order a heritage breed pork belly from somewhere like Snake River Farms (use code FREEAFF for free shipping) and you will be rewarded with even another level of bacon goodness.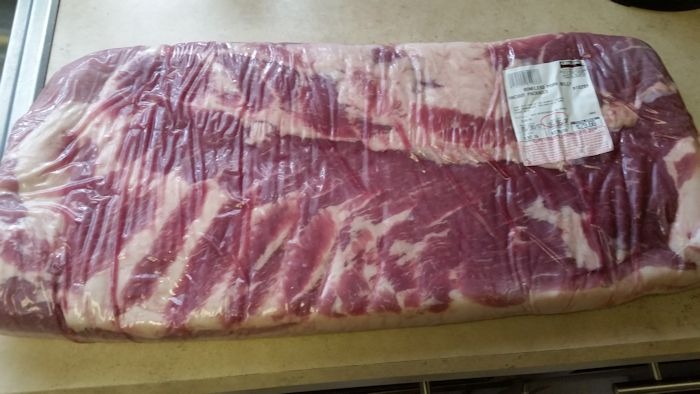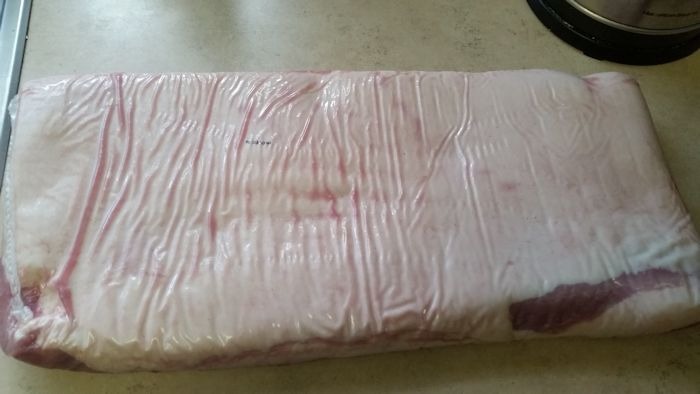 OK, on to the cure. You don't need to cure your pork belly but if you don't you won't really have bacon. The resulting product will be delicious but it will be more like a nice, fatty piece of pork than bacon. The cured bacon vs. uncured bacon is a topic for another post but trust me, if you really want bacon you will want to cure it.
A bacon cure really only has two vital ingredients: salt and curing salt. Everything else is up to you and what flavor you are looking for. I like to keep things very simple so here is my general cure recipe. This cure is designed for a 5 lb pork belly (half of a full belly) so I usually cut my belly into two. Mainly because I can't find a ziploc big enough for a full belly. This recipe changes every time I make it but this is pretty close to the quantities of the 4 ingredients I use.
40 g kosher salt
10 g pink curing salt
20 g black pepper
20 g brown sugar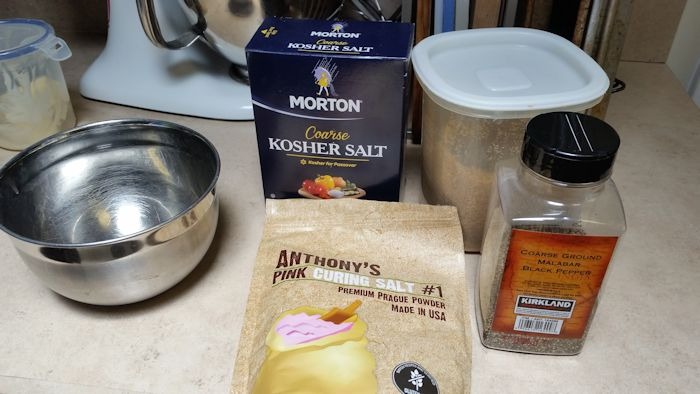 I like measuring everything out by weight. If you don't have a kitchen scale get yourself a kitchen scale. If you really, really don't have a kitchen scale it is about 1/4 cup kosher salt, 2 tsp curing salt, 2 TBSP pepper, and 2 TBSP brown sugar. Mix all that up into a bowl.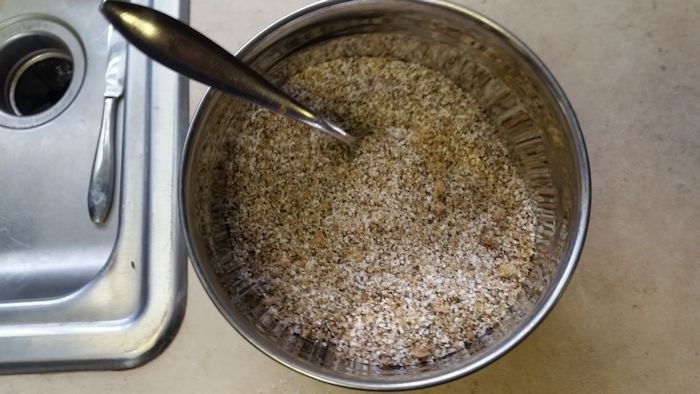 Before we get too far let's talk pink curing salt. This is NOT some pink Himalayan salt or anything like that. It is salt, sodium nitrite, and some pink color to differentiate it from regular salt. Pink curing salt (also called Prague Powder #1) is what magically turns pork belly into bacon. Don't confuse it with Prague Powder #2 which is for slow curing (country style hams, proscuitto, salami, etc.). You want Prague Powder #1 which is for quick cures. It is readily available on Amazon and you can get 2 pounds of the stuff for under $10 which will probably get you through at least 200 lbs of bacon.
Mix the cure up with a fork or whisk to combine all the ingredients and then rub it all over your 5 pounds of pork belly. Use all the cure. It won't all stick but that's OK, you can just dump the stuff that falls off into the ziploc bag in the next step.
Put the cure-rubbed piece of pork belly into a ziploc bag (I like the 2 gallon variety) and stash it in the fridge for at least a week. Once every day or two flip the bag over and give it a little rubdown. The cure will pull out some of the liquid in the first day or two but then the belly will reabsorb some of that liquid throughout the rest of the week. After a week (don't get impatient and pull it out early!!!) or even 10 days pull the pork belly out of the bag and give it a good rinse. You will probably want to rinse for about 20-30 seconds. If you forget to rinse you will have a very, very salty bacon that is almost inedible. Trust me. I know.
Now it is on to the second simple step: cooking
Cook the Pork Belly
Of course you will cook the bacon again when you eat it (I prefer the frying pan but I know others like the oven) but you will need to cook your pork belly. You can definitely do this in the oven (set the oven to 250 and cook until a 150 degree internal temp) but if you really want that true bacon flavor you will need to smoke your pork belly. I do this on my Weber Kettle but you could do it on a gas grill with some wood chips in a foil pan over the flames but I would use a charcoal grill or smoker if at all possible.
You will need to smoke your pork belly at 225-250 degrees for about 3-4 hours until you hit 150 degrees internal temperature. Any more than that and you will start rendering off too much of your fat. I use a simple Thermoworks Thermopop or the DOT to take the temperature of the meat. Both of those are great thermometers and are under $40.
To set up the grill I use a mini-snake of charcoal around the outside of the grill: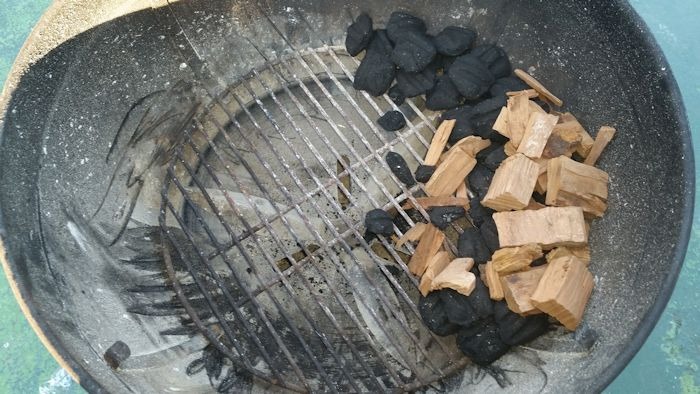 Sometimes I take more care carefully stacking the briquettes but just dumping them and shoving them over to the side of the grill works too. I have about a 2×2 stack that is 12 briquettes long here. The bottom vent will just be open a crack and the top vent will be about 1/4 of the way open. You might need to vary your grill setup a bit but on my Weber Kettle this gets me just about the right temperature with very little adjusting.
I usually use apple wood for my bacon but hickory is definitely a good wood to use. Chunks are better than chips for this application and I put them all towards the first half of the snake. Get about 6-10 briquettes lit in your chimney and dump them at the beginning of your snake. I like adding a foil pan filled with some water to the grill and then put the meat on the grate opposite the lit coals: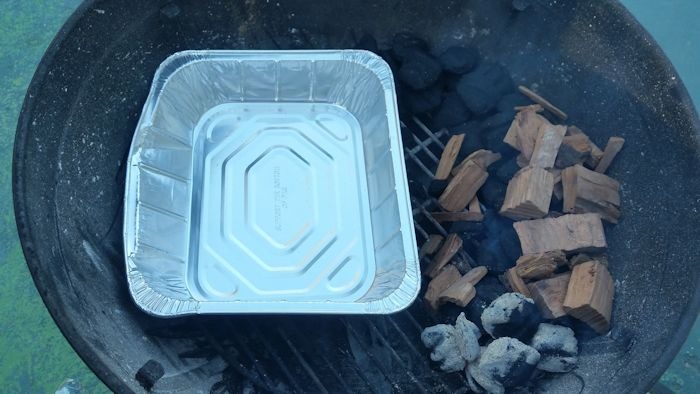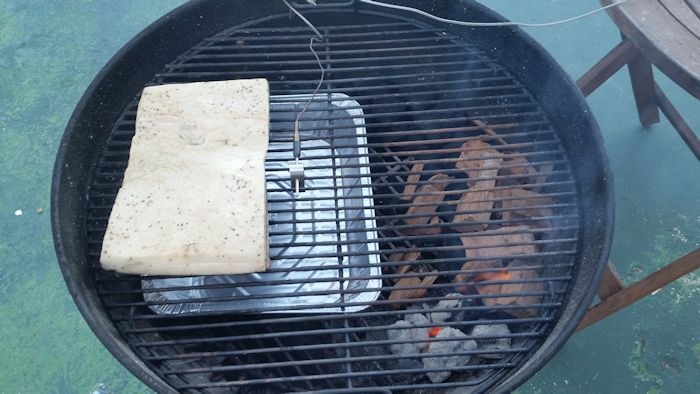 You can fit the full belly on a 22 inch Weber Kettle but it is kind of a tight fit. Above is only a 3 lb piece I did when I was first testing out making my own bacon so the 5 lb piece will take up a bit more space. Put the lid on with the vent over the meat and let it go. If your kettle is like mine when the dome thermometer reads 275 the temperature at the grate will be between 225-250. Or you can buy an air probe for your Thermoworks DOT and take a good temp reading at the grate level like I am doing above.
Once you hit 150 degrees remove the bacon from the heat and let it rest. It will be a nice, rich mahogany color. Below is a pic of some bacon finished in the oven on the left and some done on the smoker on the right: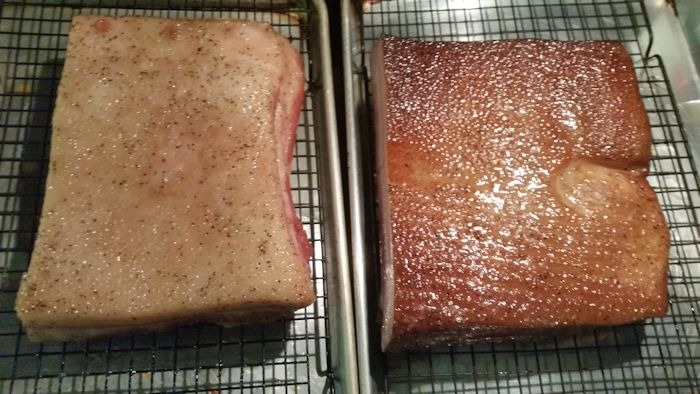 As you are letting the bacon rest your whole house will start to smell delicious so you probably won't be able to wait for it to fully cool before you slice it up and fry up a few pieces. I like using a Dexter slicing knife to cut my bacon and I usually cut it fairly thick. In a perfect world some day I will buy a meat slicer to make the slicing process easier. If you want thinner bacon I would recommend partially freezing the belly before slicing. 90 minutes or so should do the trick.
Like I mentioned earlier, I prefer my bacon cooked on the stove in a pan. And for some reason I prefer a non-stick skillet to cast iron. I need to do more testing there though. Oven cooked bacon always seems to have a bit of a weird texture to me. Since these slices will be fairly thick you will want to use medium low heat to cook it. Perfect bacon to me is a bit chewy and I am not a crispy bacon guy.
So that's it. Cure your pork belly and cook your pork belly. After you have cooked a few and want to get adventurous you can try adding some other flavors to your cure. Some of the best bacon I have ever had was juniper flavored so juniper berries are something I want to try. Garlic, cajun seasoning, old bay, bay leaves, and thyme are some other flavors to try. But I haven't been able to move on from the standard flavor yet. It is that good.
If you do try to make your own bacon be sure to let me know how it turns out. I would love to hear your experiences.