After a controversial win by salmon in the poultry/seafood region of Meat Madness it is time to see who advances from the pork bracket. Let's just cut to the chase here… of course bacon wins. Was there ever a doubt??? Let's see how we got to this point. And remember, these matchups were made randomly.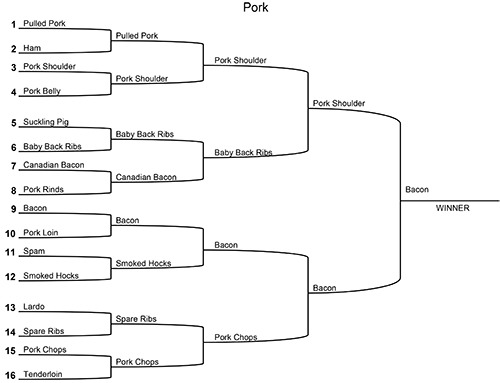 Now for the matchups:
Pulled Pork vs. Ham – We are starting out with a doozy here… two of the greatest pork products facing each other in the first round. When I talk about pulled pork I am talking about classic bbq or smoked pork shoulder like you would find in the Carolinas. And ham? Well, you have the big ham you eat for Easter, lunch meat ham, breakfast ham, and a number of other preparations. But in this matchup I think the nice smokey, vinegary flavor of the pulled pork wins out. Barely.
Pork Shoulder vs. Pork Belly – This is an interesting matchup because you have pork shoulder which is a precursor to pulled pork and pork belly which is a precursor to bacon. Go to any hipster restaurant out there and you will find pork belly somewhere on the menu. It can be very delicious if cooked properly but I have rarely found it cooked properly. Either it is over done and the fat tastes burnt or it is under done and it is rubbery. But if you can get that perfect consistency where the fat melts in your mouth? Delicous! Pork shoulder can be prepared many different ways and lately I am partial to a Caribbean style roast pork shoulder with kind of a citrus marinade. I think Pork Shoulder will win this matchup due to its versatility.
Suckling Pig vs. Baby Back Ribs – Has anyone really eaten a suckling pig? I hope to someday but haven't had the opportunity yet. There is a restaurant in Vegas that serves a whole suckling pig for $500+ which might be fun to try sometime. Baby back ribs are one of the more common rib cuts. They come from the top of the rib bones closest to the spine and they are tender and leaner than spare ribs. Baby back ribs advance out of this matchup.
Canadian Bacon vs. Pork Rinds – As a kid I remember eating pork rinds a number of times. I have tried them recently and while they are good they wouldn't be a snack I would normally pick. Canadian bacon has its rightful place on a good Hawaiian pizza and is also one of the main ingredients in a good Eggs Benedict. Canadian Bacon lives to fight another day.
Bacon vs. Pork Loin – I have only recently begun to cook pork loin on a regular basis. It is a nice, cheap piece of meat that you can find on sale for $2 per pound. I think the one I got was about 12 pounds. Cut it into quarters and you have some nice 3 pound roasts that cook up moist and tender, assuming you don't overcook them. It is kind of a raw deal that pork loin got matched up with bacon in this round.
Spam vs. Smoked Hocks – I think people hate the idea of spam more than actual spam itself. If they were to taste it they would see it is surprisingly good. Cut it up, fry it, and add it to your morning scrambled eggs or you can even use it in some sushi preparations. Smoked hocks are a staple in southern cooking. They will (or at least should be) in every pot of collards or green beans you cook. They bring a smoky salty component to those dishes and can also give good flavor to grits. Since I live in the south I have to say Smoked Hocks win this round.
Lardo vs. Spare Ribs – Lardo is basically cured fatback which, as you might guess, is fat from the back of a pig. It can either be sliced thin and eaten or used for flavorings in other dishes. Spare ribs are the lower part of the rib and are usually more flavorful and moister than the baby backs. It is hard to pass up a good slab of ribs so Spare Ribs move on.
Pork Chops vs. Tenderloin – Another brutal first round matchup here. Both of these meats are worthy of advancing far in this bracket. Tenderloin is an awesome piece of meat that takes flavor well and is great for marinating or rubbing with spices. You can easily grill it or sear it then throw it in the oven. Make sure you don't overcook it since it is a very lean piece of meat and can dry out. Pork chops come in a few different cuts and are one of my favorite pork products. They are generally inexpensive and can easily be cooked by just salting and peppering and then frying in a pan for a few minutes. Cover with applesauce and you have a great dish. Pork Chops advance.
In round two we start with a really awkward matchup…
Pulled Pork vs. Pork Shoulder – See what I mean? Basically the same cut but one is general and one is a specific preparation. Since pork shoulder is basically the daddy of pulled pork I will advance it to the next round.
Baby Back Ribs vs. Canadian Bacon – Canadian Bacon (cured tenderloin) has fairly limited traditional applications without getting too crazy and baby back ribs are a staple of backyard bbqs (and family casual dining restaurants). They can also be easily braised in the oven for a nice, tender rib. Baby Back Ribs make it through to the next round.
Bacon vs. Smoked Hocks – Two smoked meats facing off. Since ham hocks are primarily used for seasoning and aren't really an eating dish we can easily pick bacon as the winner.
Spare Ribs vs. Pork Chops – Yet another unfortunate matchup here. Spare ribs are better than baby backs in my opinion but it is hard to fight against the versatile pork chop.
We are down to 4 here in the semi-finals of the pork bracket:
Pork Shoulder vs Baby Back Ribs – Two stalwarts of bbq pitmasters everywhere. It is hard to drive anywhere in the south and not catch a whiff of some pork cooking to perfection in a smoker or BBQ somewhere and that will usually mean pork shoulder. Add in the popularity of pork shoulder in Caribbean cuisine and we have to move Pork Shoulder on to the finals.
Bacon vs. Pork Chops – Aside from simple fried pork chops here is one of my favorite pork chop recipes. I figured I had to give some love the the pork chops before I got started talking about bacon. I prefer thick cut bacon fried in a pan. Many people prefer cooking it in the oven but I don't think the texture ends up right. Bacon wins this round.
And now the final matchup:
Bacon vs. Pork Shoulder – This basically comes down to this: Would I rather have a plate of pork shoulder or bacon in front of me right now? 9 out of 10 times I would probably pick bacon. The salty, smokey taste is delicious to eat on its own but also makes a great addition to nearly every other savory dish and even some sweet ones. The best bacon I have had recently is some Kurubota bacon from Snake River Farms (they gave me the bacon for free to test but I would still say that if I had paid for it)
Bacon is the rightful champion in the pork bracket and will go up against salmon in our final matchups.