On Sunday, May 10th we get to celebrate our mothers on Mother's Day. This is an awesome time to get together with family and share a good meal, treat your mom like a princess, and even clean the dishes after dinner. And what is a good meal without meat? Here are a few great ideas for some special cuts of meat that will help you blow away your mom with an awesome dinner.
Also, please keep in mind if you buy something through most of these links I will make a few bucks and be able to buy my wife and mom a better present for Mother's Day.
Top Meat Gifts for Mom
1. Bacon Wrapped Filet Mignon from Snake River Farms – Generally speaking most women prefer a filet mignon to other cuts of beef. It is usually a smaller cut (around 8 ozs), is more tender than other cuts, and has a more delicate flavor. If you want to do a special dinner for your mom this is a great cut to go with. I reverse seared a few of these a couple weeks back and they were awesome. They also do great on the grill. You can get for $19 each right now and you can get free shipping on all orders with code FREEAFF. Snake River Farms also has some other awesome cuts on sale (including these bacon wrapped filets) for Mother's Day and you can save 10% with code SFRMOM15 through the 10th of May.
2. Lobster Dinner – If you are really looking for something special consider some fresh lobsters from LobsterAnywhere.com. Their dinner packages ship for free but you can also order live lobsters or lobster tails if you want.
3. Bacon for Breakfast in Bed – Yeah, you could just go to the grocery store and buy some bacon but why not treat your mom this Mother's Day? There are many places online where you can get some "artisinal" bacon that comes from better pigs like Duroc, Kurubota, or Mangalitsa. You can also get some different flavored bacons. The Kurobota bacon from Snake River Farms is an awesome choice (and it ships for free with code FREEAFF). It has an awesome flavor and texture and you can definitely taste the difference from what you would get at the grocery store. Nodine's Smokehouse has some great bacon as well. I am partial to the Juniper Bacon from there. Nueske's is another great place to check out.
4. Gold Grade American Kobe Beef – You want the best of the best? Try the Gold Grade American Kobe beef from Snake River Farms. You can get filets, ribeyes, brisket, and more. These start at $46 per steak but these will be some of the most marbled steaks you will ever eat. They will melt in your mouth like butter and have a flavor you won't find anywhere else.
If you are looking for something meat related but not necessarily meat we have you covered as well with these other meat related Mother's Day Gifts:
5. Thermoworks DOT Probe Thermometer – If you are looking for a nice, simple, accurate probe thermometer this is an awesome place to start. I have one and use it almost every time I cook my meat. It only costs $39 and is very, very easy to use. Just pick your temp, put the probe in the middle of the meat and you are good to go.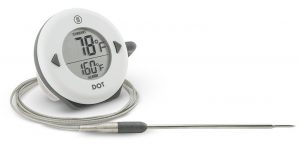 6. An apron from Flirty Aprons – No, you don't need to feel creepy about ordering your mom an apron from a place called Flirty Aprons. Most of the aprons they carry are more classic looking than anything. Maybe you can go with one of their "sultry" aprons for your wife but stick to the classics for mom.
7. A "meat" print – There are some pretty cool looking meat related prints and posters on Etsy. Some of the cuts of meat pictures would make a great framed decoration to hang in the kitchen and will make a great gift.
8. Meat cookbooks – Is your mom a bit challenged when it comes to cooking meat? Have you sat through enough flavorless, overcooked steaks in your life? A good meat cookbook will help point her in the right direction. Look for one that keeps things simple. MEAT by Pat LaFrida is one of my favorites.
Even if you just go with flowers or something simple like that a nice steak dinner will be a great way to end a day where you can show your mom or wife how important they are to you. Make it special and make sure to keep it simple so you can spend plenty of time with her this Mother's Day.