I was at the market today and decided what the heck, let's have steak for dinner. So I picked up a couple nice 1 lb New York Strips which is my favorite cut. This is a very easy steak to cook in the kitchen and it only takes about 10-12 minutes.
1. Pull the steaks out of the refrigerator and let them warm up a bit. Yeah, don't worry, this is safe. They don't really need to come all the way to room temperature but even sitting them on the counter for 10-15 minutes will help with the finished product. I will go into this more in a future post.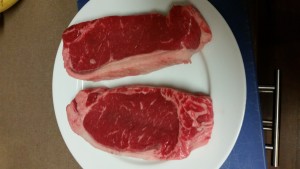 2. Cover these suckers with salt and pepper. I prefer kosher salt for these applications as it sticks to the meet better. Don't be afraid of the salt. This is quite a bit of meat (maybe 1.25-1.5 inches thick?) and it can easily take a teaspoon or two of salt. Salt and pepper should be all you need for a good piece of meat. Don't worry about seasoning salt, garlic, herbs, etc. Just go with salt and pepper so the flavor of the meat isn't overpowered.
3. Preheat your oven to 500 degrees and throw your cast iron skillet on the stove on high. You want to get this skillet ripping hot. Feel free to preheat the skillet in the oven if you want.
4. At this point I will usually lightly brush the steaks with some oil. Just enough to lightly coat the meat, don't drench it. Also add a tablespoon or so of oil to the pan.
5. Open your doors and windows. Things are about to get smokey.
6. Put the steaks in the pan. You want to get a good sear and develop a nice crust on the meat. If your pan is as hot as it should be this should take about 2-4 minutes.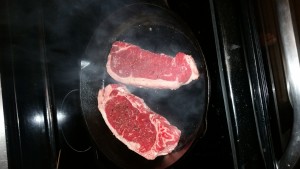 7. Flip the steak (use tongs please, don't stab the heck out of it with a fork) and sear the other side for another 2 or 3 minutes.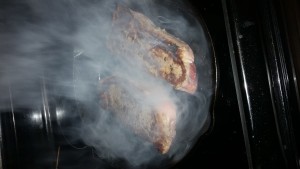 8. Throw the whole pan in the oven. I like to stick a probe thermometer in the meat. Set your alarm to go off at about 125-135 depending on how you like your steak cooked. Once the meat hits your desired temperature (125 is my preference) pull the pan out of the oven, move the steaks to a plate or cutting board, and tent with foil. Rest the steaks for 5-10 minutes and the temperature will rise during this time.
9. I ate this one with some nice roasted red potatoes. No reason to clog up the plate with any vegetables.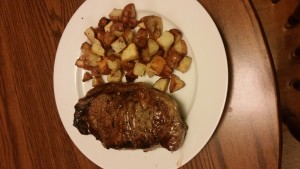 Properly season, get a nice sear, and hit your internal temperature and you will end up with an awesome steak. This one really hit the spot tonight and I wish I had another.