If you have read anything on this site over the past couple months you know I am a huge fan of reverse searing my steaks. With an oven and a cast iron pan it is very easy to do and produces a perfectly cooked steak with a nice sear on the outside. Along with the nice, juicy, pink-red interior you will always get a few crusty bites with the perfect little chunk of fat from the outside of the steak that will melt in your mouth.
The one downside to searing a steak inside on the stove is it will make your house very, very smokey. Whenever I do it I need to open the doors and windows for a few minutes to clear the smoke out. So what is the solution? Take the cooking outside to the grill!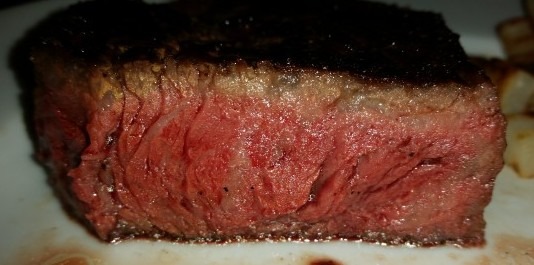 Now I am usually a charcoal man and you can definitely cook a steak like this on a charcoal grill but since gas grills are so prevalent and most people find them more convenient than charcoal here is how you reverse sear a steak on a gas grill.
1. Start with a good, thick steak. It can be a ribeye, NY strip, a bacon wrapped filet mignon, a porterhouse, or even a big thick Cowboy Chop as long as it is at least an inch thick, preferably an inch and half or two. You don't want to use a thinner steak like a flat iron or flank or anything like that. Season with salt and pepper (use a good amount of salt) and let it rest on your counter for 30-45 minutes.
2. Turn on one burner on your grill fairly low. You want the temperature in the grill to read about 225-250 or so. Every grill is different so you might have to play around with yours to get the temperature right. The temperature can go a bit lower than 225 but you really don't want it going much over 250 so keep an eye on it.
3. Insert a probe thermometer into the middle of your steak and place it on your grill. You will want it on the opposite side of the grill from where you have the heat on. You want to try and keep the meat away from direct heat if possible. If you are using charcoal push all your coals to one side and put the steak on the opposite side.
4. Close the lid and leave the steak alone until the internal temperature reads 120-125 assuming you like your steak rare to medium rare. Go a few degrees higher if you want medium rare but you shouldn't go much higher than that. When your internal temperature is what you want it to be remove the steaks to a plate or cutting board and tent them with foil to rest for  10 minutes or so. It should take probably 30-45 minutes to get the steaks cooked but it will vary greatly depending on how thick your steaks are and the temperature of the grill. The temperature of the steaks will continue to rise another 5-10 degrees while it is resting.
5. While the steak is resting crank the heat on all your burners. You want to get the inside of your grill as hot as possible and most grills should easily get to 500-600 degrees in the 10 minutes your steaks are resting. If it can get hotter that is good to.
6a. Once the grill is up to temperature and the steaks have rested brush them with a light coating of canola oil (you can use bacon fat if you want) and slap them on the grill for about 2-3 minutes per side until a nice crust has formed. You don't want black and burnt but a nice caramelized crust on the outside of the steak. After the steaks have seared on each side you are ready to eat.
6b. If you want to switch things up a bit throw a cast iron skillet on the grill while you are heating the grill up and get it as hot as possible. You can then sear your steaks in your cast iron pan like you would on the stove. I wouldn't do this with a porterhouse or bone in ribeye since the bone prevents the steak from making good contact with the pan.
That's it. Pretty simple overall and you will be rewarded with a beautifully cooked steak that is juicy and flavorful.
There is a grill that recently caught my eye that could do an awesome job with this cooking method and that is the Stok Quattro grill. They have a very interesting grill grate setup that has some interchangeable plates you can swap in and out. In this picture you can see the circular cutouts in the grill grates: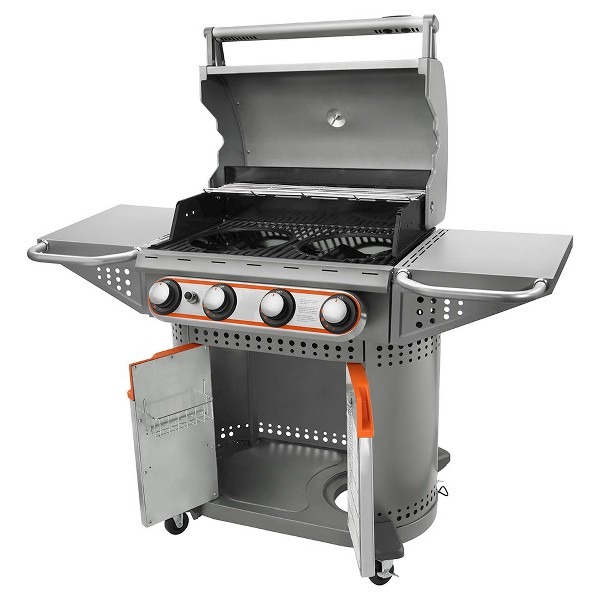 They have inserts like vegetable baskets, woks, kebob racks, pizza stones and more but the ones that caught my attention were the griddle and the cast iron kettle. Either of these would work great to sear your steak, especially the cast iron kettle. I am guessing you might even be able to drop a regular cast iron skillet in there depending on the size of the opening and the size of the skillet.
Start with a good cut of meat, cook it at a low temperature, and then blast it with high heat and you will have a steak that is as good or better than you will get at a steakhouse. This method will be perfect for a Father's Day cookout, 4th of July, or pretty much any day of the week. Give it a try and let me know how it turns out.