Earlier this year I gave a list of 3 dishes I wanted to perfect this year. The first of the three was Shrimp and Grits. If you live in the Southeast you are probably familiar with this dish but if you live anywhere else in the country it can be hard to come by. There are many, many different takes on Shrimp and Grits and there are dozens of different recipes I looked at to use as a starting point.
Well, the stars aligned this past weekend. First, I got an email last Thursday from Serious Eats with a link to a Shrimp and Gruyere Cheese Grits with Bacon and Mushrooms that looked very solid. Second, I was at the local farmer's market on Saturday and there was a guy selling some fresh local shrimp. So I figured it was a great time to try some shrimp and grits.
I usually am a big fan of what Serious Eats puts out so I decided to use this recipe as a starting point. I really liked that this recipe didn't use any peppers (I hate peppers) or onions (I hate onions). Those two flavors can easily overpower other flavors in a dish so I didn't want a recipe that relied on those two ingredients for the primary flavors. Having bacon in it and Gruyere cheese was a plus as well. I followed the recipe somewhat close to start out with a couple modifications. I omitted the mushrooms because neither me nor my wife really care for mushrooms. Looking at the finished product I can totally understand how they could work well in this dish but I thought they were great without the mushrooms. If you like mushrooms feel free to keep them in there.
As I read through this recipe I really liked that they had you simmer the stock with the shrimp shells. This gives the stock you cook the grits with a lot more flavor and really infuses the shrimp flavor throughout the dish. I suppose you could just make your own shrimp stock and use just that as well. Makes me think I should have had the shrimp guy leave the heads on so I could have used that to make some shrimp stock.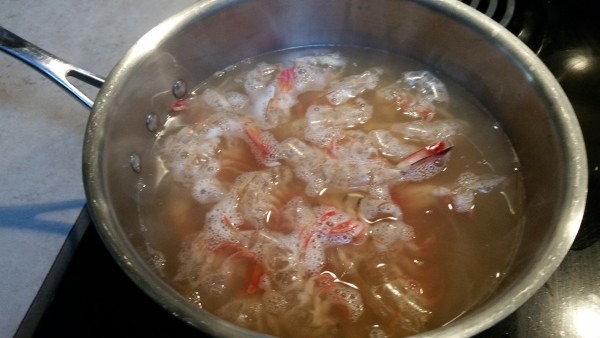 By using a lot of liquid (5 to 1 ratio) to cook the grits they end up nice and creamy without any added cream. The gruyere cheese makes adds to the creaminess as well and adds some great flavor to the finished product.
The sauce in this recipe is very simple but flavorful. The bacon grease, shallots, garlic (I went pretty light on the garlic), and stock all bring some good flavors to this dish. Next time I will probably start the sauce sooner and cook it down more though.
All in all this recipe is pretty awesome. I would give this version of shrimp and grits an 8 out of 10 which is pretty high praise. It is better than nearly all the shrimp and grits I have had at some different restaurants and is way better than any other homemade shrimp and grits. If I had any possible improvement I would cook the sauce down quite a bit longer and make almost a syrup with it similar to a demi-glace.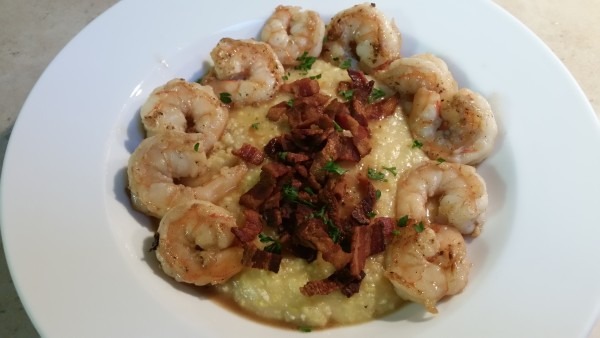 Shrimp and grits can be as complicated or as simple as you want. I would usually lead towards simple and let the flavors of the shrimp, grits, and cheese come through and this recipe nails that. With the shrimp infused broth and gruyere in the grits the flavors really stand out and aren't covered up by anything else.
This recipe is simple enough for pretty much anyone to try so if you like Shrimp and Grits or have never tried it before give this one a shot.