If you buy through one of the links on this page I will earn a commission. This allows me to buy more meat and write about more meat. A win-win. Also Taste Trunk gave me a couple of these trunks to test but I also bought one myself.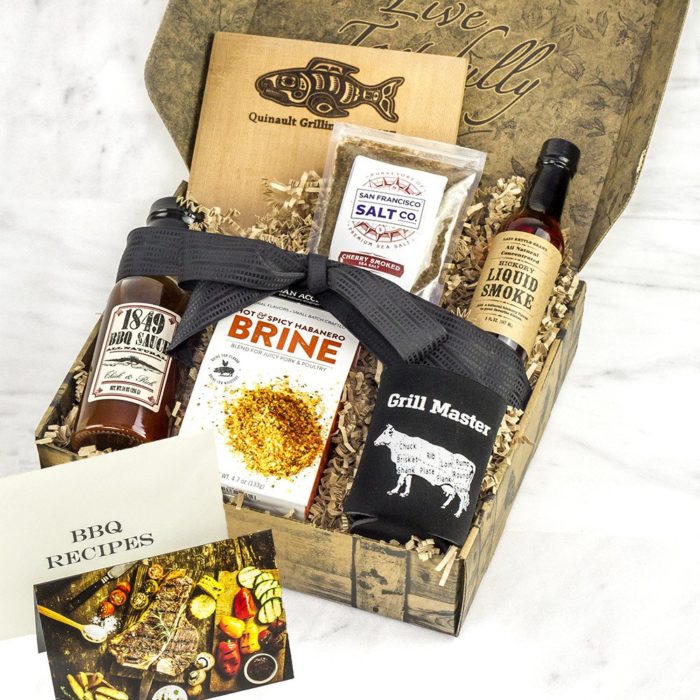 We are barreling full steam ahead into gifting season. Of course there are Christmas gifts to consider but with all the holiday parties there are also hostess gifts to consider. If any of your gift recipients are a food lover a Taste Trunk makes a great gift.
What is a Taste Trunk? A Taste Trunk is a curated, themed gift box containing different gourmet items, sauces, seasonings, sweets, chocolates, baking products, and more. For example, the best selling BBQ Trunk (more on this later) contains some bbq sauce, all natural liquid smoke, cherrywood smoked sea salt, a hot and spicy meat brine, a cedar grilling plank, and even a beer coozy.
Most trunks run around $50 and all orders over $35 offer free shipping. Along with the curated trunks you can also custom build your own trunk which is an awesome option. I bought a custom trunk that contained some Nashville chicken brine, some Cayman Citrus dry glace, a tri-tip marinade, some hot ketchup (awesome with fried catfish), some blackberry syrup, and three different types of salt. All in all that one cost me about $55.
The blackberry syrup is my favorite item in this trunk. It is delicious on french toast, pancakes, ice cream, or just on a spoon. I haven't used the chicken brine or dry glaze yet but they look great. I tasted the hot ketchup and tri-tip marinade and they were very good.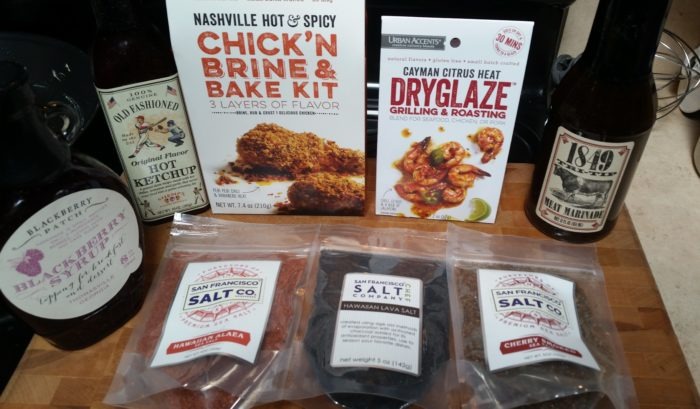 The best selling Taste Trunk is the BBQ trunk. This is a great gift for any guy, especially those who like grilling or smoking meat. The 1849 BBQ sauce is a nice, thick, sweet and spicy sauce that would be great on pork, chicken, sausage, or even to dip your chicken nuggets in. Cherrywood smoked sea salt has a nice smokey flavor, the liquid smoke is a big step above what you would usually get at the grocery store, and the cedar plank is perfect for a couple nice, small salmon steaks. The BBQ Trunk (and most of their other trunks) come with recipes for all the ingredients so the recipient will have ideas on how to use it.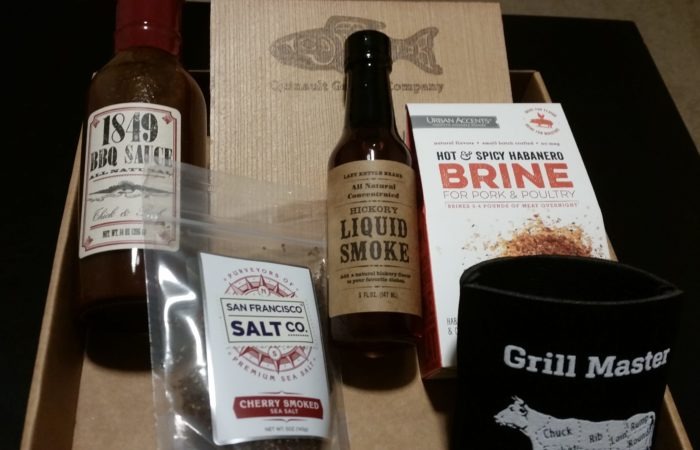 Would this be a gift to give an expert pitmaster? Probably not. But for most of the guys who like to poke around the grill in the backyard (which is about 90% of guys) this is a great gift. The BBQ Trunk runs $49.99 and ships free. Order yours today. 
I also liked the Gameday Trunk. Gourmet popcorn is worlds above the standard grocery store fare, the wing sauce makes whipping up a tray of buffalo wings a snap, the Napa Jack's bbq sauce is perfect for some pork sandwiches or some smoked sausage, and the siracha horseradish sauce is a great dip for onion rings or fries, makes a great spread for sandwiches, or can even spice up your potato salad.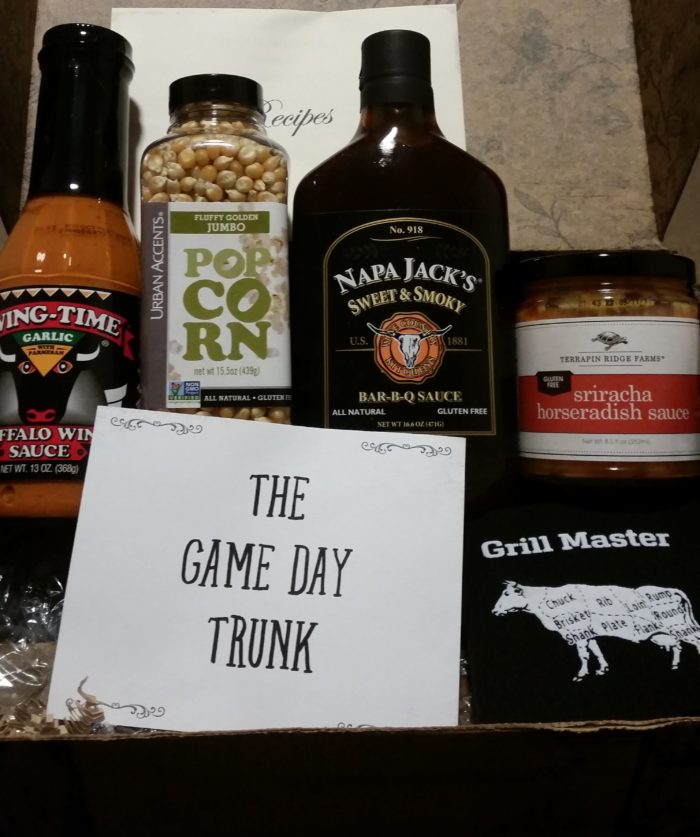 Other trunks available are the Beer and Bourbon trunk, the Breakfast in Bed trunk, the Taco Trunk, the Gourmet Trunk, and a few dozen other options.
Who are Taste Trunks good gifts for? Well, pretty much anyone who likes food. People who aren't on the top of your holiday list like uncles or cousins or even grandparents make great gifting opportunities. If you are going to a party and want to take a hostess gift of some sort one of the Taste Trunks would be a great option. Looking for a business gift for your clients? Choose a Taste Trunk instead of a regular gift basket. Need a gift for your kid's teachers? Get them a Taste Trunk. Have a gift exchange at work? Give a Taste Trunk. These Taste Trunks are a great alternative to a standard gift basket. And don't forget all orders over $35 ship for FREE.
Check out Taste Trunk the next time you are looking for a gift or even if you are just looking for some new tastes for yourself.