Let's face it, we all love pizza. Pizza is a thing of beauty in its simplicity: Dough, sauce, cheese. And of course some toppings, preferably meat. But in that simplicity there is also so much complexity and diversity. Thin crust, deep dish, NY style, Chicago style, St. Louis style, wood fired, brick oven, national delivery chains, homemade pizza, and it goes on and on.
I am in Chicago at the moment so of course I had some deep dish Chicago style pizza tonight and what better place to go than Pequods.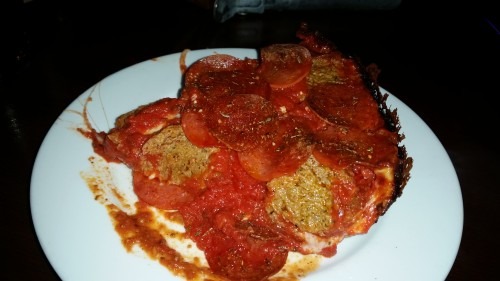 This got me thinking about meat and pizza. Yeah, if you are a sick individual I guess you can put some vegetables on a pizza but when it comes down to it there is nothing better to top a pizza with than meat. So why not rank the meats? Of course this is an imperfect ranking since different pizzas call for different toppings. You would never put prosciutto on a thick crust pizza but it is awesome on a thin crust pie. Meatballs wouldn't be good on a thin crust pizza but go great on a nice, thick, deep dish pizza. So here we go:
1. Pepperoni – Of course it is going to be pepperoni leading the list. You can put this on pretty much any style of pizza and it fits. The spice goes great with the cheese, crust, and sauce and most of the time I order a pizza there will be pepperoni involved somehow. The standard pepperoni you get at the grocery store or even at the big pizza chains is usually good but when you get something a step up from that at a nicer pizza restaurant it can be a thing of beauty. The pepperoni at Pequod's was especially spicy which was nice.
2. Bacon – Bacon is making inroads everywhere in cuisine over the last few years and pizza is no exception. Growing up I never really remember bacon being a pizza topping but over the last few years it is more and more common on pizza menus around the country. I have seen it come as full strips, as bacon bits, and smaller pieces. I generally prefer it to be in about 1-2 inch pieces and for a pizza I think it needs to be slightly on the crispy side. Otherwise the pizza can be a bit greasy and if you can't easily bite through the piece it can pull off the pizza which is always a disappointment.
3. Canadian Bacon/Ham – I am using these interchangeably here since, come on, you can't really tell the difference on a pizza. As a kid this was always my favorite, especially when paired with pineapple. The flavor doesn't overwhelm the sauce and cheese but still provides some nice chewiness, saltiness, and smoky flavor.
4. Meatballs – Meatballs were a tough one to rank since they vary greatly. If you can get a good meatball on a pizza it could be the best topping but finding good ones is very difficult. You also would usually not want meatballs on a thin crust pizza and they are better suited to deep dish pizzas. The meatballs at Pequod's were great and the meatballs at Lombardi's in NYC were excellent as well. In my opinion a good meatball on a pizza needs to be slightly spicy and a bit on the dry side. If it is too wet and has too many breadcrumbs in it you will end up with a soggy pizza. The meatballs should also be good enough to eat on their own.
5. Italian Sausage – Like meatballs, sausage can be all over the map. The stuff at most of the national delivery chains is horrible and I would never get it but smaller, local pizza joints who either make their own sausage or buy it from a local sausage maker can give you a sausage that adds to the pizza. Hot Italian sausage and sweet Italian sausage both have their place as a pizza topping but I probably prefer hot for this application. If I want to just eat it on a but I usually opt for sweet.
6. Prosciutto – Prosciutto is a pizza topping you usually only find at wood fired or thin crust pizzerias. The saltiness goes awesome on a thin crust pizza, especially if you pair it with some blue cheese. I usually want as much meat as I can get on a pizza but prosciutto doesn't need to be piled on as heavy since a little goes a long way.
7. Salami – This is another topping you won't find at most national chains but it can be great a great topping on a pizza. The one problem is it can be fairly greasy on the pizza and it usually comes in bigger slices so it can be hard to bite through. Pepperoni is a type of salami but since it is so popular I gave it its own listing. Soppressata is one of my favorite salamis to use on a pizza.
8. Chicken – If you want a normal pizza with red sauce and mozzarella you can avoid the chicken but for something a bit different like BBQ chicken, Buffalo chicken, or Thai chicken pizzas it can be a great topping. This is another topping I would probably never get at a national pizza delivery chain.
9. Ground Beef – Growing up this was my dad's favorite pizza topping since he doesn't really like anything spicy. There was a couple year period where every Domino's order I made would include a deep dish pizza with ground beef so it can be a viable pizza topping. It won't bring a ton of flavor to the party but if you have enough going on with your pizza it will do just fine.
10. Seafood – Yeah, I know it isn't traditional at all but seafood can be a great pizza topping. Of course you have anchovies which bring a ton of flavor and saltiness but shrimp can also be good on the right type of pizza. For some reason I remember getting Little Caesars pizzas with shrimp on them when I was a kid. And of course you can't overlook a clam pizza which usually has some sort of garlicy white sauce on it.
And if you need to see some more pizza awesomeness here is a giant picture of my Pequod's pizza: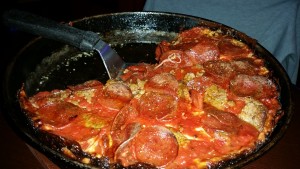 QUICK UPDATE: I found this chart showing the top pizza toppings by state. Stuff like this makes he hate living in Florida. Peppers? Really???
#Pizza: According to Twitter. Favorite pizza toppings by state. pic.twitter.com/mmfs6afHt4

— Brandwatch React (@BW_React) May 14, 2015