Who wants to go through the hassle of going out to a restaurant on Valentine's Day??? Fighting crowds, eating over priced food, feeling rushed so the restaurant can get the next suckers in there… Forget that! Stay at home this year and make your own romantic meal. Here are three ideas for some main courses to build your meal around. The side dishes and desserts are up to you (a simple baked potato and some steamed vegetables is a great place to start for the sides).
A couple guidelines:
This is one of those times where you want a special meal. You want something that is a bit above and beyond what you would normally have for an every day dinner so branch out a bit and try a piece of meat you might not normally try.
How to say this with some decorum… The meal is possibly just a prelude to other activities that might occur later in the evening so you probably don't want something too heavy. This isn't the time to bust out the 30 oz steak or the chicken fried steak.
You want to pick something that is fairly easy to prepare, something you have a good chance of getting right, and something you are comfortable with. You can, however, stretch yourself and still keep within these guidelines.
Here are three Valentine's Day Meals I would think about this year:
Valentine's Day Meal #1: Filet Mignon – Steak Au Poivre
The Filet Mignon is probably the most elegant steak you can buy. It is very tender, not quite as fatty as a ribeye, and when cooked properly can still have an awesome flavor. Most days I would just sear it up or cook it on the grill (of course nothing past medium rare) but for an occasion like Valentine's Day I would probably go with a Steak Au Poivre. The sauce is nothing more than cracked peppercorns, cognac, cream, butter, and oil. The Alton Brown recipe is one I have made before and it is simple and tastes great. I made this for my then girlfriend a few years back and she married me a couple months later so you know it works.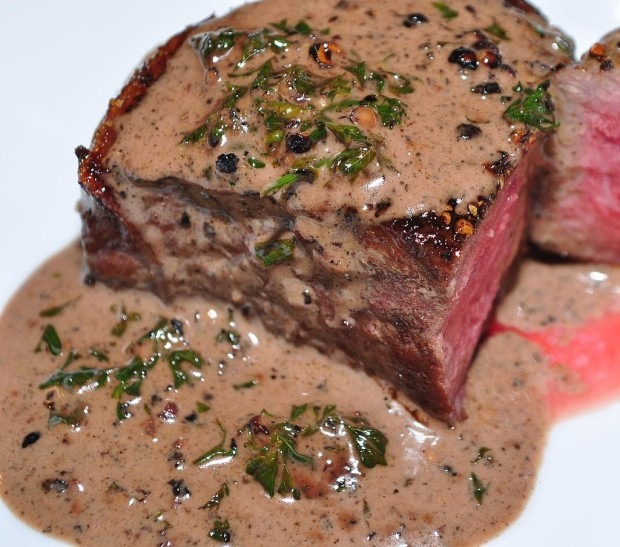 As far as the actual steaks are concerned this is where you can splurge a little. Snake River Farms has Filet Mignons starting at $24 each and while this may seem like a lot for a steak the quality of these steaks is a definite step up from what you will get at the local grocery store. If you really want something special go for the American Kobe Filet Mignon or even American Kobe Gold Grade Filet which will most likely be a higher quality than any steak you have ever eaten. Yeah, they are that good.
These steaks ship free with code FREEAFF at checkout and if you order by Tuesday the 9th they will get to your house by Friday the 12th. If you procrastinate a bit you might have to upgrade to expedited shipping. Browse through all their Filet Mignon steaks below:
Valentine's Day Meal #2: Lobster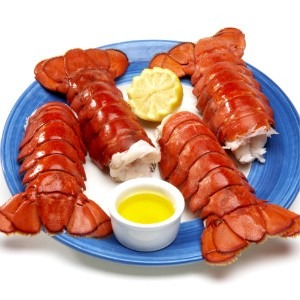 Does Lobster scare you? Well, it shoudn't. Lobsters may seem extravagant but they are fairly easy to prepare. To simplify it, get a big pot, fill with salted water and bring to a boil, stick the lobster in and boil for about 4-5 minutes a pound. Don't let the claws and legs intimidate you. Shove them in the water and they will be dead almost instantly.
Many supermarkets have a lobster tank in their fish department but if you want the best you can order them directly from Maine from LobsterAnywhere.com. The have a great cooking guide to help out and have live lobsters ranging from 1 1/4 pounds up to 6 pound monsters.
If cooking a live lobster isn't your thing you can always order some lobster tails or even some full lobster dinner packages.
LobsterAnywhere.com ships the next day so if you want your food by Friday before Valentine's Day get your order in by Wednesday. Or you can just order now and schedule your delivery for next Friday.
Valentine's Day Meal #3: Braised Short Ribs
If you have ever cooked a pot roast you can cook these Red Wine Braised Short Ribs. Basically brown the short ribs, cook some aromatics (carrots, celery, onion), add some flour and tomato paste and a bottle of red wine and cook for a couple hours. The recipe there calls for serving over mashed potatoes but feel free to cook up some grits for something a bit different. Most supermarkets carry short ribs but you can also get some at Snake River Farms.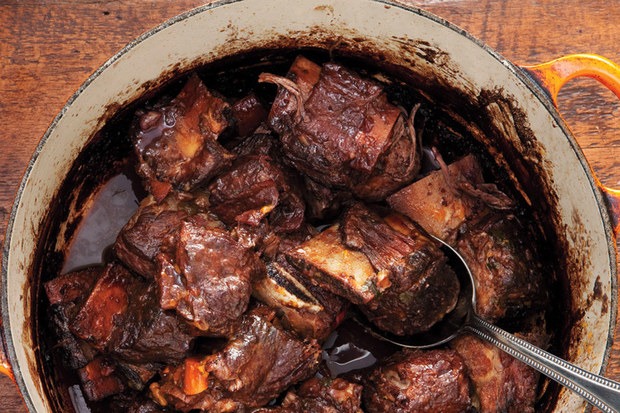 Valentine's Day can be an awesome day especially if you avoid all the hassle of going out and cook a nice meal at home. All three of these meat dishes will make some great Valentine's Day meals and whether the wife is cooking for the husband or the husband is cooking for the wife these are all dishes most home cooks will be able to pull off flawlessly.