In my quest to cook the perfect steak I am always wanting to try new things. Some of them work, some not so much. Today I wanted to sear my Snake River Farms Top Sirloin steaks on as much heat as possible. My trusty cast iron skillet is my preferred searing method but I have also done a good job searing on my charcoal grill. But I wanted more heat!!!
First things first… let's talk about the steaks.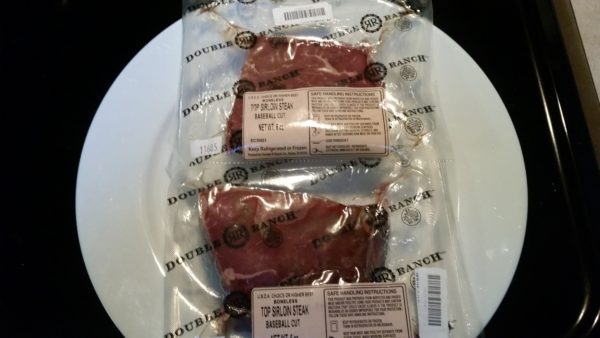 For this cook I used some top sirloins from Snake River Farms. The quality of these Snake River Farms steaks is second to none. These ones are only 6 ozs and were about an inch thick. Sirloins really need to be medium rare or under and if you cook them to medium they will start getting a bit dry and mealy but as long as you keep them under 130 degrees they will be delicious. Very good flavor on these steaks.
I put some salt and pepper on the steaks and let them rest for a bit. The salt is doing a lot of fancy chemical things involving the proteins on the surface of the meat right now that we will talk about in a future post but I always try to give my steaks at least a 15 minute rest before I start cooking.
After this I put them in a 225 degree oven until they reached an internal temperature of 115 degrees. I usually like thicker steaks to cook like this but even with thinner ones like this you can still get a great steak. For thicker steaks I go to 120 degrees but since I was going to totally abuse these things with some serious heat in a bit I really wanted to make sure the sear didn't raise the internal temperature too much. It took about 30 minutes for the steaks to hit the right temp.
While the steaks were cooking I got my charcoal going. I always use a chimney starter when lighting my charcoal and rather than dumping the coals out and dispersing the heat in the grill I wanted to cook right on top of the chimney. I got some expandable cast iron grates to use for this cook.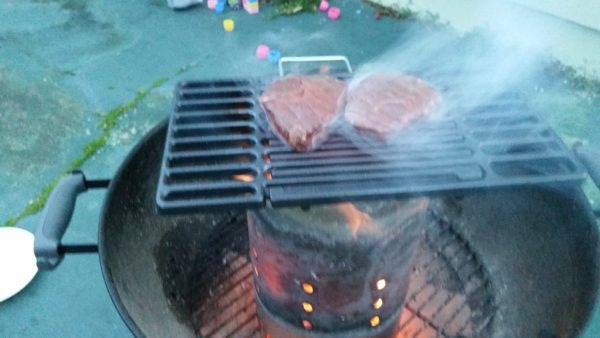 The grates were definitely hot. Maybe too hot. I wish I would have used some sort of grate that was a bit more open than this one though. The only part that really got "seared" was the part touching the grates. And by seared I mean burnt. There was definitely some black charring where the steaks were touching the grate. Next time I will either just use the regular grill grate or maybe even use a couple metal skewers so the exterior of the steaks gets maximum heat without charring. It will definitely be something I will experiment with.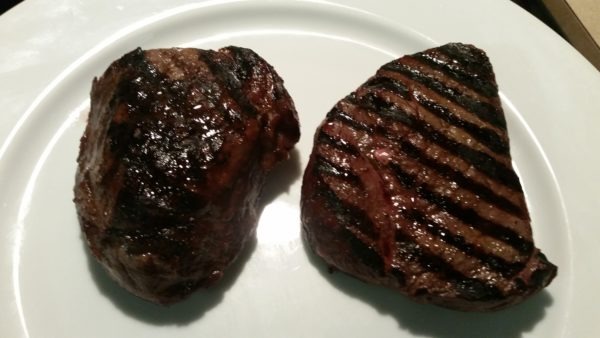 The grill marks might look nice but they are really just burn marks. It gives the outside of the steaks a bitter taste that isn't what you want. But the outside is only a small part of the steak. Here is what they look like on the inside: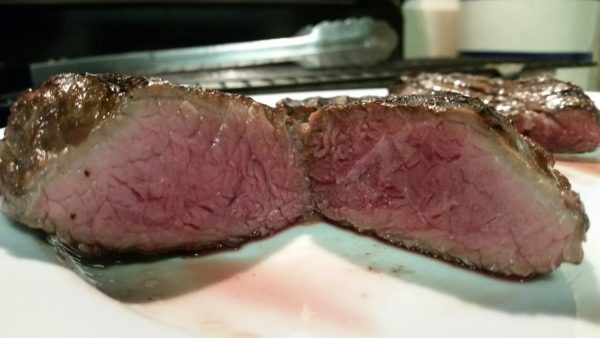 The inside was cooked great. They ended up right around 122 degrees and had a nice uniform color throughout which is what you want when you reverse sear a steak. Nice and pink on the inside, caramelized and seared on the outside. These were definitely tender and juicy. Not quite as tender as a filet mignon and not as juicy as a ribeye but for the price it is hard to beat the top sirloin.
I will work on getting a good sear using the chimney. There is a lot more heat being put out as opposed to a regular charcoal grill setup but maybe too much to use the cast iron grill grates. I will definitely report back as I modify this technique.