If you go to your standard grocery store or butcher shop you will probably get a pork chop or ham or tenderloin from an American Landrace pig. These are the most common pigs in the US and are the pink pigs you think of when you think of pigs. But they aren't really bred for their flavor or tenderness necessarily. They are bred to grow quickly, be resistant to disease, and make inexpensive meat for the general public.
But Kurobuta pork? This a different scenario all together. Are you familiar with Waygu or Kobe beef? Kurobuta pork is basically the Waygu of the pork world. This pork comes from the Berkshire pig which produces more flavorful, more tender pork than the standard Landrace pig. These pigs originated from the Berkshire county of England. At one time back in 2008 there were only a few hundred Berkshire sows but since then the numbers have increased.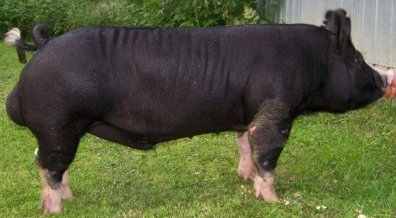 In the United States the American Berkshire Association only gives pedigree to pigs who can trace their origins to those English herds. There are also Berkshire pigs raised in Japan which is where the Kurobuta name comes from.
Kurobuta pork is much more flavorful than what you get in the grocery store and as you might guess it is more expensive than standard grocery store meat. For example, at the grocery store you can get pork chops for $3-4 per pound. Tenderloin will run around $5 per pound and ribs are going to be around $3-4 per pound. A nice 6 oz Kurobuta pork chop on the other hand will run $10-14. A pork tenderloin (about 1.5 pounds) will set you back about $45 and a rack of baby back ribs will be around $20 per pound.
Is it worth it? Definitely. Obviously you won't necessarily want to be dropping $50 on some meat for dinner every night but for a special birthday or anniversary? A nice ham for Easter? A BBQ for a bachelor party? A nice crown roast for Christmas dinner? Special occasions call for a special meal and Kurobuta pork won't disappoint.
In the coming weeks and months I will share more about Kurobuta pork and do some side by side taste tests with what you can get in the grocery store. And hopefully I can compare Kurobuta pork to Duroc and Mangalista as well. My taste buds are watering just thinking about this "work"
Where can you buy Kurobuta pork? Snake River Farms is a great source for this great meat from some 100% purebred Berkshire hogs. Below you will find some of their products and prices. Treat yourself and order some today.