I will be the first to admit, I have a lot to learn when it comes to meat. Yeah, overall I probably know more than a lot of people but hardly a day goes by where I don't learn something new. It could be a new cooking method, some new flavors that will enhance meat, a new tool or gadget for the grill, information about breeds of cattle, or any of a number of other topics. I am pretty much always on the lookout for new information and knowledge when it comes to meat.
Luckily there are people out there with a LOT more knowledge and experience than me. If you want to learn more about meat, cooking meat, smoking, grilling, find interesting recipes, learn new techniques, or anything related to meat here are some of the sites I frequent. As I come across other sites and resources I will be adding to this list as well:
If you are looking for any information related to grilling, smoking, or barbecue AmazingRibs.com should be your first stop. There are thousands of pages of information on the site covering everything from recipes, gear reviews, food history, buying guides, techniques, and anything else you can think of regarding smoking and grilling. Whenever I am looking for a rub recipe or a guide on how to smoke something AmazingRibs.com is always my first stop.
I would also recommend joining their Pitmasters Club. It only costs $23.95 per year and it gets you access to one of the best bbq forums out there. If you have a question you are sure to get multiple answers in short order. There are thousands of posts to read through and more information than you could ever wish for in there. When you join you also automatically get entered for their monthly Gold Medal Giveaways with prizes like grills, smokers, and a bunch more.
And when a site is run by someone named "Meathead" you know it is good. Seriously though, this guy knows pretty much everything about grilling and smoking. All the recipes and techniques are backed up by science and testing too.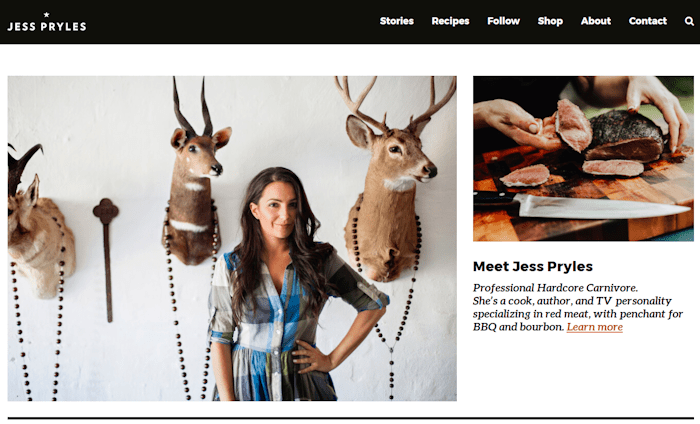 Jess Pryles is a self-taught carnivore. She is from Australia but a few years back fell in love with Austin, TX and planted her roots in one of the great BBQ capitals of the country. Jess has been on a number of different Food Network shows, regularly teaches different meat classes around the country, and has a cookbook coming out soon that I can't wait to read. Be sure to follow all her social media channels because she posts some awesome pics as well. And her live videos she does on Saturday mornings are excellent.
One thing I really like about Jess is the recipes she develops. A recent recipe for queso stuffed meatballs had my mouth watering. So while she can teach you how to smoke a brisket she can also help you create a complete menu beyond just giant hunks of meat.
And if you are looking for a great rub for steaks and beef check out her Hardcore Carnivore Black rub. I am generally just a salt and pepper guy on my steaks but if I am looking to switch it up I almost always reach for my bottle of Hardcore Carnivore Black.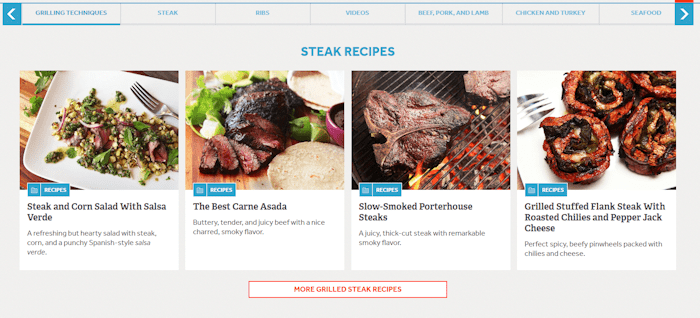 If you are looking to learn about technique and why a recipe works there is no better site out there than SeriousEats.com. When I am looking for any sort of recipe that is the site I start on more often than not. SeriousEats.com has some excellent meat recipes and their Definitive Guide to Steak is one of the best meat cooking resources available.
Most of their recipes go through multiple variations and tests before they settle on the best possible recipe. For example, on their chocolate chip cookie recipe they did over 100 individual tests to come up with the absolute best final product. And I can vouch for that recipe. Those cookies are amazing.
Those three are my main go-to sites. There are dozens of other recipe sites I have pulled inspiration from but honestly I can't remember most of them. Beyond those three sites here are some other resources I get inspiration from:
Reddit – If you know where to look Reddit can be a goldmine of information and inspiration. The subreddits I frequent are r/steak, r/bbq, r/smoking and r/charcuterie. Most of the posts there are pictures of the stuff people have cooked but there is also a lot of technique shared and questions answered. If you are having a problem getting good results on your ribs for example you can explain what you are doing on the r/bbq subreddit and get some answers and tips.
Facebook Groups – There are a number of very good Facebook groups dedicated to bbq, cooking, meat, and any other cooking discipline you can think of. Two of my current favorites are the Weber Kettle Fans and the Slow-n-Sear Owners and Fans. Those two as you might guess are focused on cooking on the Weber Kettle and using the Slow-n-Sear with your kettle.
Another cool site I have found recently is the Weber Kettle Club. I never knew collecting Weber Kettles was really a thing until I started reading this site. There is also some great information on how to modify your kettle and how to repair it if necessary.
There are hundreds or thousands of other resources out there but this is just a short list of the ones I like. If you have another resource I should look at please don't hesitate to contact me and let me know. I would love to hear what you think.