The 5 Best Father's Day Steaks
Father's Day is just under a month away and there is nothing better for a Father's Day Dinner than a nice, big steak. Father's Day is a bit of a weird holiday. On Mother's Day we give moms a day off and take them out to dinner or cook a nice meal for them. On birthdays we don't make the birthday boy or girl cook their own meals. But on Father's Day it is pretty much a given that dad will fire up the grill and cook some meat of some sort.
Before I get to the list let me give you a couple quick guidelines for Father's Day steaks:
The bigger the better. Forget a small little sirlon or filet. Your dad wants the biggest steak he can get.
Don't cheap out on dad. If you want to get something special for your dad you don't just want to grab whatever is on sale at the grocery store. Splurge and get a high quality steak for your dad on Father's Day.
Your steak can double as a gift! Kill two birds with one stone and get your dad a nice big steak as a gift and he gets dinner as well.
Get a "manly" steak. Forget the filet mignon for Father's Day. You want one of the big, thick, juicy steaks that will look impressive on his plate.
OK, now on to the list. After I give you some ideas of what kind of steaks to get I will give a couple cooking tips at the end. And you can order all these steaks from Snake River Farms and get free shipping with code FREEAFF. Order soon to ensure delivery before Father's Day.
BTW, if you buy anything through these links I make some money. Which of course I will use to buy more steaks. But the opinions are all my own and there is no way I would mislead you when it comes to steak. 
1. The Tomahawk Steak – I can't think of any steaks out there that will look as impressive on the grill or on the plate as the Tomahawk steak. This steak is cut from the rib section and they leave the whole bone on this thing. Weighing in at 2.5 pounds this steak is sure to satisfy even the biggest eater. This tomahawk steak is an American Wagyu steak which will be higher than USDA Prime meaning the marbling, flavor, and texture are all superior to anything you will find at the local store.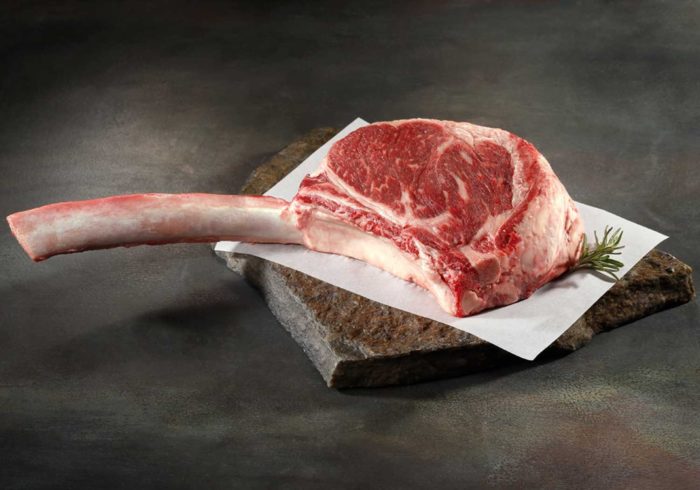 This steak will be the ultimate gift and the ultimate meal for your dad this Father's Day. And he will feel like a caveman eating it! If there aren't a lot of grunts and groans while he is eating this one he is doing something wrong. Order your Tomahawk Steak from Snake River Farms.
2. The Cowboy Steak – The close cousin of the Tomahawk Steak, the Cowboy Steak is also a ribeye but with a shorter bone. The Cowboy Steak tips the scales at approximately 2 pounds so dad won't leave the table hungry.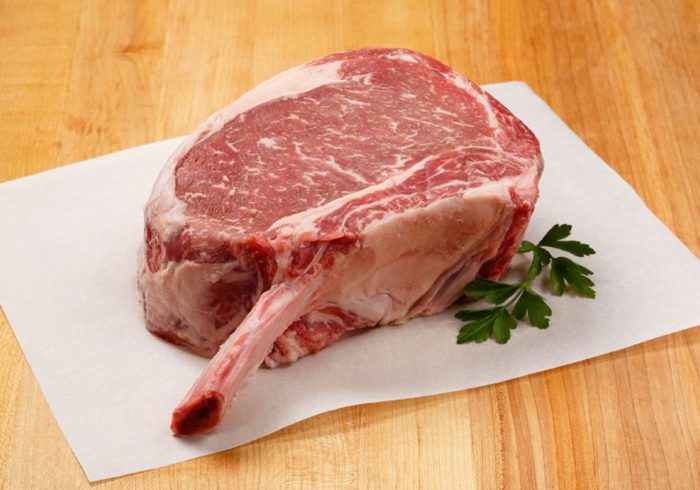 The Cowboy steaks start at $69 but if you buy 8 or more they drop to just $54 each. Imagine the smile on your dad's face as he stands in front of a grill full of 8 of these bad boys! Order your Cowboy Steaks from Snake River Farms.
3. American Wagyu Bone In New York Strip – These American Wagyu bone in NY Strips are higher grade than Prime. Unless you know an amazing butcher I would wager your dad has never had a steak of this quality. This is a better quality steak than you will find in almost every steakhouse in the country! The bone-in steaks like this have some great advantages over ones off the bone (contrary to popular opinion flavor isn't one of those advantages but we will talk about that on another post) like thermal protection, presentation, and so on.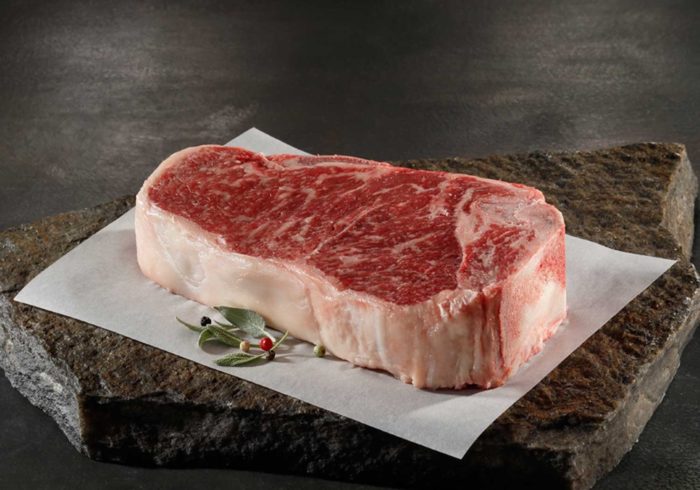 These steaks weigh 1.4 pounds each and start at $80. That may seem like a pretty hefty price per pound when you do the math (OK, I did it for you. $57 per pound) but how many times in his life will your dad get a chance to eat a steak of this quality??? Order your American Wagyu bone in NY Strip from Snake River Farms.
4. The Porterhouse – It is hard to beat a classic. Steakhouses around the country have built their reputations on porterhouse steaks. This steak has the strip loin (or NY Strip) on one side and a nice, thick piece of filet mignon on the other. You get flavor and tenderness all in one! Porterhouse steaks are traditionally cut very thick and these are no exception weighing in at about 1.5 pounds.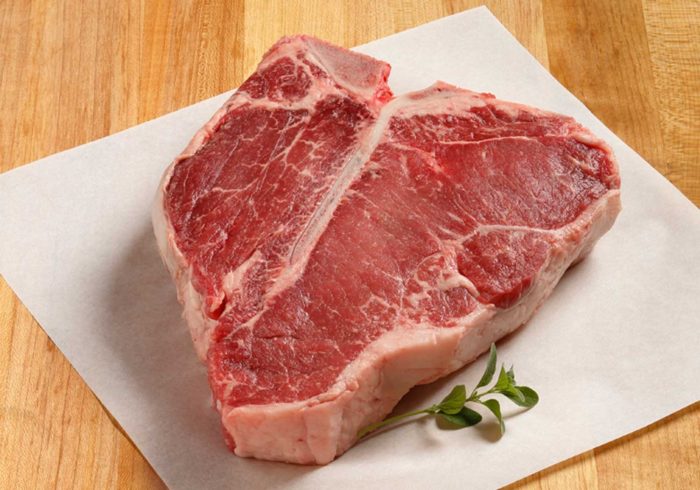 These steaks can be yours (or your dad's) for as little as $32 when you buy 8 or more. These steaks are graded as "choice" but the quality of the meat from Snake River Farms is hard to match and in my opinion their "choice" tastes better than any "prime" steaks you will get at the grocery store or warehouse club. Order your Porterhouse Steaks from Snake River Farms.
5. Prime Ribeye Steak – Nearly every steak lover will put a ribeye at the top of their list of favorite steaks. It might not have the presentation of the Tomahawk or Cowboy but these prime Ribeye steaks have every bit as much flavor. The cap on these steaks (the top of the steak) will be some of the best meat your dad will ever eat.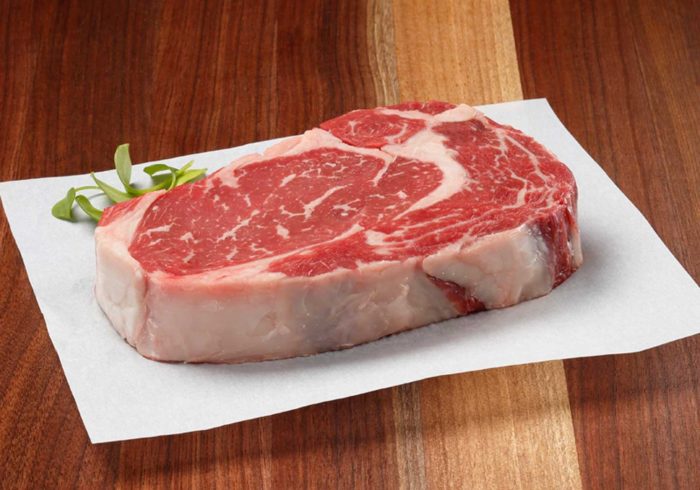 These prime ribeye steaks come in 12, 14, and 16 ozs but of course you should go for the 16 oz steaks. Buy 8 or more and they are only $34. If you just need one for your dad you can get it for $41. I know a prime ribeye would be welcome on my plate any day of the week and maybe twice on Father's Day. Order your Prime Ribeye Steaks from Snake River Farms.
Of course if you are trying to feed the whole family on Father's Day some of these cuts can get pretty expensive. So my suggestion would be to splurge on dad and get him a nice, expensive cut and go with something a bit less expensive like some nice top sirloins or flat irons for the rest of the family. It will make dad feel even more special with a giant tomahawk steak on his plate.
Now, as far as cooking… When you are spending this much on a steak you really, really don't want to mess it up. Here are a few quick tips to ensure your dad will get a quality cook on his steak:
Use a thermometer!!! This is crucial. There is no better way to know what is going on inside your steak than by using a thermometer. Forget feeling the meat, forget poking the meat. Get a good instant read or probe thermometer and you will be able to cook a great steak. I would shoot for 125 degrees on most of these for a nice medium rare steak.
Use a two zone cook – Start the steaks at low temperature and finish them as hot as possible. If you are cooking inside you can use the standard reverse sear method. On a charcoal grill shove the coals to one side and start them on the side away from the coals and finish above the coals. On a gas grill just turn on one burner and start the steak as far away from the heat as possible. Get your steaks to about 5-10 degrees below the desired temperature, take them off the low heat and let them rest 5-10 minutes and then sear them as hot as you can for about a minute per side.
If it were up to me I would start them in a 225 degree oven, pull them at 120 degrees, and then sear them on a charcoal grill. It is very hard to get a good sear in a cast iron pan on some of the bone in cuts like the porterhouse or bone in NY strip but on the grill you can get an awesome sear. The meat shrinks from the bone a bit so it is hard to get good contact on cast iron with bone in steaks but that isn't a problem on a grill.
Use plenty of salt on your steaks. Most likely you will probably need more salt than you think. I personally avoid other seasonings like herbs, garlic, seasoning salt, etc. and just stick with salt and pepper. Give them plenty of time to rest after salting too, at least 40 minutes. Just salt them and put them on a rack in the fridge for an hour or so.
Here are some more tips from Serious Eats that will help you cook a perfect steak as well.
Father's Day is a great day to let your dad be a dad. That means ridiculous aprons, chefs hats, and a big hunk of meat on the grill. Order your dad (and the rest of the family for that matter) a big, high quality steak from Snake River Farms (don't forget to use code FREEAFF for free shipping on all orders) and treat him like the king he is.
Snake River Farms also has some awesome steak bundles available if you really want to get something special.