Over the past couple days a couple friends of mine have posted on Facebook about the The Beyond Burger plant-based burger patties by Beyond Meat. One of them who hasn't eaten a real burger in about 35 years (she is a pescatarian) said "where have you been my whole life?" when she tasted one. Another friend who has had some trouble tasting food lately said "the texture and mouth feel was like a real burger". And a couple other friends asked me for a review so here it goes.
I went to Whole Foods (I am not a fan of Whole Foods but hopefully Amazon can change that) since that was the only place locally that carried them and found them in the freezer case next to all the rest of the "alternative" burgers. I have tasted a couple of the other "veggie patties" in the past and have to say I have never been impressed at all. They usually reminded me of lentil-barley soup that has been strained and compressed into a patty with most of the flavor removed.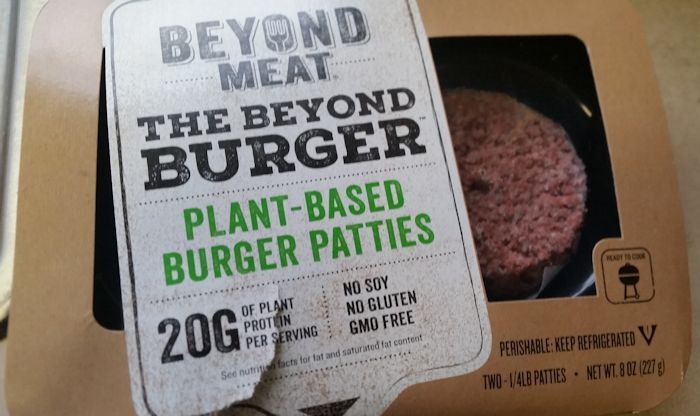 The first thing that surprised me about these "burgers" was the price. It cost $5.99 for two 1/4 lb patties. That is $12 per pound. Some decent 80/20 ground beef runs around $3 per pound around here so these are 4x the cost. Another surprise on these burgers was 20g of protein. Ground beef generally runs about 15g for a 4 oz serving. So these patties had more protein. If you are trying to avoid soy or gluten you are good to go with these patties as well. But you know what else is soy and gluten free? Regular ground beef!
Anyway, I was interested to see what these patties were made of. I knew there had to be quite a few ingredients in there but the list was a bit longer than I was expecting: pea protein isolate, expeller-pressed canola oil, refined coconut oil, water, yeast extract, maltodextrin, natural flavors, gum arabic, sunflower oil, salt, succinic acid, acetic acid, non-GMO modified food starch, cellulose from bamboo, methylcellulose, potato starch, beet juice extract (for color), ascorbic acid (to maintain color), annatto extract (for color), citrus fruit extract (to maintain quality), vegetable glycerin.
I can understand the need for most of those ingredients. The canola oil and coconut oil are there to lend some fat to the patties, the yeast extract is there for the umami flavor it brings, and stuff like the maltodextrin, cellulose, and potato starch provide texture and binding to hold everything together. Beet juice is interesting. That is in there to provide reddish color but also to make the meat "bleed" like a real burger. Of course we know that the juice in a real burger isn't blood but you get the idea. So while this is a long list of ingredients I think everything in there has its purpose. But do you know how many ingredients are in a normal ground beef patty? ONE! Ground beef!
I have to say, these patties do look somewhat like real meat.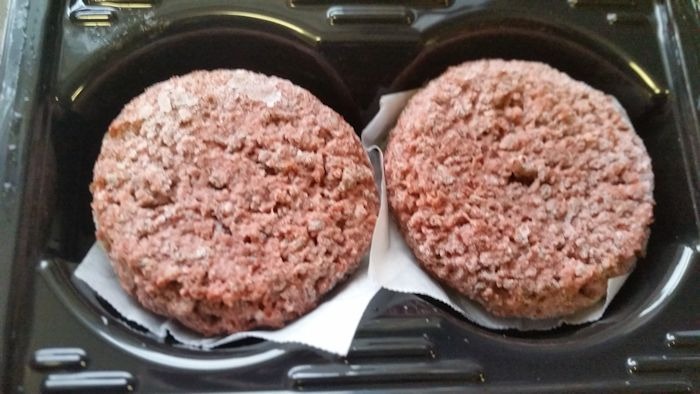 Once I opened the package the first thing that hit me was a distinct cat food smell. Although they looked quite a bit like ground beef they didn't smell like it at all.
I thawed the patties and then, according to the package instructions, cooked them in a pan on the stove at medium-high heat for 3 minutes per side: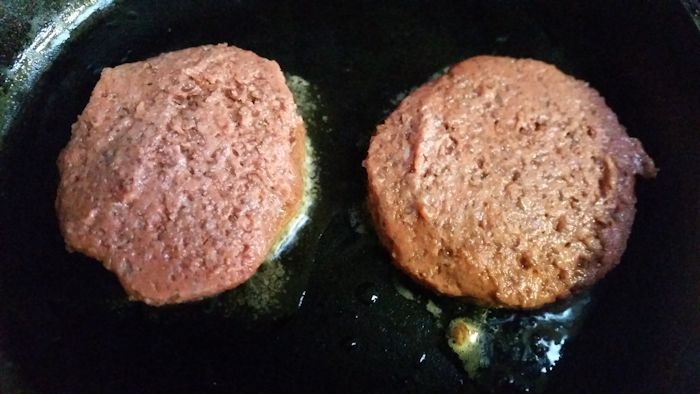 I did add a bit of oil to the pan. The directions didn't say whether the patties needed to be salted or not so I looked at the package and was surprised to see that these patties had 450 mg of sodium. Ground beef has about 75 mg of sodium per 1/4 pound so I figured these didn't need any extra seasoning. I wasn't too concerned with the sodium content overall since a normal burger would probably have at least that much sodium if seasoned properly but I didn't really need to add any seasoning to these patties.
Color and a good sear are important factors in a good burger and I was pleasantly surprised with how well these burgers browned up in the pan and got a nice crust on them. As they cooked they kind of smelled like bad popcorn or overcooked vegetables.
Like I mentioned earlier the beet juice was there to give color and to give some juice that would aid in making these patties look and feel more like a real burger. Well, when I cut into these patties they were a perfect pink that you would expect from a well cooked burger patty: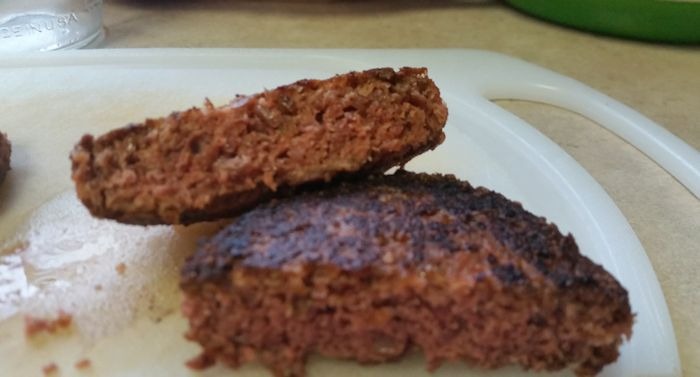 And a close up: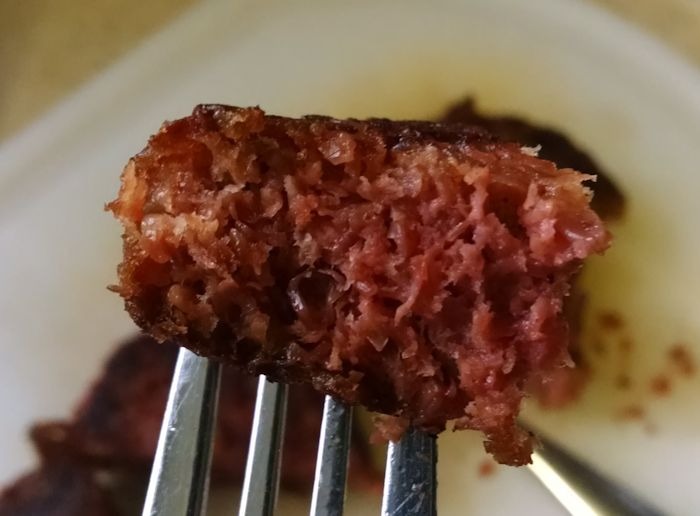 As far as juice there was noticeable liquid that came out of these patties when they were squished similar to a normal burger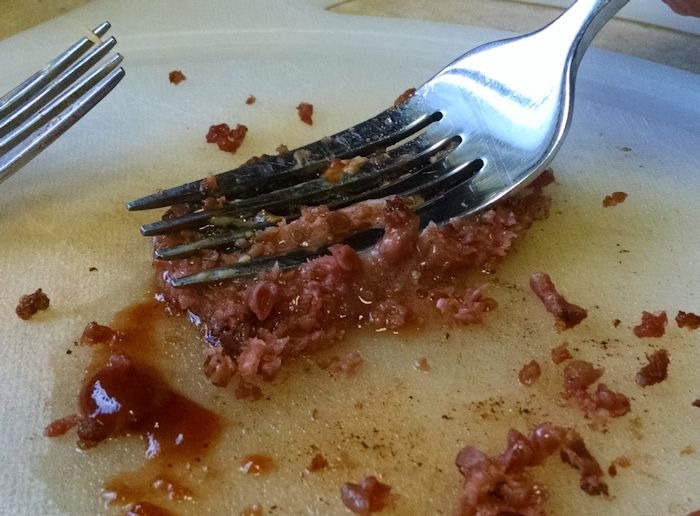 So far these patties were pretty good as far as appearance and how they cooked up but not good in regards to smell. Now for two very important factors: texture and taste.
Well, this is where these patties woefully short of a real burger. The texture was OK but if felt a little bouncy. It isn't rubbery or anything like that but as you chewed you knew you weren't eating meat. I could tell there was some fat in there which was nice but the fat wasn't anywhere near the same mouth feel as beef fat.
Taste? Sorry Beyond Burger but you have a ways to go here. They were quite a bit better than any other alternative meat product I have eaten but they didn't really taste at all like beef. I tried the patties plain and didn't like them at all. I tried them with ketchup and mustard and they were a bit better. They started to become decent once I added some American cheese with the ketchup and mustard. Ultimately they could be a good delivery vehicle for burger toppings and condiments but as a meat patty alternative the flavor just wasn't what I was hoping for.
If you are a vegetarian or someone who doesn't eat red meat these are a pretty solid alternative, especially compared to the other products out there. Have friends coming over to a cookout that don't eat meat? Sure, pick up a pack of these patties for them. Or get new friends. But will any meat eater ever be fooled by these? Nope. Would any meat eater ever choose these over a real burger? Chances are very slim.
I totally understand all the ways products like this could eventually be better for the environment and better economically than beef and I think in the future there could be some product like this that comes closer to the taste and texture of real beef but for now these aren't really a substitute for a real burger. Buy these thinking they are better than most veggie burgers but don't buy them thinking you will be confused that they are real beef.
If you are looking for a high quality beef hamburger check out the Burgabox Review I did recently.
For some other perspectives check out these other reviews:
Business Insider – I tried the Bill Gates-backed vegetarian burger that 'bleeds' and sizzles like beef
Eater.com – The Verdict Is in on Beyond Burger, the Meatless Burger That 'Bleeds'