I'm not sure if it just me but I have seen a LOT of ads lately for different meal subscription boxes like Hello Fresh and Blue Apron. Sign up for those services and every month you will get a box filled with all the ingredients for a meal delivered to your door. Very convenient. They have meals like Pork Dumplings with Quick-Pickled Slaw and Soy Dumplings or Lemon Basil Shrimp Skewers with Orzo and Avocado Salad. Those meal titles really don't do it for me. I know some people who have tried those services and love them but they aren't my cup of tea.
Disclosure: This post is monetized with affiliate links. If you buy something through them I earn a commission which helps support this site and lets me buy more meat so I can write about it. 
The concept of these meal boxes is very interesting so when I came across the BurgaBox (yeah, that is the right spelling… they are based in Boston anyway) which is a burger meal subscription box I was very excited to give it a shot. I placed my order and a few short days later a box arrived on my porch with all the fixings for a great burger meal.
Before we get into the Burgabox Review I want to give you a bit of background on the company. Like I mentioned, they are based in Boston and it is a service started by the people behind the Boston Burger Company restaurant. That restaurant has been featured on Diners, Drive Ins and Dives and they won Rachel Ray's Battle of the Burgers. So these guys know what they are talking about when it comes to burgers.
Now, let's get to the Burgabox and show you what is inside. Burgabox has a bunch of different options to choose from but I went with the All American Feast kit.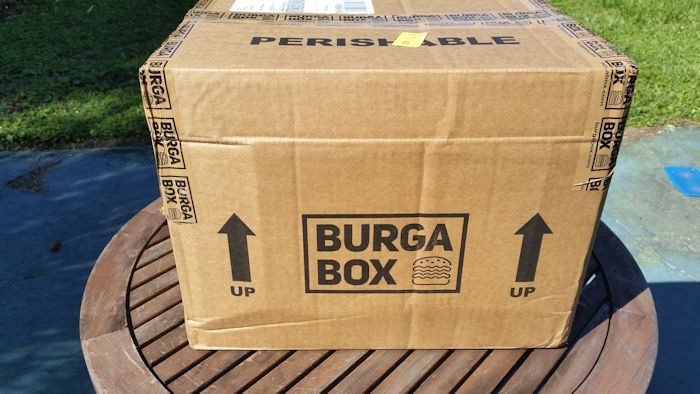 Since meat is perishable obviously the Burgabox needs to be shipped cold so everything comes in an insulated bag with some ice packs: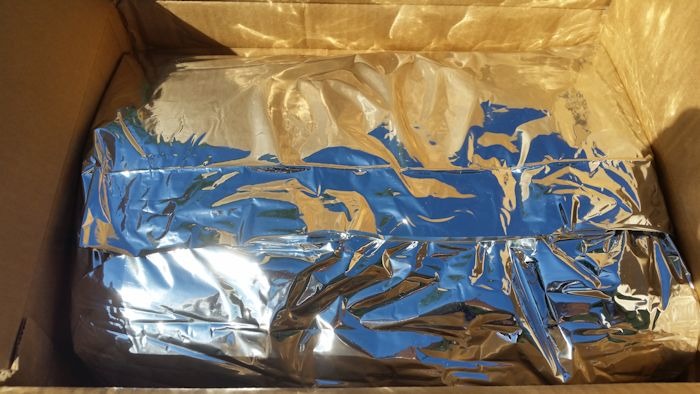 Your Burgabox starts out frozen but there could be some thawing during shipping but the meat should get to you partially frozen or at least really cold.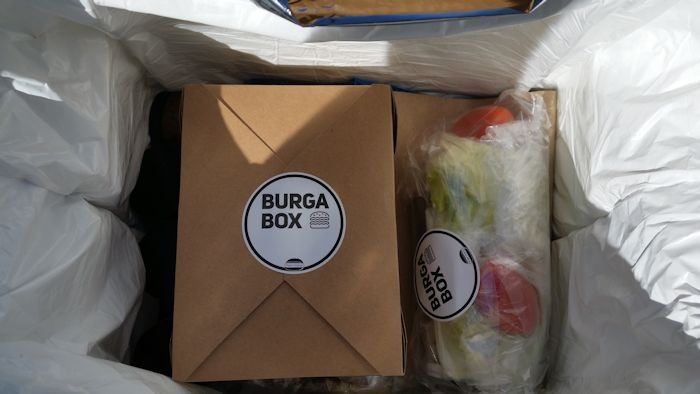 As I started unpacking the box I was surprised how complete this box was. Of course I expected meat, buns, toppings, and so on but they had absolutely every ingredient you need to make your burgers including some seasoning salt, condiments, vegetables, and even pats of butter for the buns. So many times at home I have wanted a burger but either don't have buns or don't have the toppings, or I am missing one crucial ingredient. With Burgabox you will never be left eating a burger patty on two slices of white bread. If your kitchen had no other food in it you could open a Burgabox and have everything you need for a meal. Here is all the stuff that came in the box: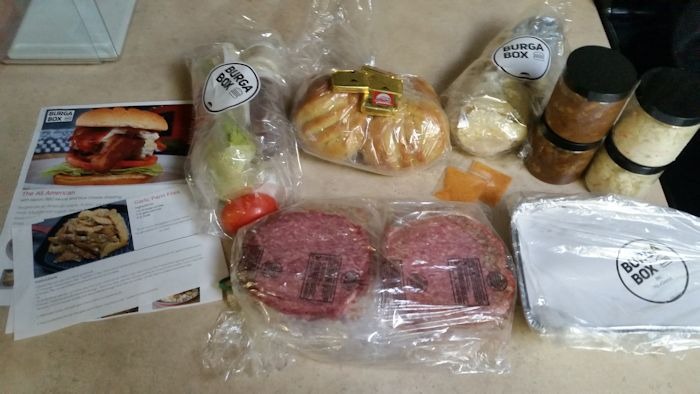 This box contained 4 1/2 pound Angus burger patties (OK, they were 7.7 ozs but close enough to 1/2 pound), 8 strips of bacon, 4 buns, 4 slices of cheese, 2 tomatoes, lettuce, seasoning salt, butter, barbecue sauce, and blue cheese sauce. One great thing about these boxes is they also include some sides. For my box I chose garlic parmesan fries, bacon mac and cheese, baked beans, and coleslaw. This box really does contain everything you need for a great burger meal at home.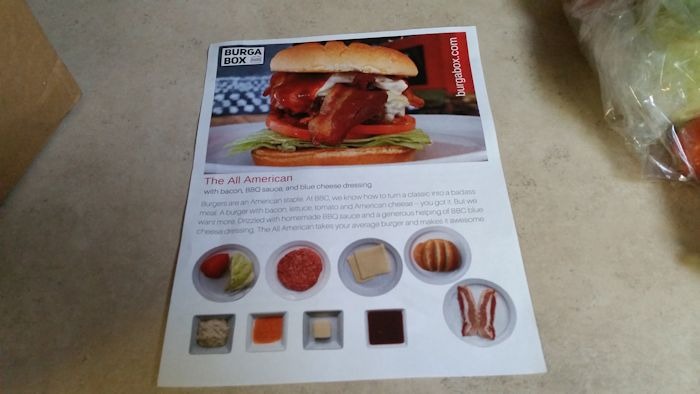 The Burgabox also contains some nice, step by step instructions for how to cook and assemble the burger and how to heat the sides.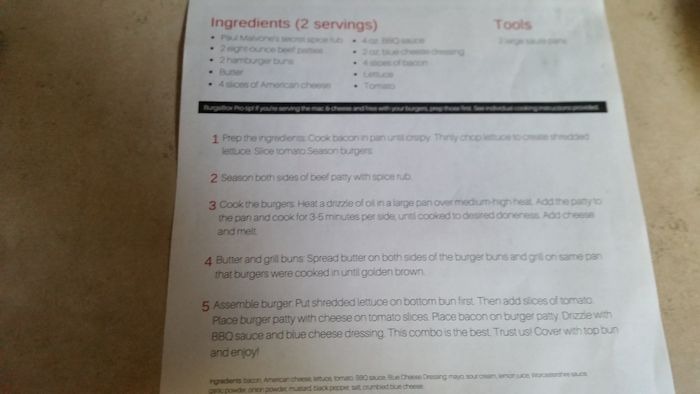 So I guess it is time to cook up some burgers. I got the potatoes and mac and cheese in the oven and started frying up the bacon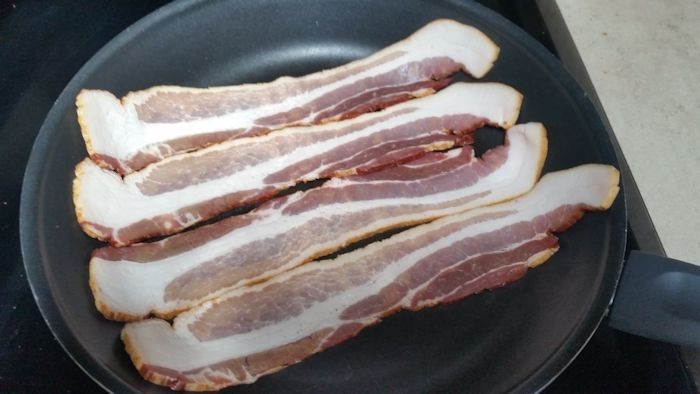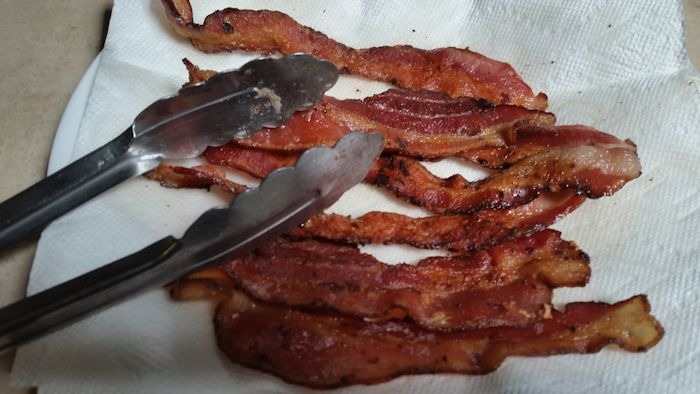 Overall I was fairly pleased with the quality of the bacon. I have very high standards when it comes to bacon but BurgaBox didn't skimp on this bacon. I would probably say it is very high quality grocery store bacon which is much better than you get at most burger restaurants.
While the bacon was cooking I cut up the vegetables. The box came with 2 nice roma tomatoes and some iceberg lettuce. There were a few brown bits on the lettuce but there was plenty of good lettuce left. Tomatoes are always tough unless you grow them yourself but these tomatoes were definitely passable. Not great but as good as anything you would get at the store.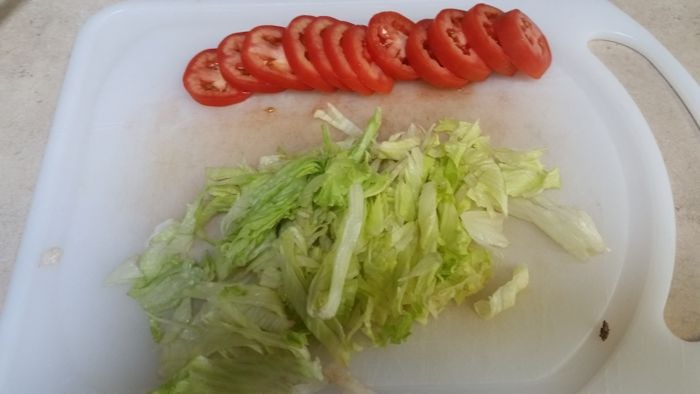 Now it is time for the burger patties. These 4 patties were 7.7 ozs each and feeling them I could tell they had a good grind on them and weren't packed too tight. Burgabox also included a couple packets of seasoning salt so I seasoned up the patties and got them cooking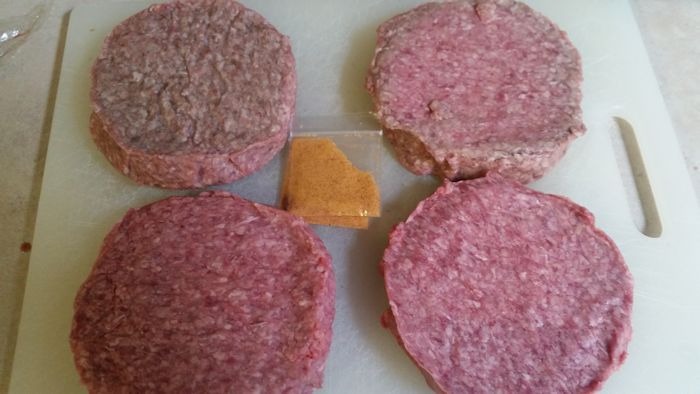 I fried up the patties in my cast iron skillet,topped them with cheese, toasted the buns, and started assembling everything according to the instructions. I wanted to stick as close as I could to the instructions in order to give you a good review of the Burgabox. So it was toasted bun, lettuce, tomato, burger, cheese, bacon, and then topped with the barbecue sauce and blue cheese sauce.
Oh, I almost forgot about the sides: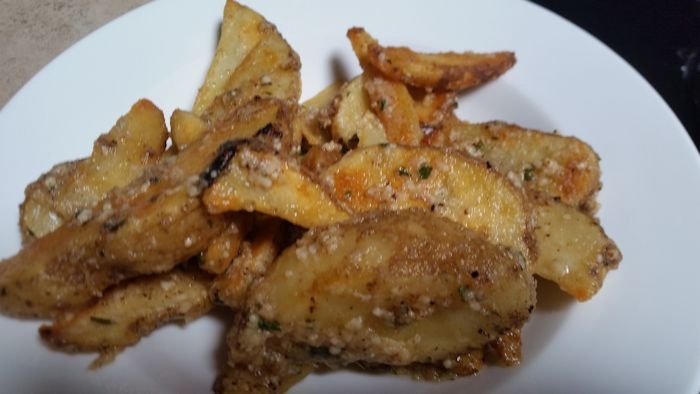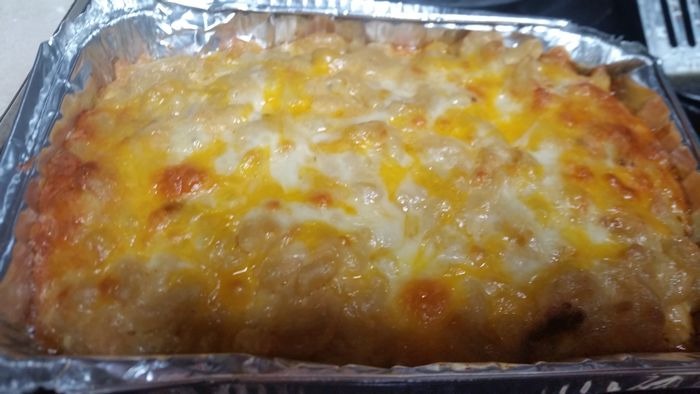 Overall the sides were very solid. The fries cooked up nice and crisp, especially for wedges of that size. The garlic-parmesan topping was quite garlicy but not in a bad way. Mac and cheese can be tough to get creamy enough and this wasn't the best mac and cheese I have ever had but it was good overall. There was plenty of food with these two sides that I didn't break out the coleslaw or baked beans. I gave them a taste though and would say they both were good. I have had better but I wouldn't be sad if either were on my plate.
And now for the burger…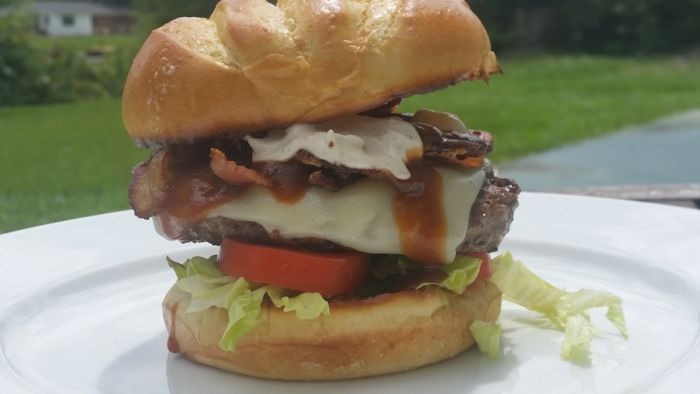 And another just for good measure:
Now for the important question… How was the burger? Well, overall I have to say it was a very, very good burger. None of the individual components were anything to blow you away but the meat, vegetables, toppings, and condiments all work very well together to make a great tasting cheeseburger. If I went to a restaurant and was served this burger I would be very pleased. It is on par with pretty much any burger of this type I have had at a restaurant.
I guess now we need to talk about the price. A Burgabox for 4 people (like this one) runs $75 and it ships for free. Is that expensive for 4 burgers? Yeah, it is. But what would you spend if you took 4 people out to a decent restaurant for burgers and sides? It wouldn't be hard at all to drop $75. And honestly there is enough food here to probably feed 6 people. The burgers could easily be split in half, especially if there are kids involved and you eat all the sides. This isn't a bargain meal by any means but when you break it all down it isn't as expensive as it seems. After I ate it at noon I was still feeling pretty full around dinner so it is a very substantial meal.
Burgabox has quite a few different options to choose from with different toppings. The All American is probably the most classic but there are options with mac and cheese for a topping, pulled pork, sauteed onions, and a lot more. You can order individual boxes or sign up for a Burger of the Month option and get some great burgers delivered once a month. They also have a trial box that is $20 off right now.
I really, really like how this Burgabox does have every ingredient you need to make a burger. That makes it a PERFECT gift for a family that has recently moved and hasn't had a chance to restock their fridge and pantry. It is also great for occasions like Father's Day or a birthday.
Another great time for a Burgabox is if you get an Airbnb or VRBO rental house while on vacation. Since this box comes with everything you need to make a meal you don't have to worry about bringing things like salt or butter or condiments or stuff like that. It is all included.
It isn't necessarily a quick, easy meal by any means and does take at least a couple pans but the instructions are very simple to follow so pretty much anyone who is at least a bit capable in the kitchen should be able to make a quality burger and a quality meal.
Burgabox Review – The Verdict
Burgabox will deliver you every thing you need to make a very good burger at home that rivals pretty much anything you would get at a restaurant. Depending on your burger eating experiences it might even be the best burger you have eaten. It isn't cheap and it isn't necessarily a quick meal but the quality and quantity make up for that. I would suggest giving Burgabox a try and if you like it sign up for one of their monthly deliveries so you can try a few of their different burger creations every month. Buy your Burgabox today.
And Burgabox just created their Cookout King package that feeds at least 24 people! Perfect for the 4th of July and if you order now they will ship it for free by June 30th.