IMPORTANT – Father's Day is this weekend! If you want your gifts to arrive by Father's Day you will need to order as soon as you can. Don't wait!
Well, now that we have Mother's Day out of the way we can get on to probably the best meat cooking holiday of them all: Father's Day. Yeah, Thanksgiving and Christmas have their big fancy meals, 4th of July and Memorial Day are great for backyard bbqs, and pretty much every weekend is a great excuse to fire up the grill but Father's Day… Father's Day is the time to break out a giant steak and grill it up or fire up the smoker and spend a few hours in the back yard with a few cold beverages.
Tools and ties and stuff like that are always popular Father's Day gift ideas. But if you want to take your gifting to the next level check out these great gift ideas for the grill. All of these will make your father or husband a better griller which means you get better meat out of the deal. It really is a win-win. These gift ideas are either products I have and have used or ones that are on my wish list. And a lot of why I am writing this is so my wife has a shopping list.
Father's Day Gift Idea #1 – A new Weber Kettle Grill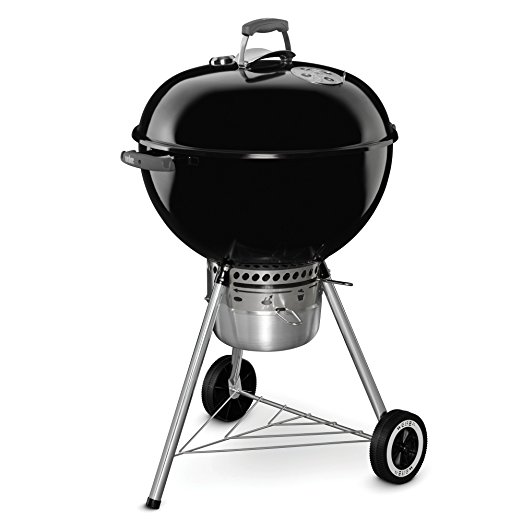 I can't think of any grill or smoker out there that is more versatile than the Weber Kettle. Your dad can reverse sear a bunch of steaks, smoke a brisket, grill up some pizzas (keep reading for more on this), and pretty much cook anything you want. From a hot and fast sear to a low and slow smoke the Weber Kettle can do it all. Heck, I have 10 pounds of cured pork belly on my Weber Kettle right now turning into some delicious bacon.
For $150 the Weber Kettle Premium will be the only grill you need. I like this one better than the standard version because of the ash catcher and the hinged grates. Order the Weber Kettle for dad today.
These next two gift ideas will pair perfectly with the Weber Kettle:
Father's Day Gift Idea #2 – The Slow-N-Sear from Adrenaline Barbecue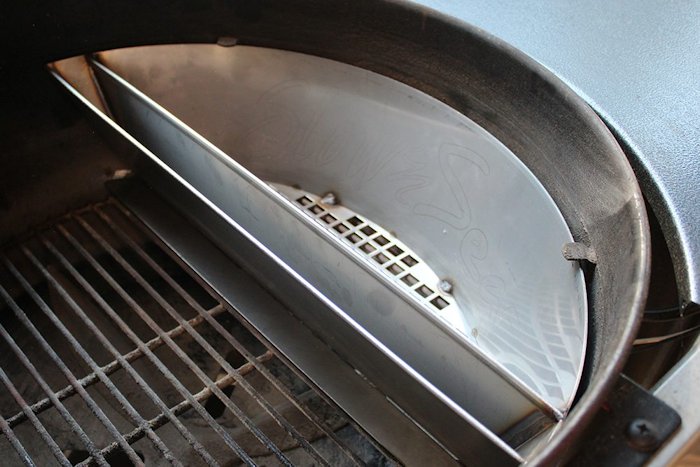 The Slow-N-Sear may not look like much but it will turn dad's Weber Kettle into a very versatile cooker. The Slow-N-Sear is good for two purposes: long, slow cooks and hot and fast sears. Weighing in at over 6 pounds the Slow-N-Sear is a heavy duty, made in the USA product.
By concentrating the charcoal in one area the Slow-N-Sear will product some very high heat for properly searing a steak but you can also load it up with charcoal, fill the water reservoir, and smoke some ribs or brisket or pork butt with a very steady temperature for 8 hours or more. Both those cooking methods can be achieved without the Slow-N-Sear but this device takes them both to another level. I have had my eyes on one of these for a while now. At $115 it isn't the cheapest gift but once you use it you will wonder how you ever lived without it. Order your Slow-N-Sear from Adrenaline Barbecue.
Father's Day Gift Idea #3 – Kettle Pizza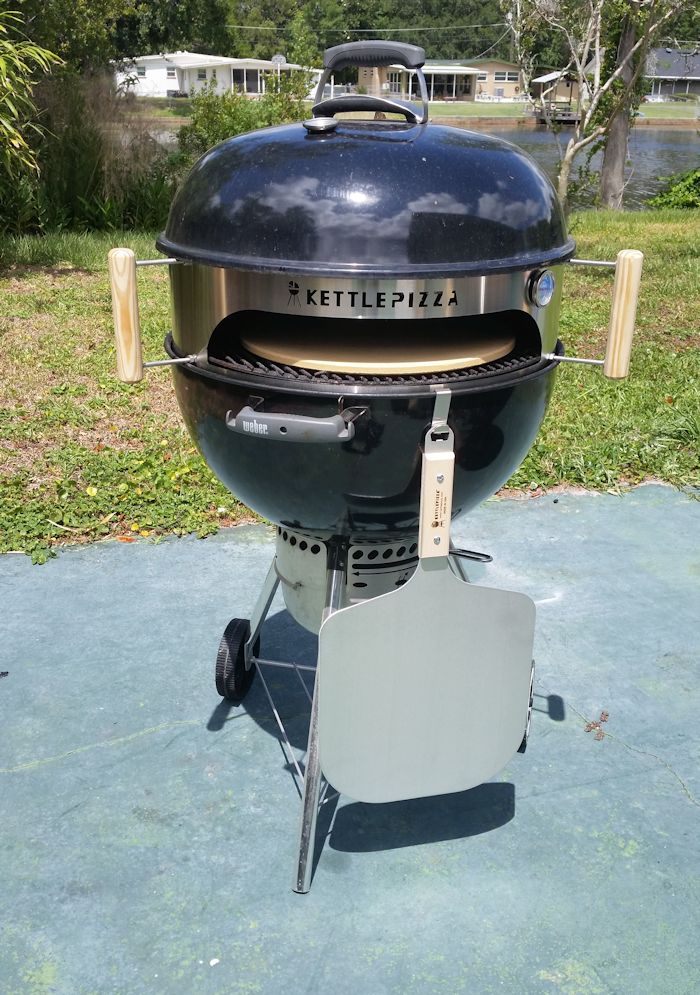 Aside from meat there are few foods as good as pizza. And in the summer who wants to crank up their oven to 500 degrees and heat up the whole house? Well, Kettle Pizza solved that problem by creating this awesome attachment for the Weber Kettle. It is basically a metal ring that sits between the base of the kettle and the lid with an opening to slide pizzas in and out. Of course you can grill pizzas without this but that means removing the lid and letting a lot of that precious heat escape. With the Kettle Pizza you can keep the inside of the kettle super hot and turn out some awesome wood fired pizzas at home.
The Kettle Pizza kit comes with pretty much everything you need to turn out a great pizza: The Kettle Pizza ring, a pizza stone, an aluminum pizza peel, and a pizza pan: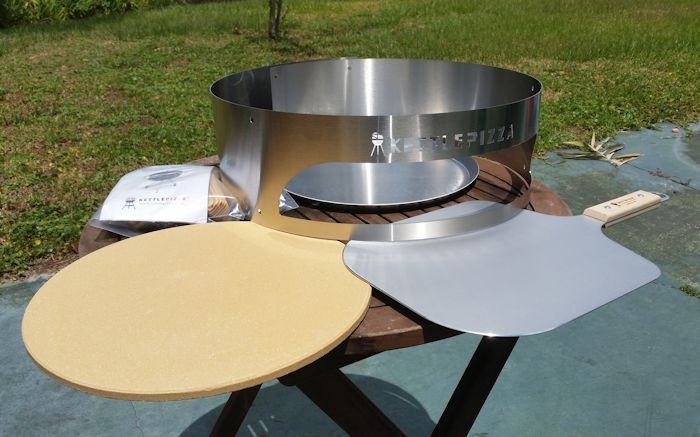 I just got my Kettle Pizza a few days ago and will have a more thorough review up sometime soon but I have used it twice and love it. A good pizza needs at least 500 degrees of heat to cook properly and this unit easily allows you to get to 600-650 degrees. The hot stone cooks the pizza from the bottom and the air flowing over the top of the pie melts the cheese and cooks it from the top for a perfect pizza in just a couple minutes.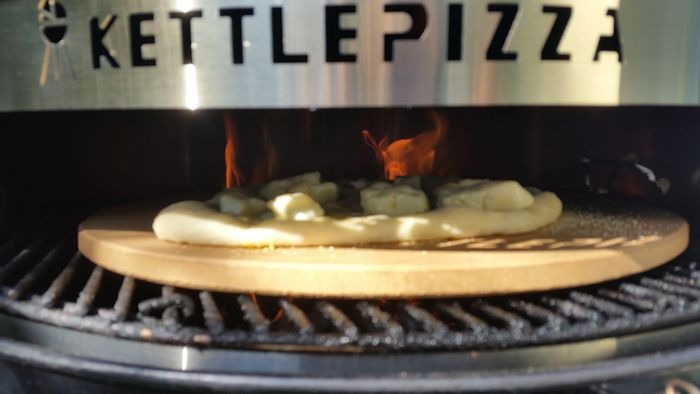 For around $200 you can have your dad turning out some awesome pizzas in no time. Pizzas are a great change of pace from the standard hot dogs and hamburgers for the next family cookout as well. Just put out a table with some dough balls and a bunch of toppings and let everyone create their own pie. Order a Kettle Pizza today.
Father's Day Gift Idea #4 – A Thermoworks Thermometer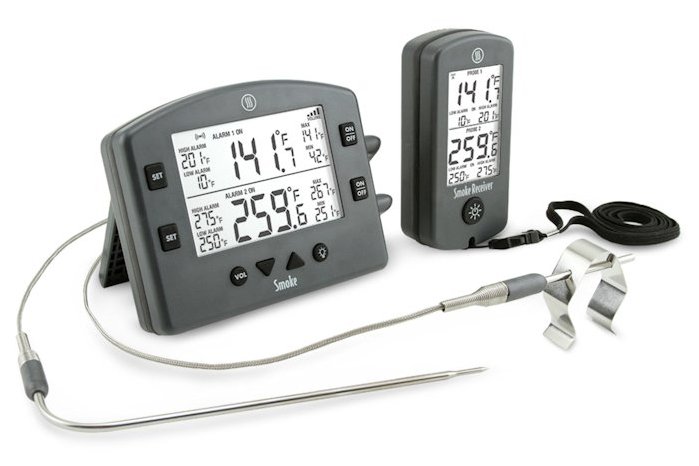 If your dad likes bbq and smoking the Thermoworks Smoke is an awesome gift. This is one that has been on my wishlist for a while now. I have two other Thermoworks thermometers currently (the DOT which is an great probe thermometer for $39 and the Thermopop which is a very good instant read for $29) and love them but there are two primary features I like about this one.
First, it has two probes: one for the meat and one for the air temperature inside the smoker. Both these measurements are crucial to turning out good barbecue. You obviously need to keep track of the temperature of the meat but equally important is making sure the air temperature in the cooker is where it needs to be. I have two probes (one for meat and one for air temp) for my DOT but that means unplugging and replugging the probes which is kind of a pain. The dual probes on this eliminate the need for that.
Second, the remote alarm unit. I know many times when I am smoking a brisket or pork butt that I know is going to take a long time I will start it at midnight the night before I plan on eating it. Right now that means waking up every hour to check the temperature of the smoker and make sure nothing is out of whack. With this unit I could just set my probes, set my target temps, take the remote unit, and go to bed. If anything gets too hot or too cold the alarm will go off and I can get up and check everything.
At only $99 this is an awesome gift for any dad who enjoys a good brisket, ribs, pork butt, or any other type of bbq. If he mostly sticks to steaks, chicken, and burgers on the grill go with the Thermopop. Order the Thermoworks Smoke today.
Father's Day Gift Idea #5 – Steaks from Snake River Farms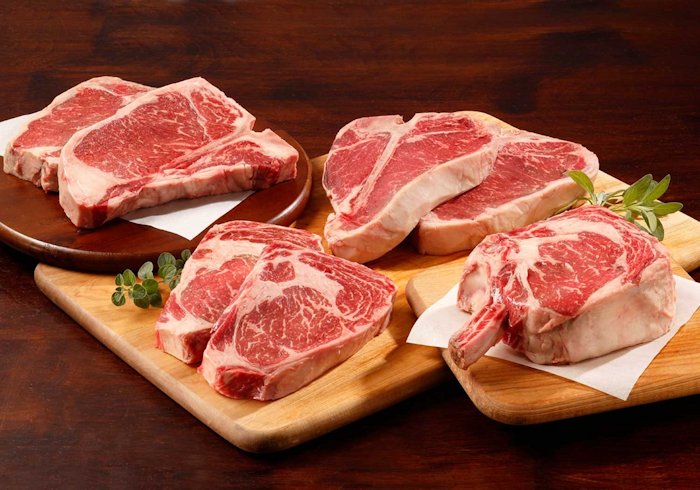 If you have read this blog at all you will know that I am a HUGE fan of Snake River Farms. The quality of their meat is so far beyond what you can get at the grocery store or most butcher shops. Any dad will love to open up their gift and see some of these steaks staring back at them.
Last year I did a post about the best steaks for Father's Day and rather than rehashing that list I wanted to highlight a couple of the gift packs they offer.
The Big Steak Gift pictured above comes with 2 t-bones, 2 ribeyes, 2 porterhouse, and 1 prime Cowboy steak. That is a total almost 9 pounds of high quality steaks. If you use code FREEAFF you can get free shipping on this gift pack and everything else from Snake River Farms.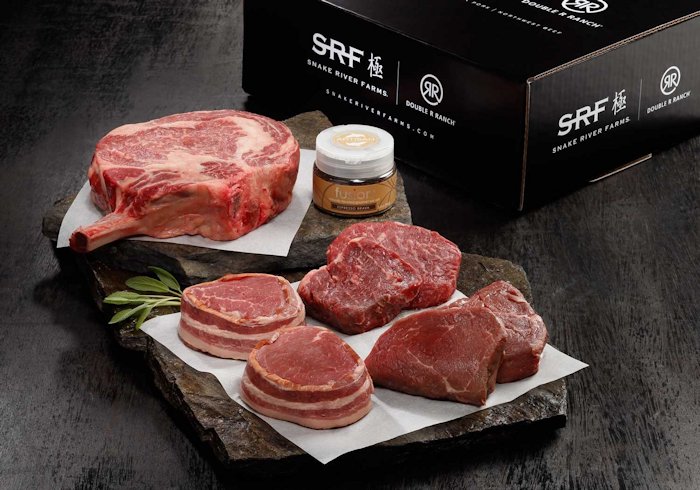 If you are looking for something with some smaller steaks check out the Dad's Perfect Gift box. With this box you get a prime cowboy steak, two bacon wrapped filet mignon, two top sirloins, and two prime ribeye filets.
Snake River is always putting together new packages and bundles in their gift center so be sure to check out all they have to offer. If you are wanting to just get some individual steaks I would check out the American Wagyu Tomahawk steaks. There are no steaks out there as impressive looking as this one. It is also hard to go wrong with some prime ribeyes and don't forget to use code FREEAFF for free shipping on your order.
Father's Day Gift Idea #6 – Cookbooks
I know many dads out there have never cracked a cookbook open in their lives. But if they don't have these two books on their shelf they are truly missing out.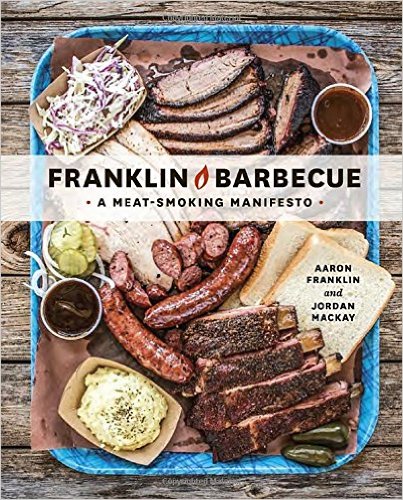 Aaron Franklin is probably the most popular name in barbecue right now and in this book he pretty much shares all his "secrets". It isn't necessarily a traditional cookbook but is more of a how to guide. Rather than just provide ingredient lists Franklin goes in depth on topics like smoke, wood, meat, and the bbq pit itself. When I got this book I pretty much read it cover to cover in one night. There are some recipes towards the end of the book but they are more of an add on than the main focus of the book. Order Franklin Barbecue – A Meat Smoking Manifesto.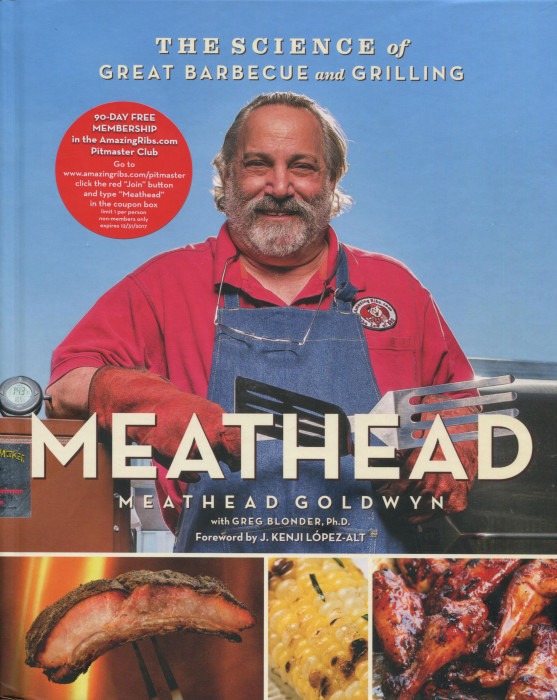 If someone was to do a class on how to bbq, grill, and smoke this book would be the textbook. Meathead Goldwyn goes in depth to the science behind how and why bbq works. It goes in depth into different cooking techniques, different equipment, and is full of great recipes. I look at this book almost every time I fire up the smoker as a point of reference. Order Meathead for your dad today.
Father's Day Gift Idea #7 – Pit Barrel Cooker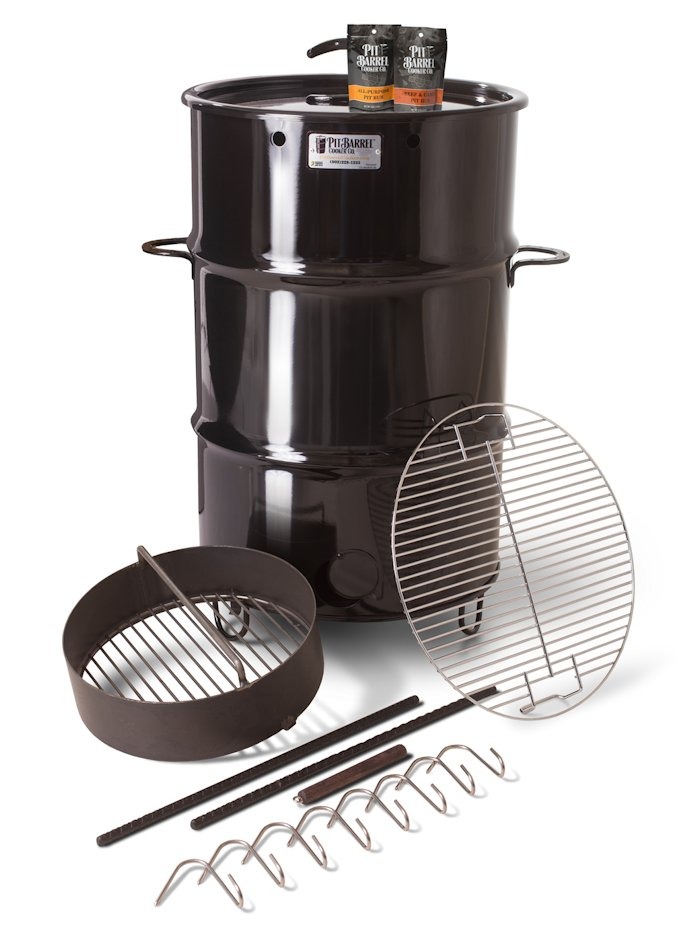 The Pit Barrel Cooker is a product I have had my eye on for quite a while now. I can say with about 90% certainty that the next smoker I buy will be a Pit Barrel Cooker.
Pit Barrel Cookers are a take on the ugly drum smoker where you take an old oil drum and turn it into a smoker. With this unit instead of meat sitting on the grate it hangs from hooks. There are some cuts where you still want to use the grate but for most cuts like ribs, tri-tip, pork belly, sausage, brisket, and more the meat hangs off the hooks. You can hook about 8 racks of ribs at once with the Pit Barrel compared to only 2 on the Weber Kettle unless you get some additional rib racks.
At $299 you are getting a great smoker from a veteran owned business. If your dad is a grilling or smoking enthusiast he will love the Pit Barrel Cooker. Order a Pit Barrel Cooker today and it also ships for free.
Any of these 7 gift ideas will blow your dad or husband away on Father's Day. You could go with the standard bbq apron or some new tongs for a gift but any of these 7 Father's Day gift ideas will help your dad take his grilling game to another level. And if there are any men reading be sure to share this list with your family in hopes they surprise you with one of these Father's Day gifts.