Here is a difference between Mother's Day and Father's Day: On Mother's Day the guys give our moms and wives a break by cooking dinner. On Father's Day the dads everywhere get to fire up the grill and cook up some meat. So the guys get to cook on both holidays and when it comes to Father's Day steaks (and big steaks for that matter) are king.
Steaks from the grocery store or wholesale club are OK but if you really want to have a special meal for Father's Day order your steaks from Snake River Farms. From what I have tasted their meat is a lot better than what you will find at the grocery store and the prices are still pretty reasonable compared to a lot of the other online retailers. And if you buy through my links I get a few bucks so it is like you are getting me a Father's Day gift as well (which will be more meat).
When it comes to steaks for Father's Day you don't want a dainty little filet mignon or a thin ribeye or anything like that. Most guys like thick steaks with a lot of flavor and fat. Here are the 5 steaks I would think about for Father's Day:
1. Porterhouse – If you are talking about a big, thick steak that will regularly come in the form of a Porterhouse steak. The porterhouse comes from the Short Loin which comes from just back from the mid-point of the cow. Porterhouse steaks come from the back of this sub-primal and contain basically two steaks: A New York Strip and a Tenderloin. The difference between a t-bone and a porterhouse is the porterhouse has a larger piece of tenderloin. They are generally cut fairly thick and you don't really want to get one that is less than a pound at the bare minimum. I would usually want one at least a pound and a half  but really prefer 2 pounds. After you take out the bone that will leave you with a nice, healthy portion of meat.
The bone and the two different cuts of meat make for some cooking challenges. It can be hard to get a good sear in a skillet because the meat shrinks a bit from the bone and it is hard to get good contact with the pan. Since there are two very different cuts of meat in one you also have to make sure you get each cooked properly. In my opinion the best way to cook the porterhouse is on a charcoal grill, especially since you can put the tenderloin section towards the cooler outside portion of the grill.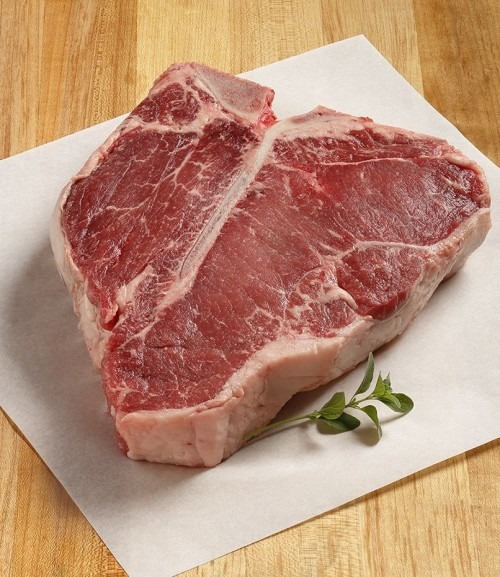 Free Shipping on Porterhouse Steaks from Snake River Farms – As low as $32 each – Order yours today
2. NY Strip – The NY Strip is one of the best steaks because it hits a great balance of flavor, fat content, and tenderness. The NY Strip is part of the Porterhouse so like I mentioned earlier, it comes from just behind the mid-point of the cow. The hit a good price point too ($10-15 per pound at the grocery store or up to $50 per pound for dry aged prime cuts) and if you have a good butcher you can buy the whole cut "in the bag" and have them cut it for you and I have seen that for around $4.50 per pound.
The NY Strip is one of my favorites, especially for group gatherings like Father's Day. Some people have issues with the larger amount of fat you will find on a ribeye and others want a bit more flavor than a tenderloin so the NY Strip strikes a great balance.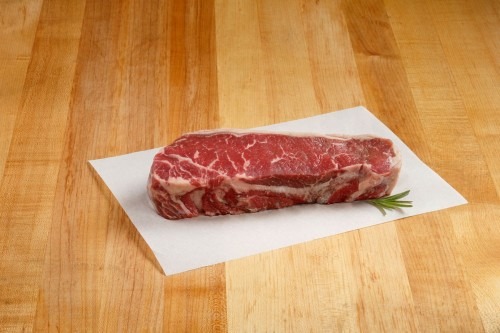 Free Shipping on NY Strips from Snake River Farms – As low as $22 each – Order Today
3. Ribeye – Many people would have this steak at the top of the list and with good reason. It is definitely one of the fattier cuts and as a result is one of the most flavorful and juiciest steaks you can find. It is also one of the most forgiving cuts due to the high fat content and you can actually cook it to medium or even medium well and it will still be good although anything beyond medium rare is too much for me.
Ribeyes come either bone in or boneless. Both are good and there is some debate as to if the bone actually imparts much flavor or if it is just a myth but that is a discussion for another day. Pricewise these steaks will usually cost a bit more than the NY Strip but they are still somewhat affordable. If you really want a presentation piece go with a Cowboy Chop or Tomahawk Steak which is the ribeye with the full rib bone still attached.
The ribeye consists of two primary muscles: The Longissimus Dorsi and the Spinalis Dorsi. The Longissimus Dorsi muscle is the main center portion of the ribeye and is sometimes called the "Ribeye filet". The Spinalis Doris is the thin strip of meat that runs on the outside of the ribeye and if it is cut off the full rib cut it is called the "Cap of Ribeye". Some people consider this the best cut of meat on a cow and it is a delicious piece of meat.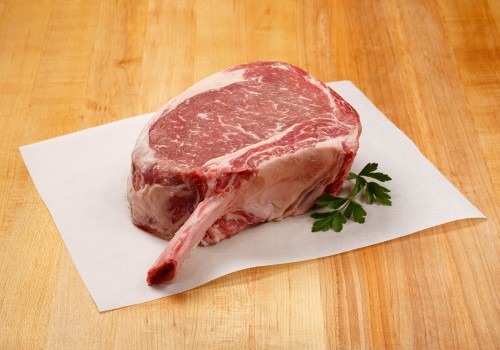 2 Lb. Cowboy Ribeye from Snake River Farms – As low as $52 Each – Order Today
4. Sirlon – If you are looking for a cut of meat that is under $10 pounds, is easy to cook, and still tastes good go with a sirloin. It is very abundant at any grocery store and you want to make sure you go with "top sirloin". You can nearly always find sirloin for under $10 per pound so it is a great cut to cook for large groups. Just make sure you don't go too far beyond medium rare. The sirloin is also one of the few steaks I would even think about marinating.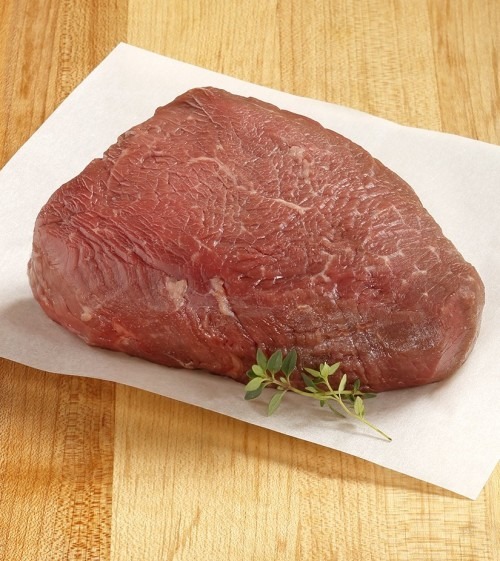 Top Sirloins from Snake River Farms – Starting at just $6 each – Order Today
5. Brisket – OK, it isn't a true steak and you pretty much need to smoke it (or braise it) to make it edible but if you can get it right it is one of the best cuts of beef you can get. If your husband or dad love to fire up the smoker surprise them a couple days before with a nice, big brisket and they will love you forever.
Most briskets are 11-15 pounds but after cooking they will lost a lot of that weight and shrink down to 8 pounds or less. The brisket has two fairly distinct sections: The point and the flat. The flat will have more meat and the point will have more fat. If you want to really learn pretty much all you need to know about brisket check out Aaron Franklin's book "Franklin BBQ – A Meat Smoking Manifesto".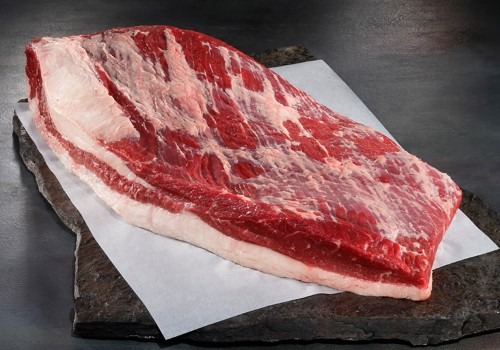 11+ Pound Briskets from Snake River Farms – Starting at $89 – Order Today
All orders at Snake River Farms ship for free with code FREEAFF during checkout. You will want to get your order in before June 15th in order for it to ship to you in time with free shipping. You can wait longer but you will have to pay for express or overnight shipping. The steaks come frozen so you can just throw them in the freezer and have them ready to go on the 21st. Just give them a couple days to thaw in the refrigerator.
And don't forget to check out Snake River Farms Father's Day Gift Packs.