Grilled Flank Steak
A few days back I wrote about what steaks to cook for Valentine's Day. Of course filet mignon was on the top of the list but I also had flank steak on there. I mostly included it on the list because my 5 year old insisted. But it is also a delicious cut of beef in its own right.
Flank steak is great on the grill with just some salt or pepper but flank steak is also one of the few cuts of steak I enjoy with a marinade. My favorite marinade is something along the lines of this:
1/2 cup soy sauce
1 TBSP Worcestershire
1 TBSP Rice Wine Vinegar
1 TBSP cooking sherry
1 TBSP grated ginger
2 TBSP brown sugar or honey
1 clove chopped garlic
Coarse ground black pepper
1/4 tsp red pepper flake
Mix all that up in a ziploc bag add the steak and stash it in the fridge for a couple hours mixing it up 3 or 4 times. Most flank steaks are 1-2 pounds so you can usually feed your family with one flank steak. And feel free to adjust the marinade for your preference. If you like garlic add more garlic. If you like your steak spicier add more red pepper flake.
Disclaimer: This post contains affiliate links. If you buy some steaks I earn a commission but this doesn't influence my opinions or recommendations. It mostly just allows me to buy more steak. 
I decided to step my game up for Valentine's Day. And rather than just buying some steak from the grocery store I decided to try the flank steak from Snake River Farms. I have had many of their other steaks in the past but had never tried their flank until now. Like all their steaks I was blown away by the quality of this meat. I usually have flank steak once a month or so but this was easily the best piece of flank steak I have ever eaten.
Along with being very flavorful and juicy the texture of these Snake River Farms flank steaks is what impressed me the most. The texture was unlike any flank steak I have ever had. It is hard to describe but it was in some ways like a cross between a fall apart pot roast and a perfectly cooked ribeye and I mean that in the best way possible. Snake River Farms currently has these steaks on sale for $13 (normally $20) which is a great price for meat of this quality. You can also get free shipping with code FREEAFF so pick up a few today. Also if you order 8 or more (making your order total over $100) you get a free $50 ham! Hard to beat that. Order your Snake River Farms flank steaks today.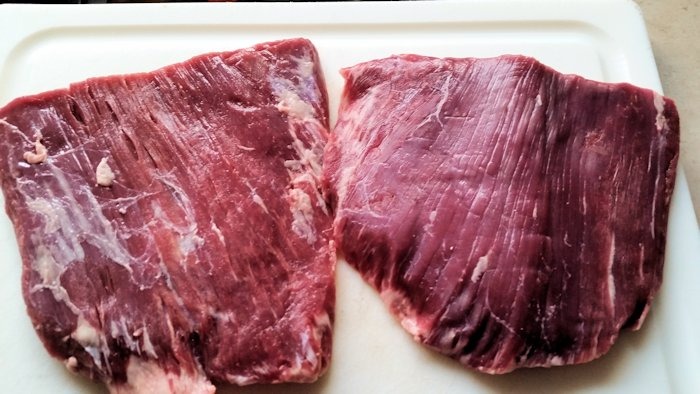 Flank steaks are fairly thin cuts and they do well over high heat. There is no need to reverse sear a steak like this. A cast iron pan would be a good cooking option but the best way to cook a flank steak is on a charcoal grill. The high, dry heat of the grill is perfect for searing the outside of the steak while getting the middle of the meat to a perfect medium rare.
Since I wanted a hotter grill than I normally cook on I went with lump charcoal for this cook. Lump charcoal generally burns hotter than standard briquettes.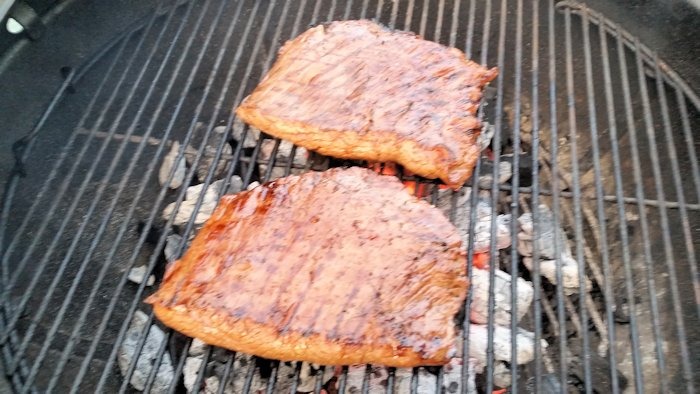 I usually like my flank steaks to get to about 130 degrees. For ribeyes or NY strips I prefer 120-125 degrees but for flanks I like it a bit more done. A rare flank steak has a bit of a weird texture and flavor in my opinion. It usually takes around 3-5 minutes per side to cook a flank steak.
When the flanks are done they will look something like this: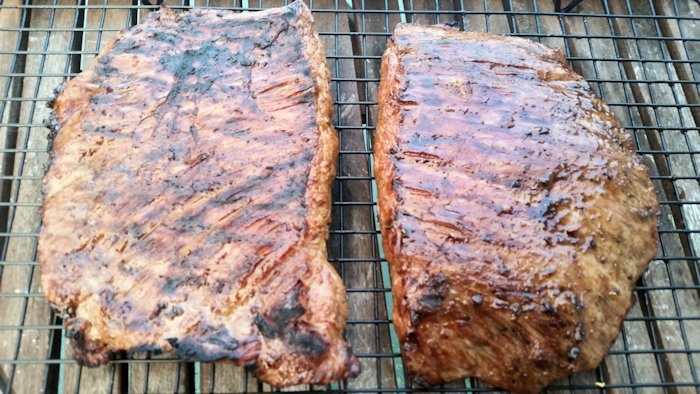 These steaks got some good color on the outside and the interior was almost perfect. Maybe another minute on the grill would have been good but I am very happy with the results. Flank steak has a great beefy flavor and the marinade I used for these steaks added a bit of great flavor as well. The marinade didn't overpower the flavor of the meat which is very important. I want to taste my steak to taste like steak and not be covered up by other flavors.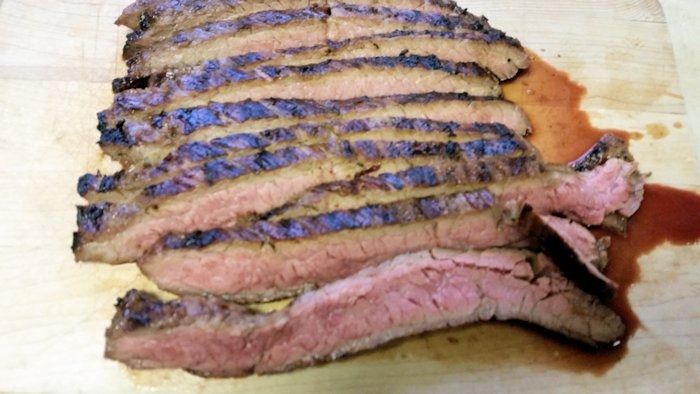 This isn't the best picture but the flank steak was delicious. When you slice flank steak it is very important to slice against the grain or perpendicular to the muscle fibers. If you cut a flank steak wrong it can be very tough and chewy but when you cut across the grain you shorten the meat fibers and the steak almost falls apart, especially these Snake River Farms flank steaks.
Pick up some flank steaks for yourself and slap them on the grill. They are a great change of pace from the steakhouse cuts like ribeye and t-bone.