We are on to the third of four brackets in our Meat Madness challenge. We had salmon win the poultry/seafood bracket and bacon move on from the pork bracket and now we need to see who joins them from the charcuterie/other bracket. Charcuterie covers a wide range of meats and meat dishes but in simple terms think sausage, smoked, and cured meat of various types. And other? Well, it is just what didn't fit elsewhere like lamb and venison.
So let's take a look at the bracket: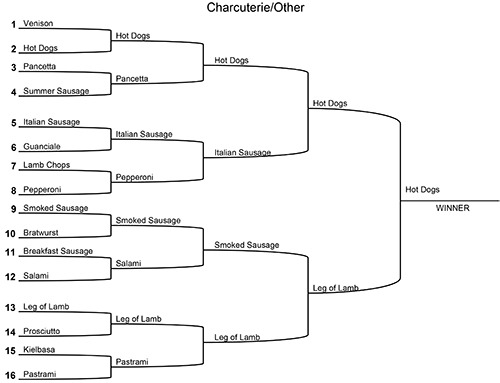 I will go through this a bit quicker than the other brackets. Here is how we got to the finals.
Venison vs. Hot Dogs – Everyone loves hot dogs. Easy choice here.
Pancetta vs. Summer Sausage – Summer sausage is best known for gift baskets but pancetta is salted, cured, usually rolled pork belly. Pancetta moves on.
Italian Sausage vs. Guanciale – Smoked pork jowl is delicious but I have had some awesome Italian sausage in the past.
Lamb Chops vs. Pepperoni – This country doesn't eat enough lamb. But how many of you eat pepperoni pizza once a week? Have to pick pepperoni here.
Smoked Sausage vs. Bratwurst – Going with an upset here. Lots of people will be angry with this one but I love some good smoked sausage and bratwurst are just OK for me. Never been a huge fan.
Breakfast Sausage vs. Salami – Hard to have a good Italian sub without salami. And if I feel inspired in the next day or two before Easter I will share my favorite breakfast sausage trick with you.
Leg of Lamb vs. Prosciutto – Prosciutto is delicious but it is more of an accompaniment than a meal so I will pick Leg of Lamb.
Kielbasa vs. Pastrami – Polish sausage vs a nice smoked corned beef. Hard to beat a pastrami sandwich.
In the round of 8 we had some very tough choices.
Hot Dogs vs. Pancetta – It is hard to beat a grilled hot dog or a hot dog at the ball game. Pancetta is usually just a seasoning meat but can also be eaten as a cold cut. I think hot dogs will take this matchup.
Italian Sausage vs. Pepperoni – There is a meat market in Spokane, WA that makes some Italian sausage that is to die for. It is a cased sausage and if you throw a rope of it on the grill you will have one of the best meals you have ever eaten. Italian sausage can be hit and miss on pizzas and in red sauce but if you can get some good sausage it really adds to a dish. Hard to pick against pepperoni but the Italian sausage moves on.
Smoked Sausage vs. Salami – Salami is great on sandwiches and maybe on crackers with cheese but you don't see it too much beyond that (OK, maybe on a pizza). Smoked sausage is a staple in bbq joints and it is one of my favorite ways to eat it. But I love just taking a Hillshire Farm sausage, boiling or frying it, and throwing some yellow mustard on it. And you can also fry it up and mix it with some pasta and Parmesan cheese for a nice quick meal.
Leg of Lamb vs. Pastrami – I agonized over this decision. Leg of lamb is one of those meats you maybe have once or twice a year at the most but pastrami can be a weekly occurrence especially if you have a good deli nearby. I shared my favorite leg of lamb recipe a few days ago and when cooked properly a leg of lamb can be wonderful. Since we are so close to Easter I think I will pick the leg of lamb in this matchup. But it was a very tough decision.
On to the Semi-Finals:
Hot Dogs vs. Italian Sausage – You can choose some cheap Ball Park franks, some Hebrew Nationals or Nathan's, or even some fancy frankfurters stuffed in natural casings. I will never turn one down. If there was a hot dog cart outside my apartment I would go get one right now. Hot Dogs are on to the Finals.
Leg of Lamb vs. Smoked Sausage – Another tough decision in this matchup. Leg of Lamb is a "fancier" piece of meat than a smoked sausage and harder to come by but maybe scarcity is a good thing. It always seems like a special occasion when you get a leg of lamb. Can it match up with hot dogs in the finals though?
Final Matchup:
Hot Dogs vs. Leg of Lamb – No one has ever accused me of being too high brow. You can cook them and stick in a bun, wrap them in pretzel dough, cut them up and throw them in mac and cheese… so many delicious ways to eat them.
Hot Dogs are going on to face the other bracket winners in the finals. Can the hold up???