A week or so ago I posted a pretty standard method of cooking chicken wings (deep frying) and a follow up post with 4 different ways to cook chicken wings. In that post I mentioned a recipe on Serious Eats which talked about double frying the chicken wings to get them extra crispy.
I have never been a fan of chicken wings with flabby skin or wings that have no texture to them. I have always liked a bit of a crispy skin on my chicken wings which is why I usually prefer them fried. You can get a decent skin in the oven but frying has always been my preferred method.
The double fried wings intrigued me though. I know double frying french fries gets them extra crispy by cooking the wings in lower temperature oil and then crisping them up in hotter oil so when I saw this recipe where you cook the wings at a low temperature and then fry them again in hot oil it seemed like a good way to go so I decided to give it a shot when I was making some wings for the Super Bowl.
To give a basic rundown of the method and steps involved:
Cook the wings in 200-250 degree oil for 20 minutes or so. This is basically confit chicken wings at this point which is usually a cooking method used for duck, although duck takes much longer to cook properly. Since duck is fatty and chicken wings are fatty it makes sense.
Rest the wings in the fridge for a couple hours
Fry the wings for 10 minutes or so in hot oil, 350-400 degrees.
Coat in sauce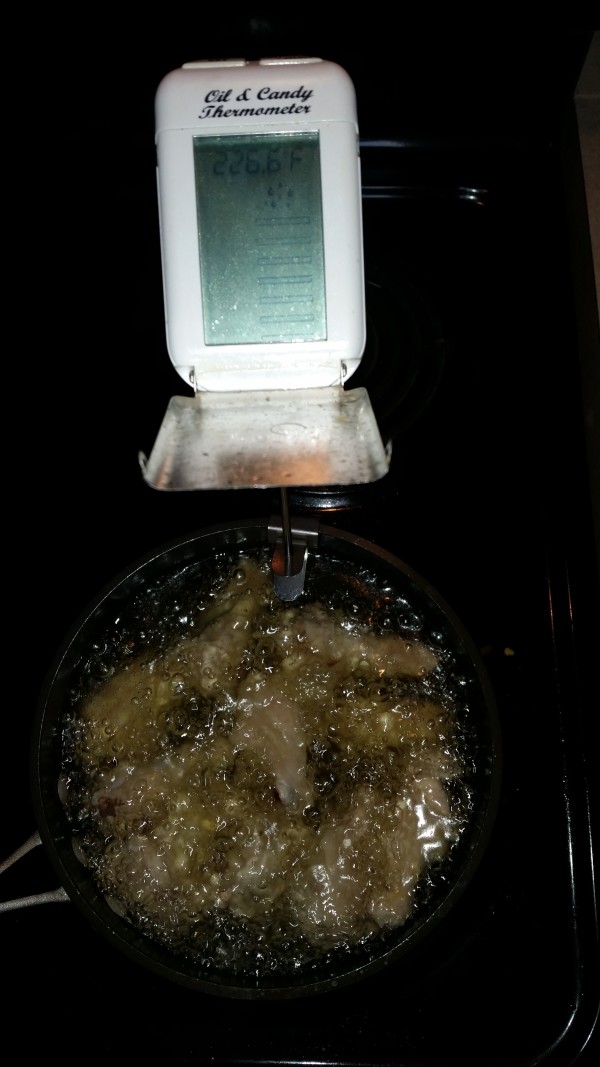 There is nothing here that is really too tricky. A good thermometer is important here and you have to keep a good eye on your temperatures but other than that it is very easy.
Did this give an extra crispy skin to the wings? Oh yeah. They were by far the crispiest wings I have ever made. I could have probably fried them for 5 or 6 minutes instead of 10 though as they ended up almost too crispy. My wife, however, said "I never really got chicken wings until these". She had eaten wings in the past but never really enjoyed them but she devoured these.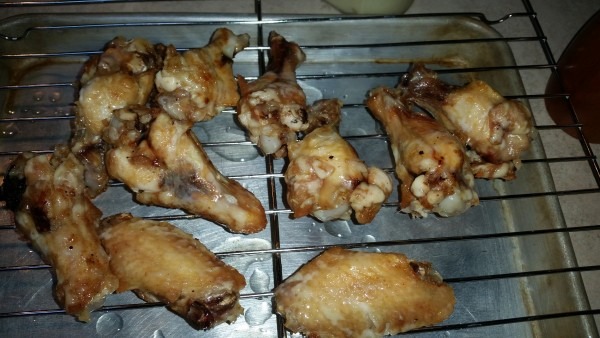 Let's back up a minute and talk about confit. If you want an in depth explanation you can read this great article on confit but basically it is a method that used to be used to preserve meat by cooking it at a low temperature in an environment that prohibits bacterial growth. The main difference between frying and confit is the hot oil used in frying drives the moisture out of the exterior of the food giving it the crisp crust where confit cooks the meat without the water escaping. By combining both methods of cooking with these wings you get the best of both worlds.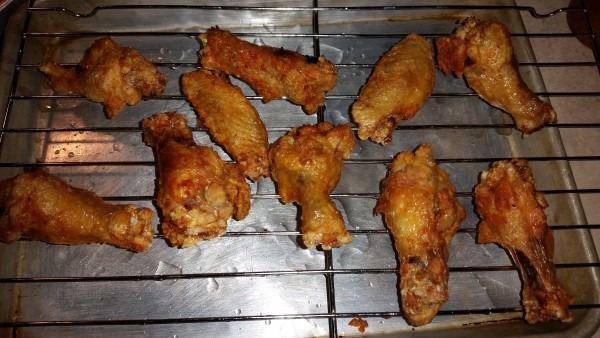 Would I go through the extra step to confit the wings every time I cook wings? Probably not. Frying or baking takes a bit less time and if I was just making a bunch of wings for a group or a party I wouldn't necessarily bother but for those times I want to take things up a notch I would definitely do this again. You do need a couple more hours to confit and rest the wings but since you can use the same pot of oil for the confit and the frying it doesn't really take any more oil or anything like that.
And here is the aftermath: