The Eagles and Patriots are set to face off in the Super Bowl and most of the country is either rooting against the Patriots just for being an insane dynasty or rooting against both teams because they have two of the most insufferable fanbases in sports. So, now that we know who will be playing it is time to talk about what is truly important this Super Bowl Sunday: FOOD
Of course chicken wings would be a welcome addition to any big game spread and the standards like pizza, chips, dip, burgers, hot dogs, and so on will be gracing tables across the country I want to talk about a cut of beef that doesn't get as much attention as it should: tri-tip.
If you are from California you are most likely familiar with this cut and while it is becoming more popular there are still large portions of the country that have never had the opportunity to enjoy this excellent cut. More information about tri-tip is available here: Tri-Tip so I won't get into too many particulars here but I wanted to share 4 Reasons Tri-Tip is an Excellent Super Bowl Food:
Tri-tip is easy to prepare
Tri-tip is delicious
Tri-tip is versatile
Tri-tip is economical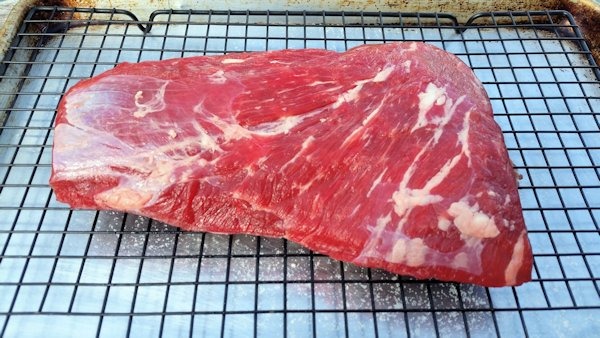 Disclosure: This post is monetized with affiliate links. If you buy something through them I earn a commission which helps support this site and lets me buy more meat so I can write about it
Tri-tip is easy to prepare
I am of the mindset that party food needs to be easy to prepare and tri-tip fits that description. Here is a simple way to prepare a tri-tip on a Weber Kettle charcoal grill. This technique can easily be replicated on a gas grill or even inside in the oven and on the stove. They key: temperature control. The process is basically a reverse sear.
The goal here is to slowly cook the tri-tip over indirect heat and then finish off with a super hot sear. I have a cool gadget for my kettle called the Slow-n-sear that makes this process easy but it isn't necessary.
Start out by lighting 12-15 briquettes. If you don't have a chimney starter run down to the hardware store and pick one up. And never use lighter fluid. You can also just make a little pile of briquettes and use a charcoal lighting cube of some sort. Below you can barely see the fire below the briquettes but in 10 minutes these coals will be ready to go.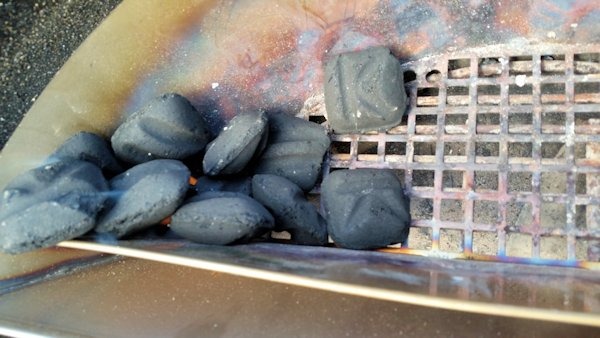 Put your grill grate on and adjust your vents so the temperature of your grill is 225 degrees or so. Wait, you don't have a good thermometer to measure the air temperature in your grill? OK, go to Thermoworks and buy the Thermoworks Smoke right now. I will wait. Want something cheaper? Go for the Thermoworks Dot and an air temp probe.
The Thermoworks Smoke comes with two probes: one to measure the air temp and one to measure the meat temp. Both those temperatures are very important to this process. In the pic below you can see the air probe just above the meat and the temp probe stuck into the meat. And the seasoning on the tri-tip? I will get to that in a bit.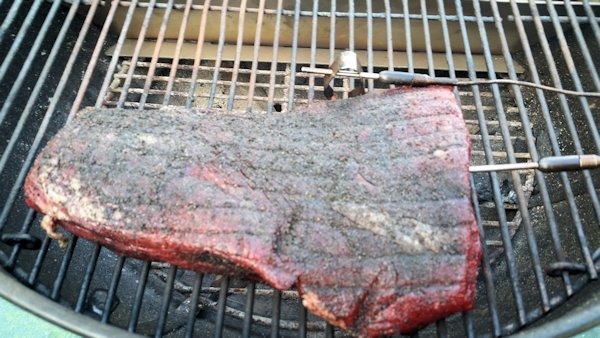 And since there are two probes that means you are tracking two temperatures. Below on the left you will see the air temp (228) and the meat temp (47). On the right is the remote unit so you can set some alarms and go take care of the rest of the party prep. If the air temp gets too hot or cold or the meat temp starts getting close to the finished temp it will sound an alarm and alert you.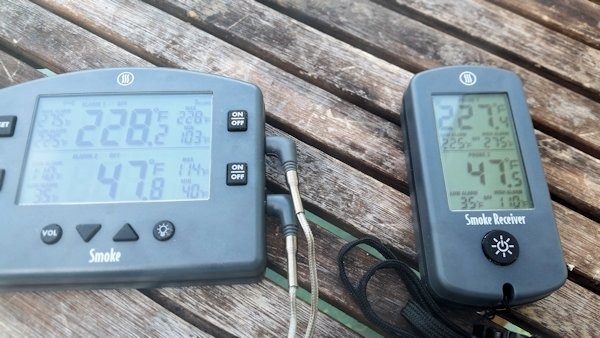 Again, pick up a Thermoworks Smoke for yourself today. A good thermometer will make you a better cook.
What we want is to slowly get the tri-tip up to 110-115 degrees. By cooking at a relatively low temperature (225 degrees) that will give us a very even pink/red color throughout the whole piece of meat. Since this is a 2-3 pound piece of meat it should take 60-90 minutes but focus on the temp, not the time. So put the meat opposite the coals on the grill so we get a nice, gentle heat as we undertake this thermal journey.
When the meat temperature gets to about 80 degrees light up another chimney of briquettes. We will need those nice and hot in a bit.
Once we have reached 110-115 degrees pull the meat off, cover with foil, and let it rest for a few minutes. Dump your now fully lit chimney of coals in a pile on one side of the grill (or in the basket of the Slow-n-sear). After a couple minutes you should have a super hot fire ready to go. This is probably my favorite thing about the Slow-n-sear. It keeps the coals right up near the grate so you can get a nice, quick sear on the meat.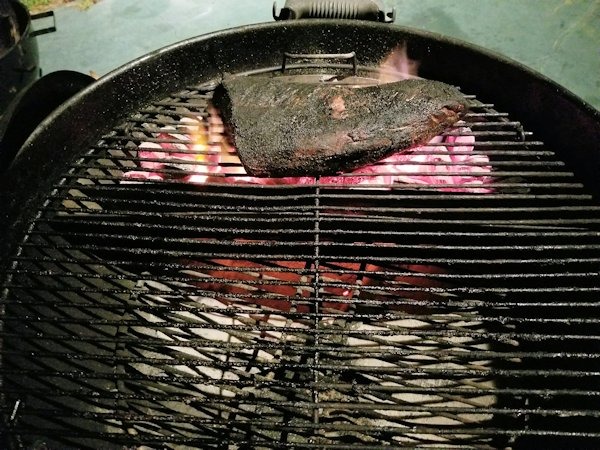 Put the meat over the heat and don't walk away. Every couple minutes give it a flip until you get a nice, seared crust on the outside. You don't necessarily want charred but you do want a nice sear on the meat. I like taking the temp of the meat every minute or so as well. Since the meat is around 115 degrees already we don't want too much heat to get into the meat itself. Our final target temperature will be around 120-125 degrees. If you are starting to get a bit too much char and aren't up to 125 yet just put the meat on the other side of the grill for a couple minutes.
And you should be left with something that looks a bit like this: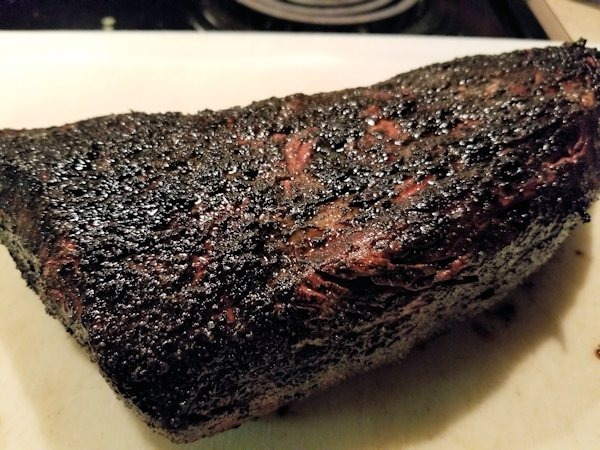 Put the meat on a rack inside a sheet pan and tent it with foil for about 10 minutes. This allows the juices to redistribute throughout the meat a bit. Slice it somewhat thin across the grain and you should be rewarded with some beautiful meat that is a nice medium rare.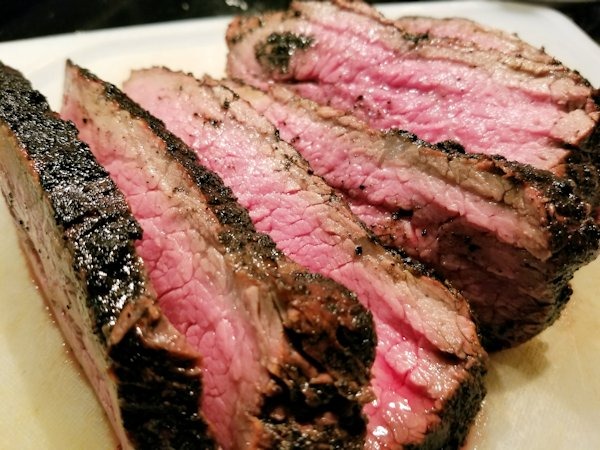 Yeah, that took way too many words for a simple cooking process but to sum it up: cook at a low temp until it hits 115 then blast it with some heat. You can do this in an oven and finish in a cast iron skillet on the stove if you don't have a grill as well.
Tri-tip is Delicious
Of course if you are eating something you want it to be delicious and tri-tip checks that box. This cut comes from the sirloin section of the cow and I think the sirloin is one of the tastiest parts of the cow. The texture isn't as tender as a ribeye or a filet but it has a great beefy flavor. It is almost like a top sirloin and flank steak had a delicious baby.
Tri-tip also takes a variety of marinades and seasonings very well. The one cooked above uses some Hardcore Carnivore Black rub which has an awesome color but not an overpowering flavor. You can just use salt and pepper if you want. A carne asada marinade would work well on a tri-tip or any sort of asian marinade would be great as well.
Tri-tip can stand on its own flavor-wise but feel free to be creative depending on what your planning on doing with it.
Tri-tip is versatile
One thing I really like about tri-tip is it is a very versatile piece of meat. You can slice it up and eat it like a steak or roast and that is how I usually eat it but here are a few other ideas:
Use a carne asada marinade and cut it up for tacos, nachos, quesadillas, etc.
Throw a few slices in a pita or naan bread with some pepper jack cheese and mayo
Give it a couple hours in an Asian marinade and serve over rice
Slice and use for fajitas
Chop up the meat, give it a quick trip through a super hot cast iron pan, and throw it on a roll with some cheez-whiz for a great cheesesteak
Chunk it up and use it in chili
Just slice it up and put it on a platter
The versatility of tri-tip makes it a great choice for a Super Bowl party. And one of my favorite things about tri-tip? It is one of the few cuts of beef that I think tastes good cold. So cook it a day ahead of time to save yourself some of the hassle on gameday.
Tri-tip is Economical
Tri-tip makes a great party food because compared to a lot of other cuts it is relatively inexpensive. The price of tri-tip will vary depending on where you live though. If you are in California or on the West coast you can probably find tri-tip on sale for $3-$4 per pound. Here in Florida where tri-tip is a bit harder to come by it is usually $6 or $7 per pound.
If you aren't on the West coast and you don't regularly see tri-tip in the meat case talk to the butcher and see if they can get you some. I don't always see it at the grocery stores here but when I do I snap up 2 or 3 of them.
Usually a tri-tip will feed my family (wife and 3 small children) dinner and there will be plenty of leftover for a lunch or two. By turning your tri-tip into tacos or sandwiches or something like that it becomes even more economical and you can probably feed 6-8 people off one tri-tip.
With most standard steakhouse cuts (ribeye, NY strip, filet, porterhouse, etc.) regularly going for $10+ per pound you can save a lot and still serve some awesome beef at about half the price.
If you are planning a Super Bowl party this year be sure to give tri-tip a look. It is a delicious, versatile cut of meat that is perfect for a party.