Chicken Wing Recipes for the Super Bowl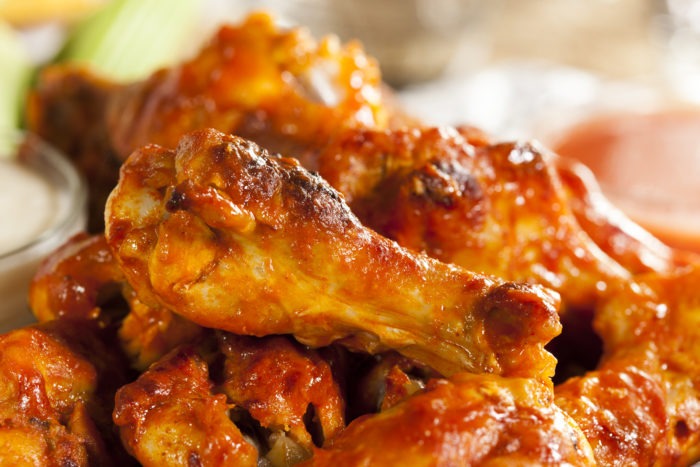 If you are like the majority of the country you have very little stake in the Super Bowl coming up this year. Of course New England and Atlanta fans are jacked to see their teams play but most football fans, casual fans, and even non-fans seem a bit more uninterested in this matchup. I definitely fall into that boat. Of course that won't stop me or millions of other fans from tuning into the game, getting together with friends, and eating an unreasonable amount of food.
Usually for the Super Bowl I try to make my menu based on who is playing. Pretty much every NFL city has some great regional food associated with it. For this game I thought about fried chicken and waffles, fried green tomatoes, some peach pie, and sweet tea for Atlanta. New England would necessitate lobster rolls, clam chowder, Boston cream pie, Boston baked beans, and brown bread. All those dishes are excellent and would make for a great Super Bowl menu but I am just not feeling it this year.
That said, it is never a bad thing when your fall back food for gameday is chicken wings. More than 1.3 billion chicken wings will be consumed this coming weekend which is an insane number. We are talking about 4 wings or so for everyone in the US. I know I will probably eat enough for 8 or 9 people but that leaves a LOT left for the rest of you.
Chicken Wing Recipes and Cooking Methods
My go-to recipe for chicken wings is just some simple fried Buffalo wings. Frying the wings will give you a great crispy wing and it is very simple. My basic fried chicken wing recipe is about as easy as it gets. Deep fry the wings in 350 degree oil and coat with a sauce consisting of Frank's Red Hot and butter. That's it.
Of course I have tried a number of other cooking methods. Chicken wings can definitely be baked in the oven but that can take a while, usually 45-60 minutes. If you steam the wings ahead of time it will pre-render the fat which cuts down on the cooking time but I think it changes the texture. Not necessarily in a bad way but the bite is different when you steam them. Here is a quick rundown of 4 different ways to cook chicken wings and my thoughts on each.
If you really want to take your wings to the next level you can always double fry them. The concept is similar to how most restaurants cook french fries. Cook the wings in a low temperature oil (basically confit) and then fry them a second time in hot oil to give them the crispness you want. You can read more about this method here but my end verdict is while the twice fried wings were a bit better than the regular fried wings I am not sure it is always worth the extra step.
Chicken wings can also be grilled or smoked. Personally I am not a fan of any of the smoked wings I have tried. They always seem to have a bit of a funny taste. Grilling can be great, especially if you are cooking up a lot of wings. It is usually best to leave your  wings whole if you are going to grill them and not cut them up. That will make it a lot easier to flip them. Just grill them over a medium-hot grill until they get to around 160-165 degrees. It will probably take about 15-20 minutes to cook them and the need to be flipped every few minutes. Watch for flareups also since the chicken wings have a lot of fat that will render out.
As I mentioned earlier when it comes to wing sauce I like to keep it as simple as possible. I go with about a 2-1 ratio of Frank's Red Hot and butter or margarine. You can use more or less sauce depending on how hot you like your wings but in most cases anything else you put in the sauce just kind of gets in the way. Melt the butter, add the hot sauce and whisk to combine. That's all there is too it. To coat the wings just put the wings in a big metal bowl, add a few tablespoons of sauce, and toss. Sometimes I just dump the wings directly into the sauce pot and stir them around.
Other Chicken Wing Recipes
I know not everyone likes "plain" buffalo wings. Those people are wrong but a Super Bowl party isn't the time to deal with that. If you are looking for something a bit different here are a few wing recipes that have caught my eye:
Spicy Grilled Yucatan Chicken Wings from Jess Pryles – What I like about this recipe is you basically just dump all the marinade/sauce ingredients into a blender and give them a spin. No cooking (other than the wings of course), no chopping, etc. The recipe calls for achiote paste which is just another name for annatto. Achiote has an earthy taste (this earthiness is characteristic of Yucutan cuisine) rather than spicy. I almost would say it is in the same vein as turmeric or cumin as far as earthiness goes but don't substitute those in as they have a totally different flavor.
BTW, if you don't read Jess Pryle's blog and follow her on her social channels you are missing out. She puts out some awesome recipes, great info, and some of the best real food photography I have seen. I mean, seriously, look how good these wings look!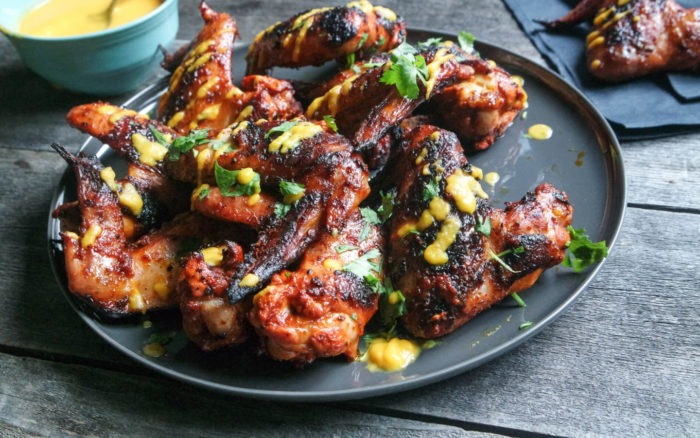 Any of the wing recipes from Serious Eats – I have never really tried a bad recipe from SeriousEats.com. They have 18 recipes to choose from so there is sure to be one that appeals to you. The al pastor wings sound intriguing and there are also a few Asian inspired recipes that look good.
BBQ Chicken Wings with Blue Cheese Butter from Geoffrey Zakarian – Two things about this recipe intrigue me… first, blue cheese butter? That would make for a perfectly delicious dipping sauce. The piquillo peppers which are more of a sweet pepper than a hot pepper would give the bbq sauce an interesting taste.
If I come across any other recipes that look worthwhile I will be sure to add them here.
A couple more random chicken wing thoughts…
If you buy a bag of frozen, pre-sauced wings and expect your party-goers to like them you deserve a punch in the stomach. Chicken wings are very, very easy to make and there is no reason to resort to those.
I usually buy my wings whole at Costco and cut them up myself. If you want to leave them whole for grilling that is fine. One great thing about getting the whole wings is you can cut off the tips which aren't good for eating and use them to make your own chicken stock.
Chicken wings reheat surprisingly well. Wrap them up in a foil pouch or even in a covered casserole dish and throw them in the oven until they are hot. They won't be as crispy as fresh wings would be but they are definitely edible. So don't be afraid to cook more than you think you need. There are worse things than having leftover chicken wings.
If you really, really want to take the easy way out throw some boneless, skinless chicken thighs in the crockpot with a chopped onion, garlic, salt, pepper, and some chicken stock for a few hours, drain it and throw away the onion, shred the chicken and toss in some buffalo sauce. Throw it on a bun with some blue cheese dressing and you have a pretty simple buffalo chicken sandwich.
I like having some wings towards the beginning of the game and then more after halftime. Keep the spares in a disposable foil pan in a 200 degree oven so you have some nice hot wings during the second half of the game. Give them a quick toss in some sauce before serving.
NEVER serve chicken wings with ranch. Go for a good quality blue cheese dressing. Celery is also a welcome addition.
Forget napkins. You will need so many it isn't worth it. Serve your wings with a damp kitchen towel instead of napkins. They will do a better job cleaning saucy hands.
BONELESS WINGS ARE NOT WINGS. They are chicken nuggets. I am fine with you eating chicken nuggets but don't call them boneless wings.