One of the first posts on this site was all about Kurobuta pork. If you are familiar with Kobe or Wagyu beef Kurobuta is the pork equivalent. Kurobuta pork comes from Berkshire hogs which tend to have more fat and marbling than the standard hogs that are common here in the United States. I have eaten Kurobuta Bacon (amazing) and Kurobuta ham (amazing) from Snake River Farms and I have been looking forward to trying the ribs for a long time.
If you buy through one of the links on this page I will earn a commission. This allows me to buy more meat and write about more meat. A win-win. The opinions given are completely mine. 
There is a great customer service story behind these ribs and while it took a bit to get them it was worth it in the end.
The first thing I noticed about these Kurobuta ribs was they were smaller than a standard rack of spare ribs you would get at the grocery store. 2 1/2 to 3 pounds  is pretty standard for a rack of ribs at the store but these weighed in at around 1 1/2 pounds. I have had a couple racks from Snake River come in at 2 1/2 pounds but most tend to be smaller than that. These spare ribs were almost closer to the size of baby backs. The marbling on these Kurobuta ribs was also excellent.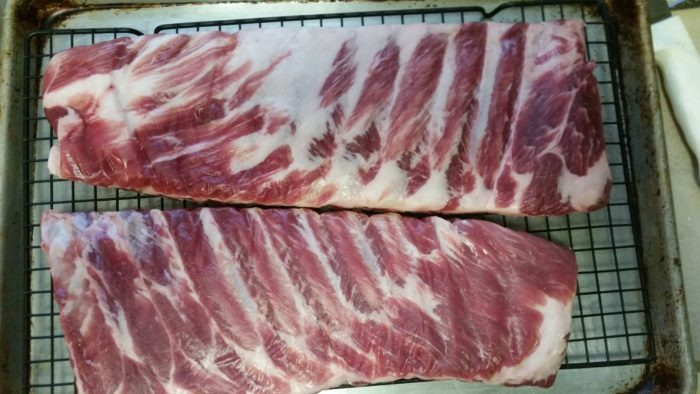 When it comes to cooking ribs I generally like dry ribs without any sauce. Just a nice rub and the natural juices are all I need for flavor. I salted the ribs early in the morning before I started cooking them so the salt had a chance to penetrate and dry brine the meat.
As far as the rub I went with a fairly basic rub from Serious Eats. For some unsubstantiated reason I have an aversion to commercial rubs so I always try to make my own. In the end I probably would have been fine without the thyme or oregano in it but while those flavors were present they didn't overpower anything.
Smoking Kurobuta Pork Ribs
Most of the time when I am smoking meat on my Weber Kettle I use the snake method where you line the outside of the grill with a "snake" of briquettes with some wood chunks and light one end with the meat in the middle of the grill above a water pan. This time I decided to try the "minion" method where you have a pile of unlit briquettes on one side of the grill (about 80 or so),  you add some lit coals and wood chunks on top, and have the meat on the opposite side of the grill above a water pan.
I used apple wood for this cook but pecan or cherry would be good to. For pork I am not a huge fan of oak (which I prefer for beef) since the oak smoke is a fairly bold flavor and the flavor of the pork is more delicate.
Overall I think I prefer the snake method. I think it was a bit easier to control the temperature and air flow. I was able to maintain a fairly steady 225 degrees with a couple spikes up to around 275. Since these racks were a bit smaller I was expecting a fairly quick cook but they still took around 6 hours to reach the proper doneness.
Many people recommend wrapping the ribs in foil partway through the cook but I am a bit too much of a purist to do that. Wrapping the ribs helps keep some of the moisture in the ribs and also helps them cook faster but you are also basically steaming the ribs at that point. It isn't a horrible thing to do but isn't a method I prefer. I didn't mop these either but did spritz them with apple juice every hour or so.
Here is the finished product: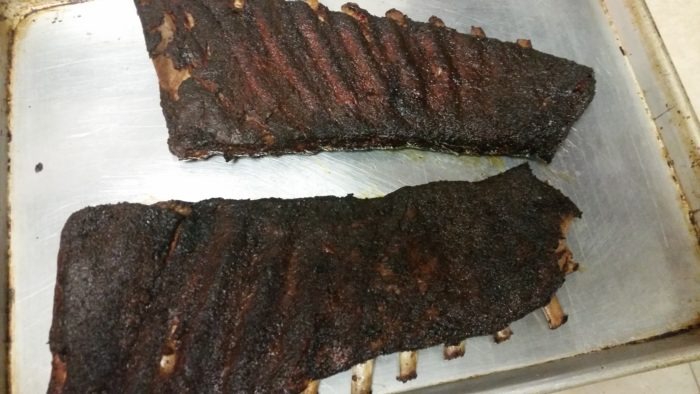 The ribs got a great crust on them, pulled up on the bone a good amount, and had a great smokey flavor and smoke ring. I don't really like fall off the bone ribs but rather bite off the bone. I want the meat to have a little chew to it but still come clean from the bone and these ribs nailed that.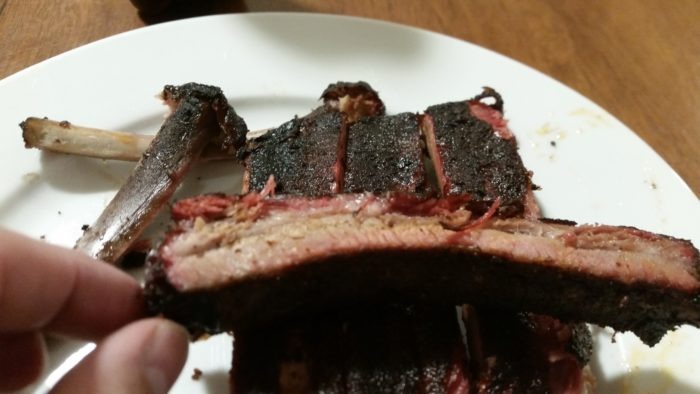 These Kurobuta ribs from Snake River Farms were more expensive than what you will get at the grocery store but from time to time it is definitely worth the cost. The flavor and texture of the meat was quite a bit better than most other ribs I have eaten. Since these ribs are smaller you should probably plan on a rack per person or 2 racks for 3 people. My wife and I were the only two eating and we only had about 4 ribs left.
Pricewise you are looking at $30 per rack for these ribs ($23 when you buy 8 or more) at Snake River Farms compared to about $10 at the grocery store. If you can get them on sale like I did for $18 per pound (and free shipping with code FREEAFF) it makes them even better. You will be able to taste and feel the difference in these Kurobuta ribs from Snake River Farms so I would recommend checking regularly to catch them again when they are on sale and place your order.