When it comes to Super Bowl party food you have thousands of options ranging from chips and dip to hot wings (one of my personal favorites) to sandwiches to nachos and so on and so forth. Any of those foods would definitely be welcome on my table any day.
But with a big event like the Super Bowl I usually try to make some sort of food that is iconic to the city or region where the teams come from. In this case we are looking at Denver and Carolina. Some cities are easier to do this with than others. For example, if the Buffalo Bills ever made it of course you would go with Buffalo wings. For the Chicago Bears you could go with deep dish pizza or Chicago dogs or Italian beef. For Baltimore you could do crab cakes. For Green Bay you could have fried cheese curds. And the list goes on an on.
Now we have to ask ourselves "What food is iconic to Denver and Carolina?" Well, Carolina was a pretty easy one to come up with but Denver took a bit more thought…
Carolina – Pulled Pork, Shrimp and Grits, or Low Country Boil
When it comes to Carolina you have a couple options. If you are talking North Carolina you have to go with Carolina pulled pork. You could go the Eastern Carolina route and barbecue a whole hog but if you are like 99.999% of the country that is a little bit out of your wheel house. For the sake of this argument let's stick with Western Carolina bbq and go with just a pork shoulder or Boston butt. You want a thin, vinegar based sauce with maybe a hint of tomato to use for this as well. If you have a smoker you should fire that thing up and smoke a couple butts and if you are doing that I am assuming you have your own recipe and are good to go but since most of the country doesn't have a smoker here are a couple recipes you can either do in the crock pot or the oven. You can probably get pretty close to what most people can turn out on a smoker even though it isn't 100% authentic
Keep in mind I haven't tried any of these recipes so I can't vouch for them 100% but they all look pretty solid and slightly different. Pick one you like, tweak it a bit to your taste, and give it a go!
http://www.tasteofhome.com/recipes/carolina-style-pork-barbecue
http://spicysouthernkitchen.com/slow-cooker-carolina-style-pulled-pork/
http://www.southernplate.com/2010/06/southern-style-pulled-pork-bbq-slow-cooker-recipe.html
Slow-Cooker Carolina-Style Pulled Pork (Crock-Pot Recipe Five Ingredient Friday)
You can eat your Carolina pulled pork on a bun, top it with some coleslaw if you want or just throw it on a plate and go to town. You could also get creative and make some pulled pork nachos or tacos but that is getting a bit too far away from tradition for me.
Now if you really want to take the "Carolina" thing literally and want to show some love to South Carolina by all means cook up some Shrimp and Grits or a Low Country Boil. Both of those are great foods for a crowd and are definitely iconic Carolina foods.
Denver – Green Chili
Denver is a bit tougher than Carolina when trying to find an iconic food. Yeah, there are Denver omelettes or Mile High sandwiches but I wouldn't really consider those football foods. And if you want to be a joker you could go for Rocky Mountain Oysters (they aren't as bad as you think… Kind of taste like fried gizzards). But after doing some research I settled on Green Chili. Yeah, I know Green Chili is a New Mexico thing but Denver has done a great job of co-opting it as a food of their own.
I have only been in Denver once but when I was there I made sure to check out Sam's No. 3 and tried some of their green chili. I am usually not a fan of the flavor of peppers but green chili is one of the only ways I find them passable. They are cooked so much with so many other foods the flavors all blend together nicely.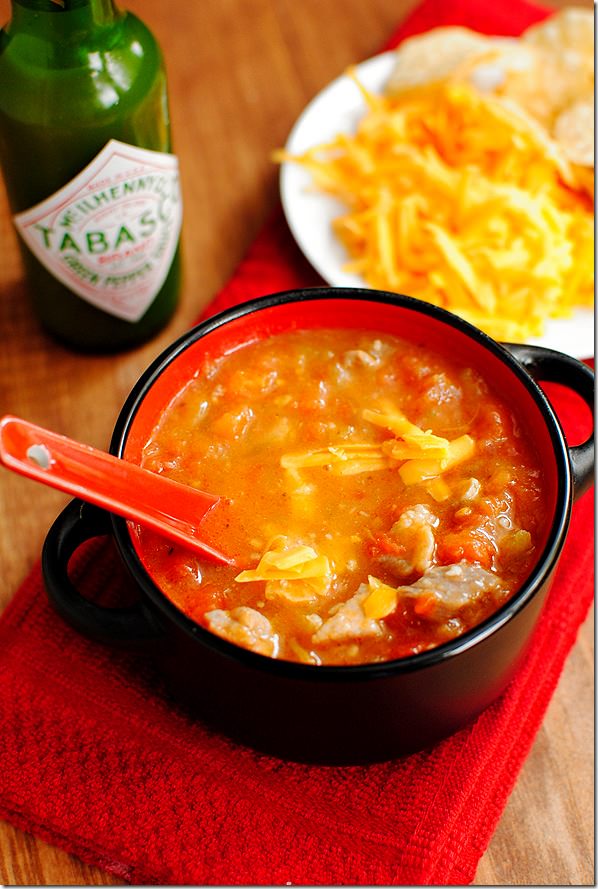 Here are a couple copycat recipes I found for Sam's No. 3 Green Chili:
http://www.foodnetwork.com/recipes/sams-no3-kickin-green-chili-recipe.html – Given to Food Network by Sam himself for an episode of Diners, Drive-ins, and Dives
http://iowagirleats.com/2012/08/12/sams-no-3-lighter-kickin-green-chili/ – Here is a bit of a lighter version with less butter and flour. And she even let's you know you can substitute gluten free flour to make a gluten free green chili.
Once you have your green chili you can eat it in a bowl with some tortilla chips or ladle it over a burger for a great chili burger.
Take your Super Bowl food game to the next level with some of these recipes or try to think up your own foods that represent Denver and Carolina.
What is on your Super Bowl menu? Leave a comment below to let me know.