Every year in August Snake River Farms has a week long sale called the "Week of Annella". Some of the best deals of the year will be available this week and there will be new deals available every day. Bookmark this page and come back every morning to see what the deal of the day is. Many of these awesome deals will sell out quickly so if you see something you like don't hesitate to buy it. If you come back later it may be sold out.
Disclosure: This post is monetized with affiliate links. If you buy something through them I earn a commission which helps support this site and lets me buy more meat so I can write about it. 
Thursday 8/10 – BEEF!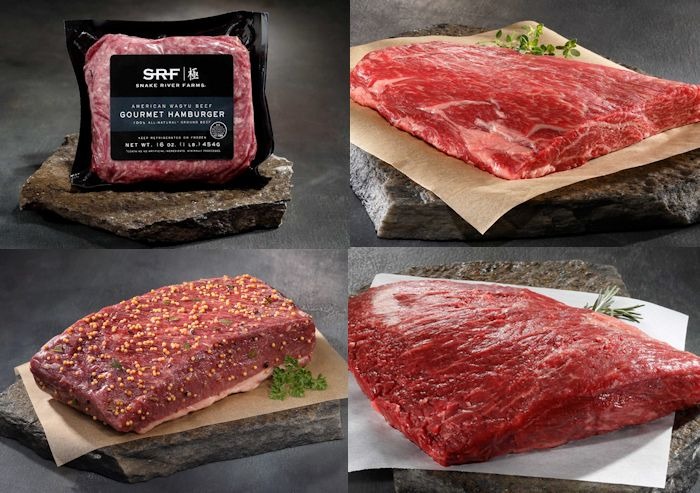 Hopefully you have a freezer full of pork, brisket, and top sirloins on their way. Wait, you mean you haven't ordered yet? Well, I will wait. Go ahead, scroll down and fill up your cart and then come back for today's specials.
OK, thanks for doing that. Now we can get on to the great deals on tap for today. Thursday is all about beef and we get to dig a bit deeper on the steer than standard ribeyes or t-bones. Today we have corned beef brisket, cap of ribeye, culotte (also spelled coulotte), ground beef, and hot dogs.
Of course you are familiar with hot dogs and hamburgers so I won't spend too much time on those. But just know these hot dogs and this ground beef is from the American Wagyu steers so the quality of the meat far surpasses anything you will find in your grocery store.
Now, let's talk about a culotte steak. The culotte comes from the top of the sirloin. In Brazil (or in any Brazilian steak house) this cut is called Picanha and generally comes with the fat cap on it. Remove the fat cap from that cut and you have a culotte. It is probably most comparable to a tri-tip which comes from the bottom of the sirloin. And I would cook it the same as I would a tri-tip. Cook it over low, indirect heat until the internal temp is about 115 and then sear it off over high heat. You will be left with a great beefy tasting medium rare roast. Delicious.
The cap of ribeye which is also on sale today comes from the top of the rib roast. It is probably the best muscle on the steer and combines a great texture, some great marbling, and a great flavor into one awesome steak. Most steak aficionados consider the cap of ribeye to be the pinnacle of steak eating and I wouldn't argue that.
And corned beef. It isn't just for St. Patricks day. Corned beef is basically cured brisket flat. The seasonings can vary but generally speaking you will see mustard seeds, cloves, allspice, juniper, peppercorns, and of course salt.
Here are all the cuts that are on sale today at Snake River Farms:
American Wagyu Black Grade Culotte (~2 pounds) – Normal price: $68. Sale Price: $49
American Wagyu Black Grade Cap of Ribeye (~14 ozs) – Normal price: $115. Sale Price: $99
American Wagyu Gold Grade Cap of Ribeye (~20 ozs) – Normal price: $199. Sale Price: $139
Corned Beef Brisket (~2 lbs) – Normal price: $43. Sale Price: $29
American Wagyu Black Grade Corned Beef Brisket (~2.5 lbs) – Normal price: $59. Sale Price: $35
American Wagyu Gourmet Hot Dogs (1 lb) – Normal price: $16. Sale Price: $12
American Wagyu Ground Beef (1lb) – Normal price: $17. Sale Price: $14
Wednesday 8/10 – Kurobuta Pork up to 45% off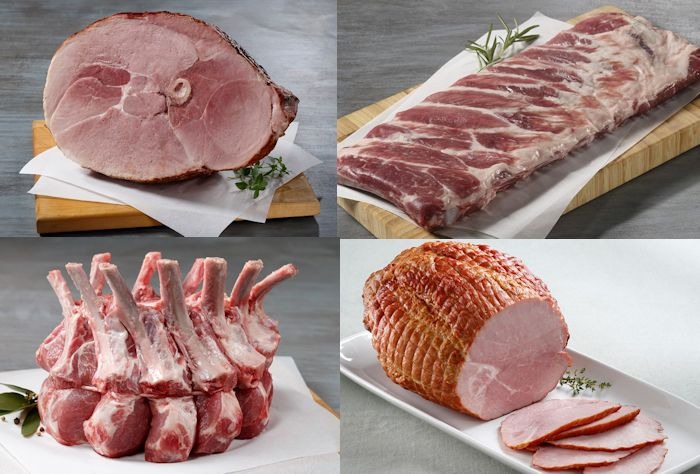 The Week of Annella continues and this time brings us some awesome deals on Kurobuta pork. Read here for more info on Kurobuta pork but basically it is some of the best pork you can find. It comes from Berkshire hogs which produces some delicious cuts of pork.
Today these awesome cuts of Kurobuta pork are on sale for up to 45% off. I have cooked the spare ribs before and can testify to how good they are. They are a bit smaller than a normal cut of spare ribs but the flavor and texture far surpass anything you will get at the grocery store meat case. The hams are a huge step beyond any other ham you have tasted as well. If you really want to take advantage of this sale fill your freezer with these hams now and you will have some awesome holiday dinners and gifts ready to go.
Here are the 7 Kurobuta pork cuts that are on sale for up to 45% off:
Kurobuta Spare Ribs – Normal price: $30 per rack. Sale price: $21
Kurobuta Crown Roast (~6 lbs) – Normal price: $129. Sale price: $99
Kurobuta Pork Loin Roast (~2.25 lbs) – Normal price: $35. Sale price: $25
Kurobuta Boneless Half Ham (~3.5 lbs) – Normal price: $59. Sale price: $39
Kurobuta Boneless Whole Ham (~7 lbs) – Normal price: $119. Sale price: $65
Kurobuta Bone-In Half Ham (~6 lbs) – Normal price: $119. Sale price: $65
Kurobuta Bone-In Whole Ham (~14 lbs) – Normal price: $179. Sale price: $109
And be sure to use code FREEAFF to get free shipping on your order.
I will definitely have some of the spare ribs in my cart (and on my smoker soon) and also have my eye on the pork loin roast. I will probably smoke the pork loin as well. Whatever you do however DO NOT try to make pulled pork with the pork loin. Since it is a somewhat lean cut with little intermuscular fat or connective tissue the only way it will ever "pull" is if it is dry as a bone. I will probably cook it to around 140-145 over low heat (225 or so) with some pecan and apple wood smoke and then hit it with some high heat to sear the outside. That should give me a final internal temperature of around 150-155. And of course I will be using my Thermoworks Smoke thermometer (15% off this week with code SITEWIDESAVE15) to track the temperature of my grill and the temperature of the meat.
The hams I would just cook in a 325 degree oven uncovered until the internal temp is 140. The hams are fully cooked so you basically just need to reheat them.
Check out all the specials at Snake River Farms during the Week of Annella and score some big savings on Kurobuta pork, brisket, top sirloins, and filet mignon. And there will be more deals tomorrow so be sure to come back and see what magical meat goodness will be on sale.
Tuesday 8/9 – American Wagyu Brisket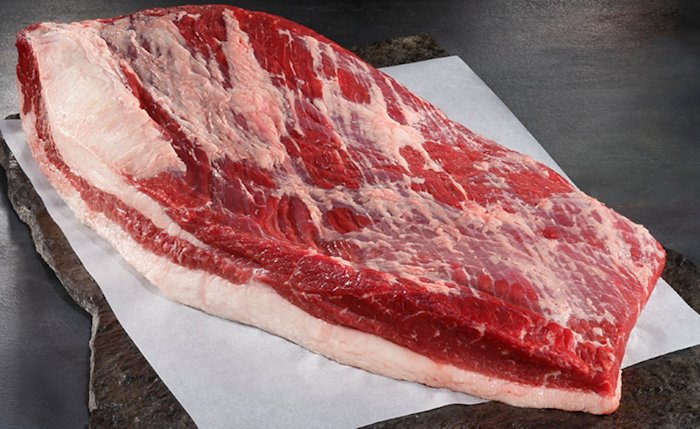 Yesterday the deal was Top Sirloins and Filet Mignons (go ahead, look below… those prices are still in effect). But today we are talking about brisket. A 14-16 lb American Wagyu brisket to be exact. These briskets are normally $159 but today they are 15% off so  now they are only $135. And with code FREEAFF they ship for free.
Isn't $135 a lot to pay for a hunk of meat? Well, yes. Yes it is. But if you really want to cook an amazing brisket at home you will see that it is worth it. Brisket is a hard cut to properly cook. If you start with a choice brisket (most likely that is what you will find at your local store) they are very tough to cook so they have the proper texture but are still moist. That is where these American Wagyu briskets come in. Since they have so much more intermuscular fat in them they tend to stay moister than regular briskets. Yeah, you can still cook these and have them dry but the extra fat in these briskets gives you a much larger margin for error.
American Wagyu briskets come from Wagyu cattle crossed with Angus cattle. This gives you the best of both worlds: the marbling of Wagyu and the yield and economy of Angus. These briskets are 14-16 pounds each so you are looking at less than $10 per pound. Depending on the crowd you are serving and what other side dishes there are you can probably feed 15-20 people off one of these if you figure 1/2 pound of meat per person. If you figure you will lose about 40% of the weigh due to trimming and cooking you should end up with ~9 pounds of meat when all is said and done.
Nearly all the winning competition bbq teams use these Snake River Farms briskets for their competitions. It is very hard to find a better brisket than this and since they are in such high demand they rarely go on sale so don't miss this opportunity. Order your American Wagyu briskets now. And don't forget to use code FREEAFF to get your free shipping. And don't forget to add a couple sirloins and filets to  your cart as well.
Be sure to come back tomorrow and see what Wednesday's specials are.
Monday 8/8 – Top Sirloins and Filet Mignon

The first day of the Week of Annella gives us up to 50% off Filet Mignon and Top Sirloin. These are two excellent cuts but also very different cuts. The Filet Mignon is the most tender cut of beef you can find. It has a fairly mild flavor and the texture is unlike any other cut. The Top Sirloin is a bit tougher but I think it is among the most flavorful cuts. You will want to cook both cuts medium rare. Any more than that and they start to dry out.
Here are the different cuts that are on sale starting today. And if you use code FREEAFF at checkout you get free shipping:
6 oz Filet Mignon – Normal price $24. Sale price: $16
6 oz American Wagyu Black Grade Filet Mignon – Normal price $40. Sale price: $28
16 oz American Wagyu Tenderloin Pieces – Normal price $40. Sale price: $20
6 oz American Wagyu Black Grade Top Sirloin – Normal price $16. Sale price: $12
8 oz American Wagyu Gold Grade Top Sirloin – Normal price $25. Sale price: $16
6 oz American Wagyu Gold Grade Top Sirloin – Normal price $20. Sale price: $14
8 oz Top Sirloin – Normal price: $15. Sale price: $13.50
These are all awesome deals but the tenderloin pieces have my attention. $20 for a pound of American Wagyu filet is an awesome price. These would make some insane kabobs or some excellent appetizer size steaks.
6 and 8 oz cuts are on the small size but there is nothing to stop you from eating 2 or more for a meal. But those sizes are great for most people, especially if you are feeding younger kids. If you have ever wanted to try Snake River Farms and their excellent quality meat, especially their American Wagyu beef, this is the perfect time. For $20 you can get a couple awesome steaks. But if you are smart you will use this opportunity to fill your freezer and order a couple dozen of these steaks. And don't forget your orders will ship for free with code FREEAFF.
And as a bonus this week you can also save 15% sitewide at Thermoworks.com with code SITEWIDESAVE15. The Thermoworks Smoke, DOT, Thermapen, and Thermopop are all excellent thermometers and everyone who cooks meat should have at least one of them in their arsenal.